So, you want to get your fur baby a new collar, but aren't sure exactly which type of custom leather dog collar you are looking for? We can help guide you through the many options we offer! All our custom dog collars are crafted from genuine vegetable tanned leather at our custom leather shop. We put a lot of hard work into them, from stripping quality hides to dying and oiling the leather to any personalized finishing touches you want to make your luxury dog collar as special and unique as your dog! No matter what size or breed your dog is – we can make them the perfect custom leather dog collar to suit your needs.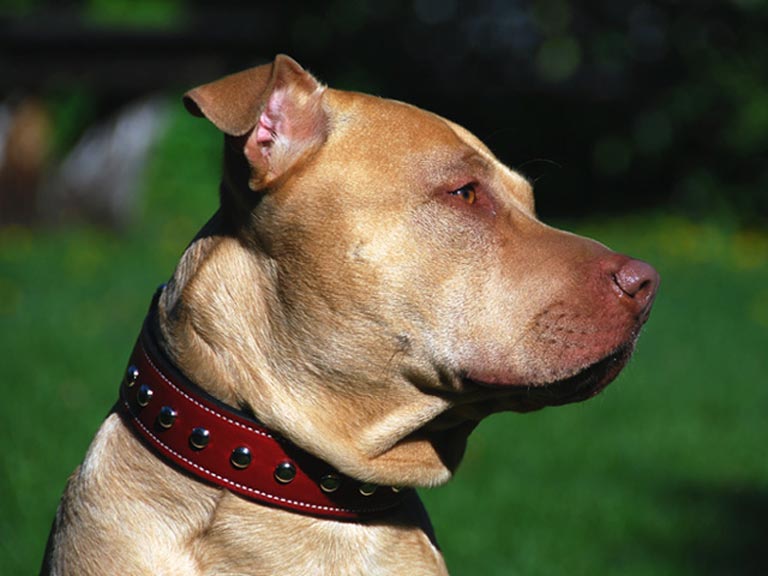 Red heavy-duty studded dog collar.
Proper Dog Collar Size
In order to get the best dog collar fit, it's important to know the correct measurements of your dog's neck so your collar will not be too tight or too loose. Finding your dogs neck size can seem a bit difficult, especially since you want what is best for your dog which means having a properly fitted collar! Here are a few tips and tricks on finding the proper collar size to comfortably fit your dogs' neck.
If you already have an old leather collar, you can measure from the tip of the buckle to the hole used when your dog is wearing it. When you give us this dog collar size, we will make that measurement the center hole on the new dog collar. We will then punch three holes tighter and three holes looser for lots of adjustment.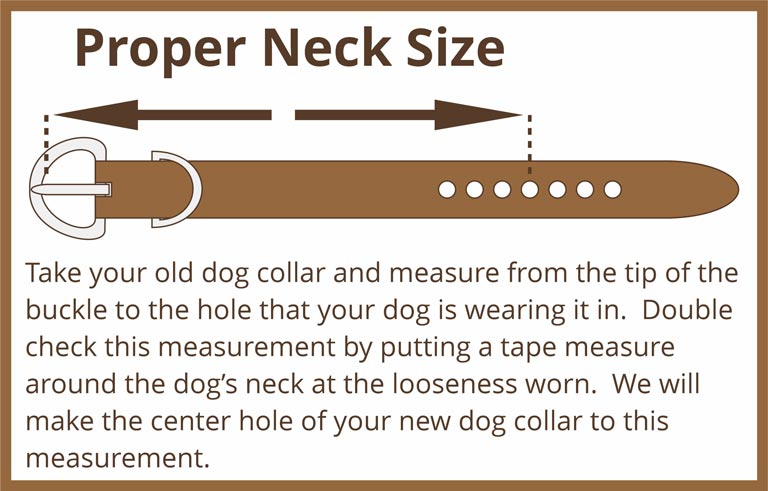 How to Properly Size Dogs' Neck from another Leather Collar.
If measuring from an old plastic clasp/nylon collar, you can measure from the end the female clasp, to the base of the male clasp.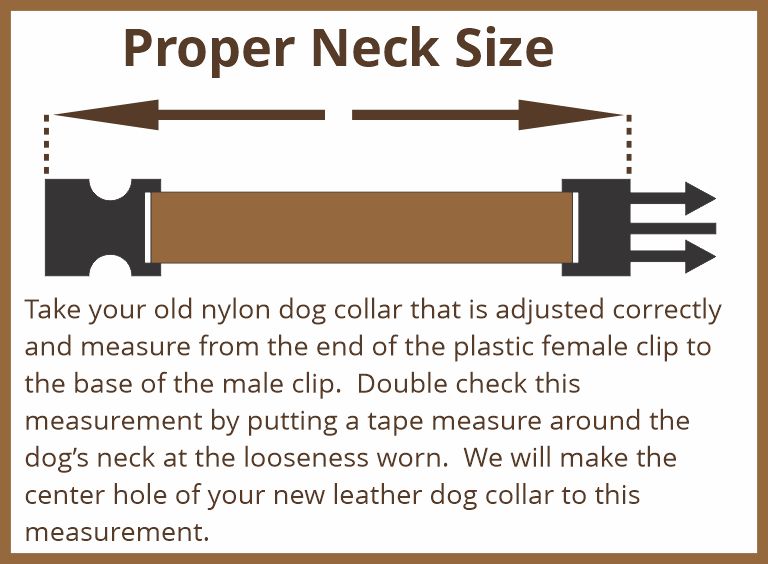 How to Properly Size Dogs' Neck from a Plastic Clip Collar.
If you don't have an old collar to use as reference, one way you can measure it is with a fabric measuring tape. (As a last resort you can use a piece of string and a ruler. Just ensure the string is not stretchy.) Take your fabric measuring tape and place one end at the center of your dogs' neck, hold it there and then wrap it around the neck until it meets back at the center with a comfortable tightness for your dog.
You don't want it to be too loose, however keep in mind that you also don't want your dogs' collar being too tight either. While you have the tape around your dogs' neck, make sure you can fit 2 fingers in between the neck and the tape measure or string to get a comfortable fit. This measurement will be your dogs' neck size for the collar.
If you had to use a string, afterwards you can take the string, holding in place where the ends met up, and measure it with a ruler to get your dogs' neck measurement.
Always measure twice to get a comfortable tightness for your dog and to ensure you have an accurate measurement!
Leather Thickness Of Custom Leather Dog Collars
If you have a larger dog (or a dog who think it's larger,) and you're looking for a heavy-duty dog collar, not to worry! We can make a double thick, wide heavy-duty dog collar that is stronger and has a combined leather thickness of ¼ inch. These thick dog collars will put your mind at ease with the extra strength provided for breeds like German Shepherds, Pit Bulls, and Rottweilers. We even make rugged large dog collars for very big breeds like St. Bernards. and English Mastiffs.
Keep in mind these double thick collars are too heavy for small dogs. For smaller breeds like beagles etc., a single thickness leather dog collar is fine which is made of 1/8-inch-thick full grain cowhide. Some dog owners who walk their dogs with a harness also like to just have a collar to hang ID tags from. In that case, single leather thickness dog collars would be fine for any size dog.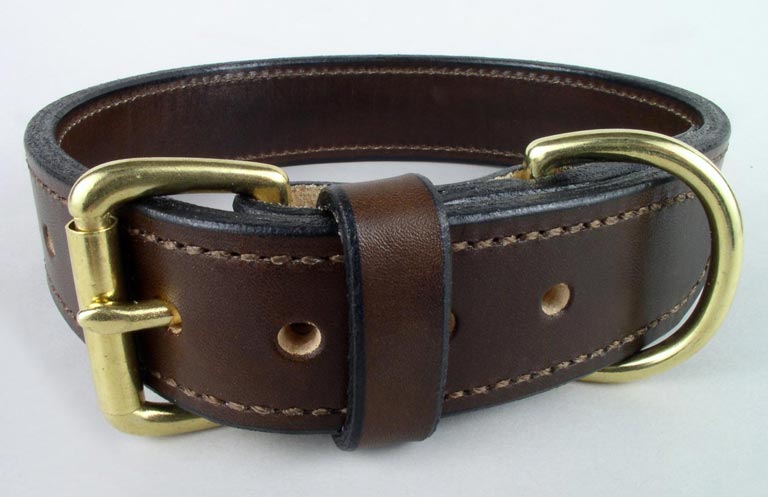 Brown Tough Leather Dog Collar made of double thickness Full Grain Cowhide.
Color Choices
You will also still be able to make some personalized choices that fit your dog – with the choice of leather color, thread color and buckle color! All our custom dog collars are made with cast solid brass or stainless steel buckles for a strong, sturdy dog collar that also looks great! Cast, meaning the buckles and D rings are one solid piece and do not have a joint in them. A joint would compromise the strength of the collar. Some cheaper quality D rings and buckles have a joint which is often hidden where the leather or nylon collar covers it. Our metal hardware is much more durable than plastic quick release clips.
Our buckles are also used in the harness industry, so they are rugged. You won't have to worry about them breaking like plastic clips or unfastening if you grab for the collar. With plastic side quick release buckles, you may accidentally squeeze the clip when you grab for the collar causing it to open.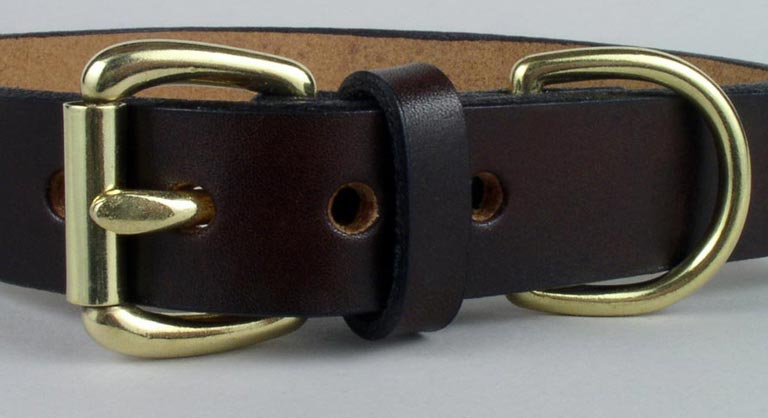 Sturdy Cast Solid Brass Buckle and D Ring on single thickness leather handmade dog collar.
The leather is hand dyed brown, black, green, red, purple, burgundy, or blue. We also do a lighter color leather called natural oil. Our heavy-duty collars are sewn with white, black, or brown harness thread for strength.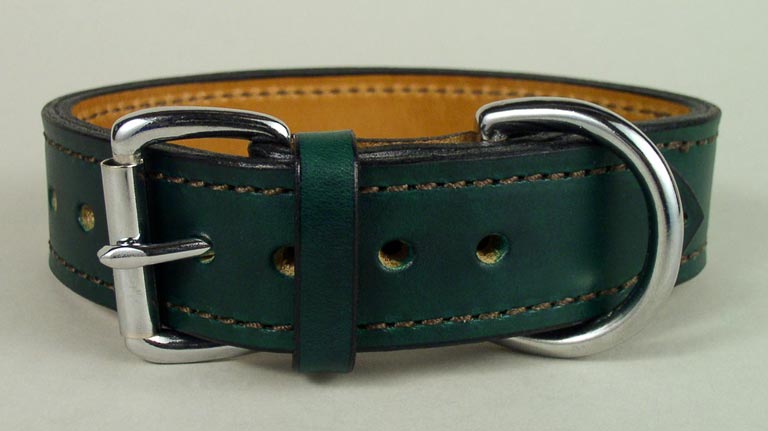 Green tough leather dog collar sewn with brown harness thread with stainless steel buckle and D Ring.
Plain Leather Dog Collars
If you are looking for something sturdy, and aesthetically pleasing, yet something not too flashy, our plain leather dog collars are a great option! These are individually handcrafted to fit around your dog's neck perfectly with the measurements provided.
Plain Leather Rugged Dog Collar.
Personalized Dog Collars
Want something that will stand out a little more? Check out our personalized dog collars which are made with the same quality, care, and strength as our plain dog collars. Our personalized leather dog collars allow you to have a collar that is unique to your dog with imprinted lettering of their name or any text of your choice. The lettering is hand stamped deep into the leather for a long-lasting impression. The embossed lettering is then left natural undyed for contrast, dyed in the same color of the leather for a subtle look or hand painted a totally different color.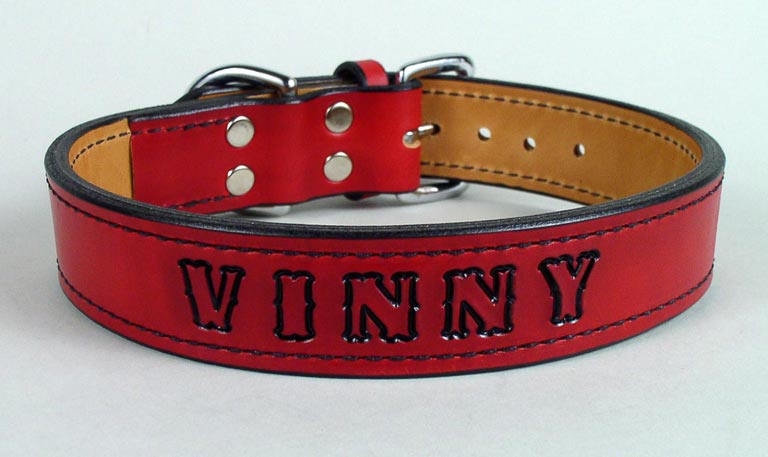 Red personalized leather dog collar with embossed lettering hand painted black.
You can choose to have the imprinted lettering hand painted or left undyed and natural. This can be fun way to play around with contrasting colors and have a personalized leather dog collar that really stands out.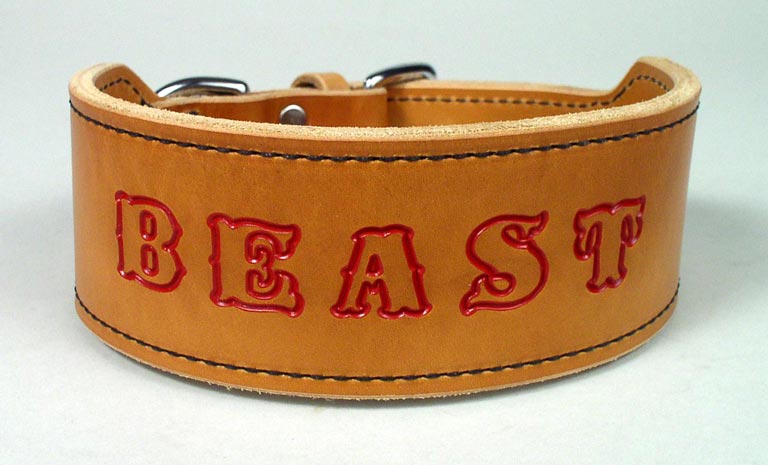 Personalized wide leather dog collar in natural oil color with embossed letters hand painted red.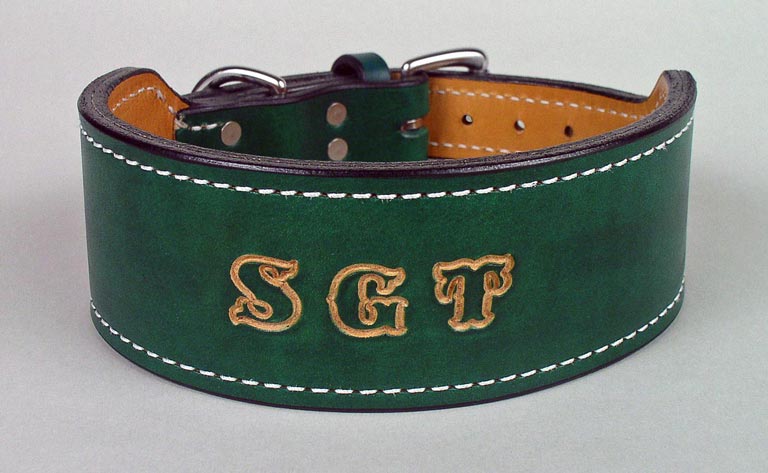 Personalized wide monogrammed leather dog collar with natural undyed lettering.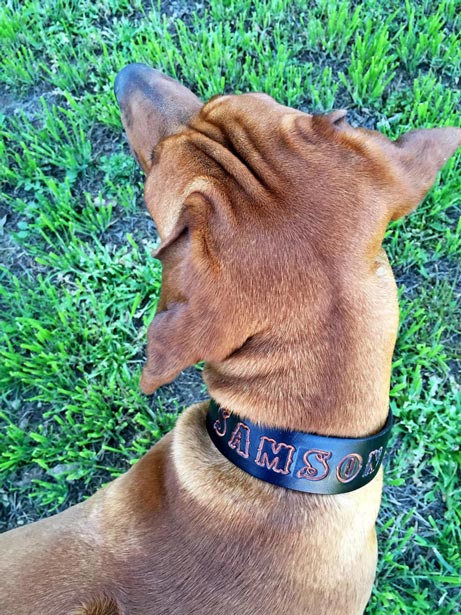 Personalized leather dog collar with natural undyed embossed name.
Studded Dog Collars & Spiked Dog Collars
You can also jazz up your custom leather dog collar with the wide variety of studs we have available. Add these to your personalized leather dog collar or have them on their own. Our studded dog collars are available in an assortment of sizes, shapes, and colors. Spikes are riveted permanently in place with a heavy-duty ribbed rivet, rather than the screw on spikes that can loosen over time. Some people claim the spikes help protect their dog's neck in case of an attack from another dog.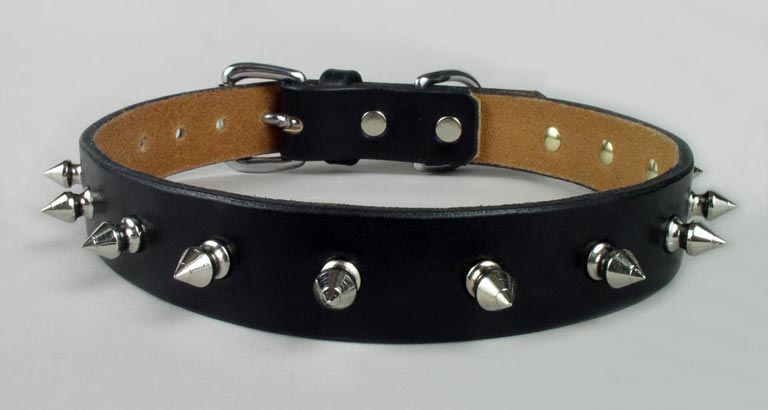 Standard spiked dog collar with 1/2 inch high spikes.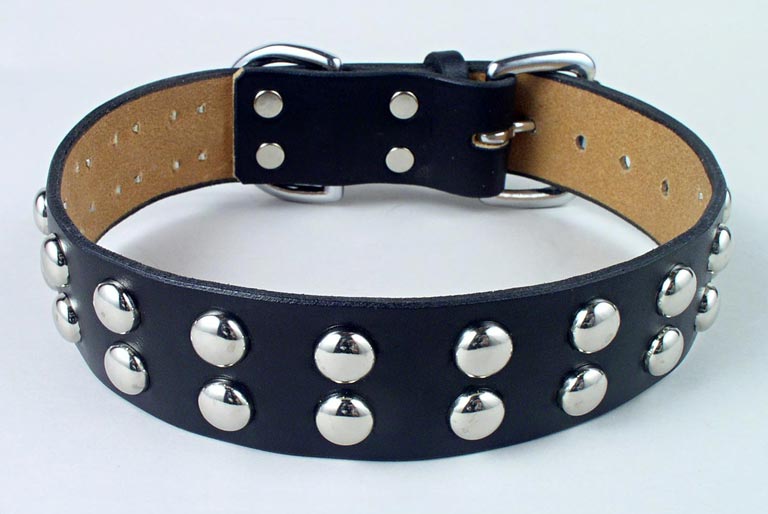 Double row of round studs adorns this solid leather dog collar.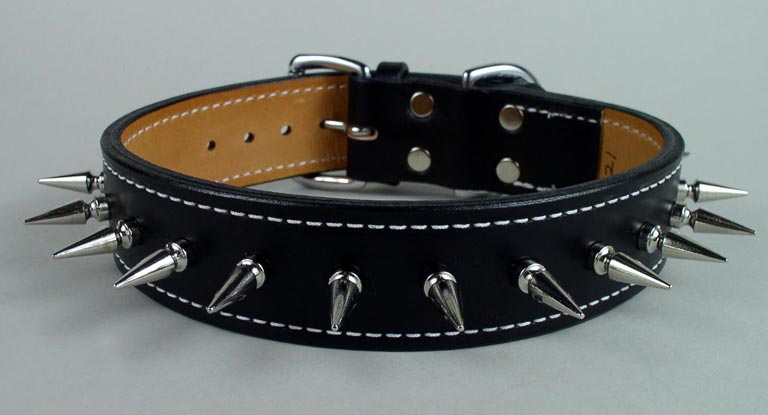 Long spiked tough dog collar with 1 1/4-inch-high spikes.
Braided Designer Dog Collars
Lastly, if you are looking for something unique but not too flashy, a designer braider dog collar might be the way to go! These custom collars come completed with genuine leather lace braided down the center of the collar. Each hole is hand punched one at a time, perfectly measured out for an even weave. These designer collars are very time consuming to make but well worth it. You can choose to have simple and elegant colored leather laces like brown or black; or you could go with something that stands out a little more, such as turquois or pink which contrasts nicely with a dark background. You can also add an extra finishing touch with a centered decorative concho for effect.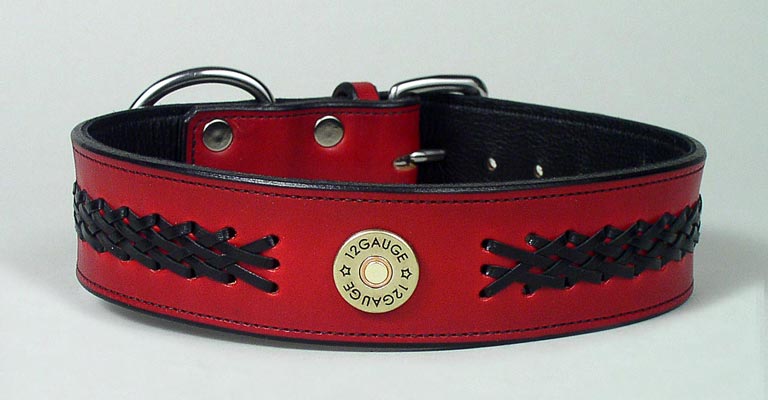 Red designer braided leather dog collar.
If you are worried about the braids rubbing up and irritating your dogs' neck, we got you covered! These designer braided collars are lined underneath with soft garment leather which is glued and sewn to the leather collar so your dog can be comfortable and happy.
Watch our designer dog collars being braided in this video.

Whether you're looking a large dog collar, or a small dog collar, something flashy, personalized or something simple, we have a custom handmade leather dog collar that is right for you and your dog!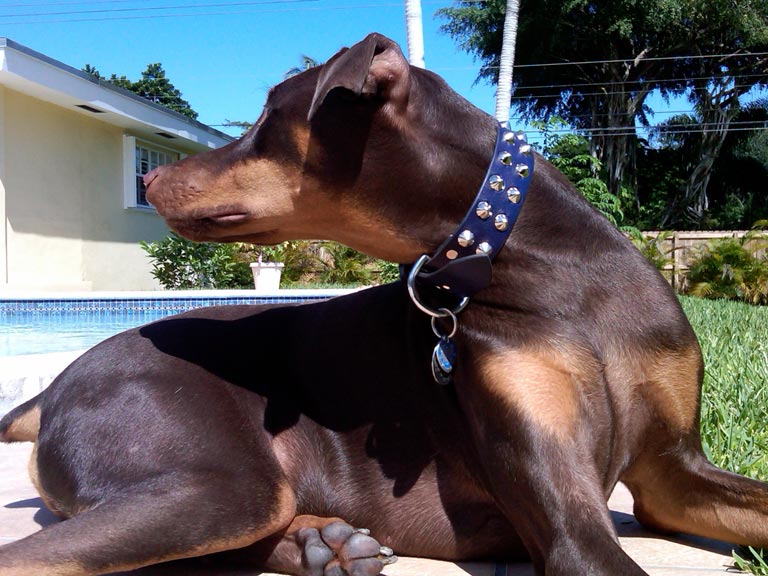 Blue custom studded leather dog collar.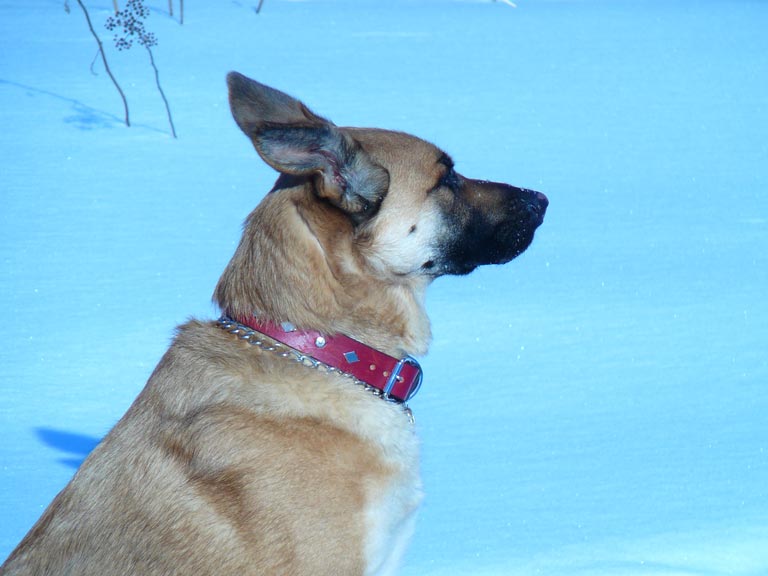 Red leather studded dog collar.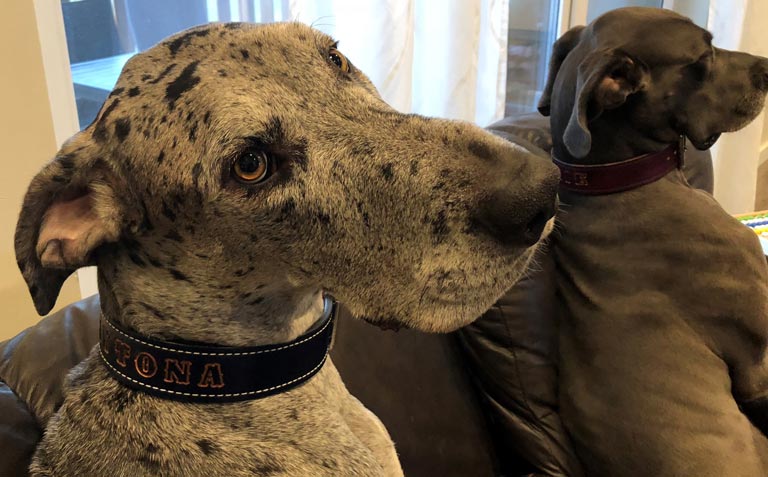 Personalized thick leather dog collar with name.
Blue cool leather dog collar.
Handmade Dog Collars
Our dog collars are not mass produced. Each dog collar is individually hand crafted with care to the specifications given by our customer. Firsth, the leather is hand picked to be used for the collar by one of our leather artisans. Many traditional leather working tools are used.
We cut the leather collars from natural undyed vegetable full grain leather. We then hand dye the leather several times. After the leather dye dries, we apply conditioners, polish, and water repellent. The edges of the leather are hand bevelled (rounded) for the comfort of your dog. The edge is then coated black except for the natural oiled leather which we leave the natural color. After the edge is hand dyed, it is burnished smooth with beeswax. The buckles are attached with sturdy rivets.
See some of the process involved in making these unique handmade dog collars and leather dog leashes in the following video.
Watch custom leather dog collars being crafted in this video.