Strap Cutting Bookmark Leather
Of the different promotional products we produce, leather custom bookmarks make wonderful gifts for events at schools, universities, libraries and family reunions. The first step in making the bookmarks is to start with quality top grain leather hides. We use vegetable tanned leather which is also referred to as tooling leather. This type of cowhide is tanned by the tannery using tannins from tree bark.
Since we dye our leather by hand, it is easier to control the color evenness by coloring long narrow strips as opposed to dyeing the whole hide at once. We use a strap cutting machine to cut multiple strips of leather at a time. Before we owned this machine, we used to use a leather craft tool called a leather strap cutter which is also used for cutting belts.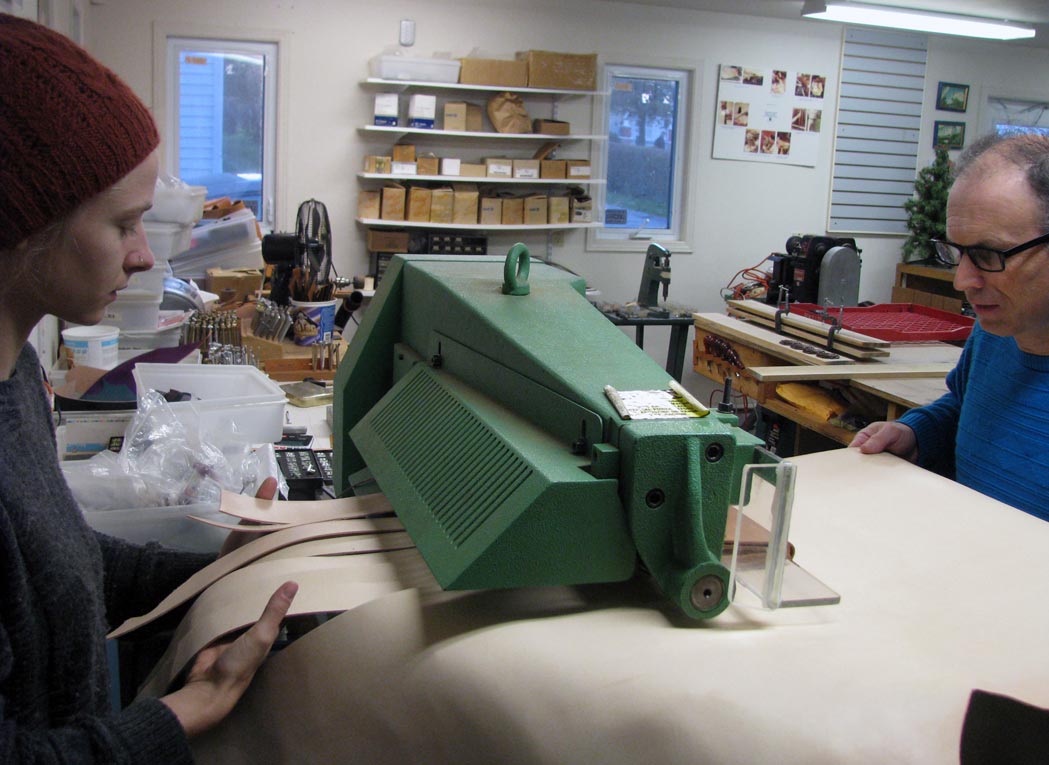 Tamsin catches leather straps for bookmarks from the hide being fed though the strap cutting machine by Jamie.
Dyeing Bookmark Leather
We apply about four coats of leather dye to the leather straps with a cloth applicator that is fastened to a wooden block. When the dye is dry, a leather conditioner is worked into the leather with a sponge applicator. The leather conditioner we use is neatsfoot oil . However with neatsfoot oil, it is better to apply several light applications as to one heavy application . Too much oil will darken the leather too much.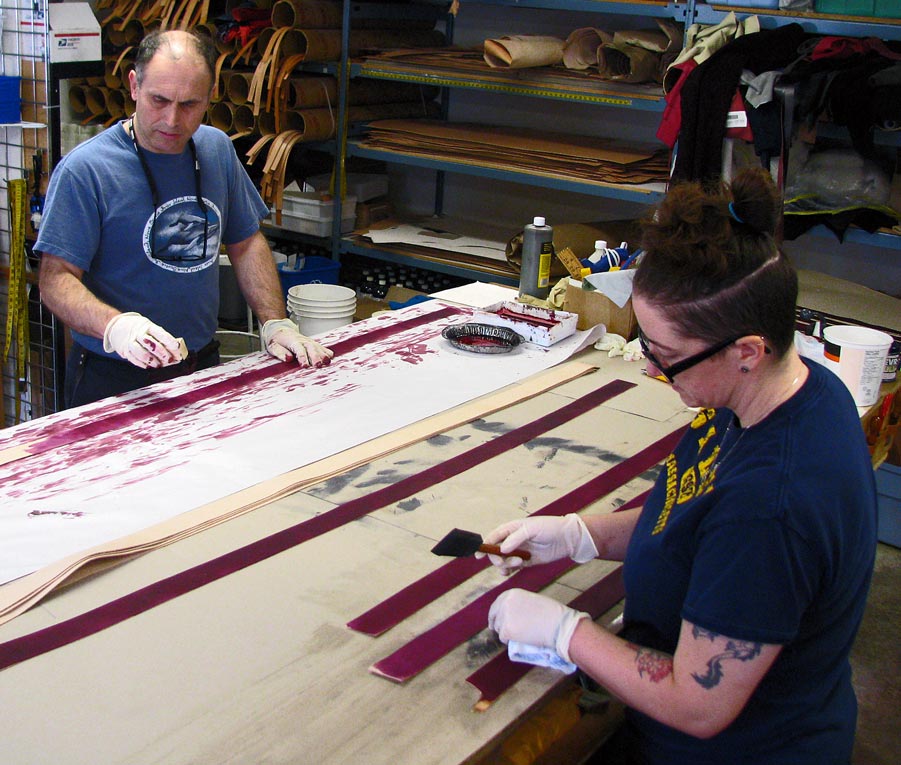 Jamie hand dyes the leather and Alana oils the leather to be made into custom bookmarks.
To give a nice sheen to the leather, two coats of polish are applied to the leather straps and hung to dry between and after each application.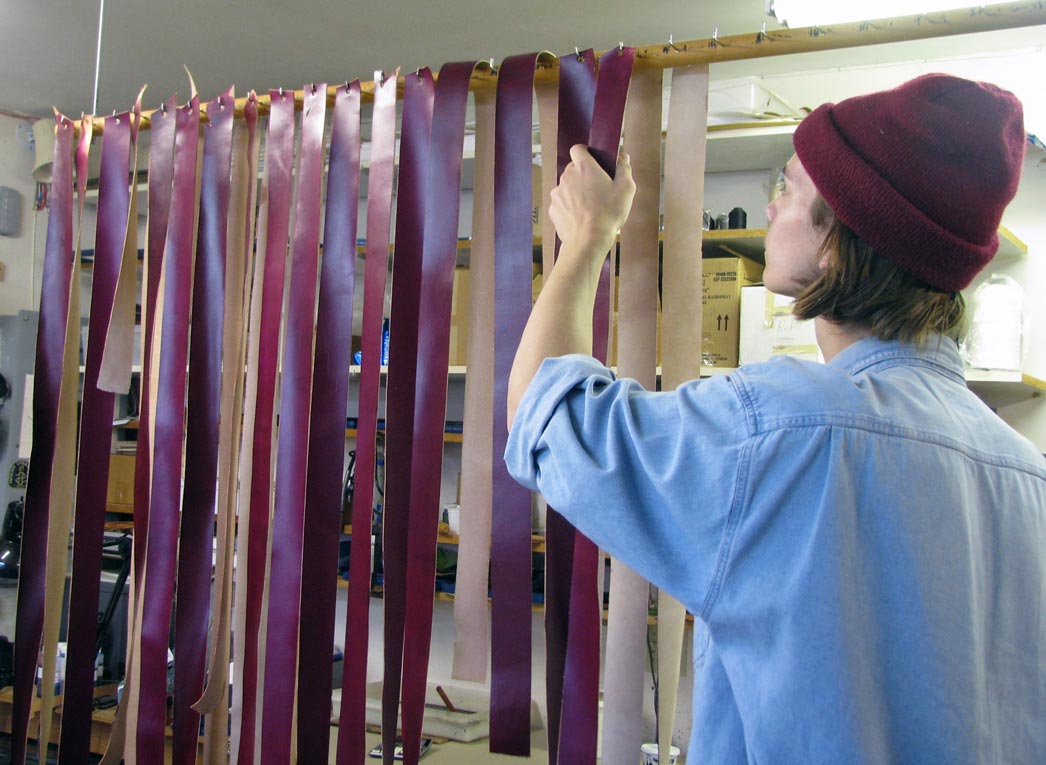 Luke hangs leather straps to dry after they were polished.
Cutting Leather Custom Bookmarks
The leather straps are finally ready to be cut to the final bookmark shape. Our customer requested a certain shape and size so we had a die shop custom make a cutting die from the pattern we drafted. We use a hydraulic cutting press called a clicker to cut the leather shapes. The cutting die is placed on the leather and the machine head is swung above it. When dual buttons are pressed, many tons of pressure push the cutter through the leather. When the pressure is released, sponge rubber ejects the leather bookmark from the cutter. Using the die reminds me of using a cookie cutter for cutting the shapes.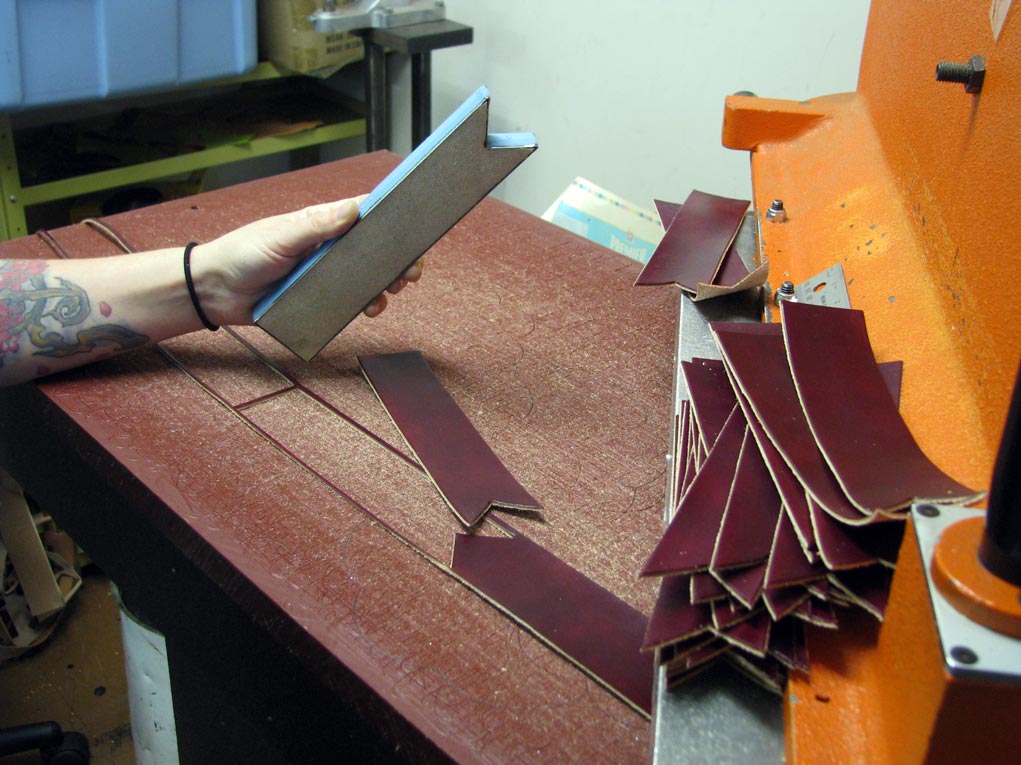 Leather custom bookmarks are cut out on a clicker press with a metal cutting die that was specially made for this order.
Imprinted Leather Bookmarks
We use a pneumatic hot press to imprint the leather custom bookmark. The press descends with numerous tons of pressure to a set height. Therefore our leather purchased has to have a very consistent thickness throughout the hide or the press will push the imprint too deep or not deep enough. After our hides come from the tannery, they are sent to a custom finishing shop to have some of the flesh side removed that is too thick which leaves the top grain leather with a very consistent thickness throughout the hide.
Consistent dwell time which mean how long the metal imprint is pushed into the leather as well as consistent controlled temperature are key to a quality imprint. We send the graphics to a metal shop to custom make a metal imprint plate for us. This imprint plate must have a deep engraving in the metal.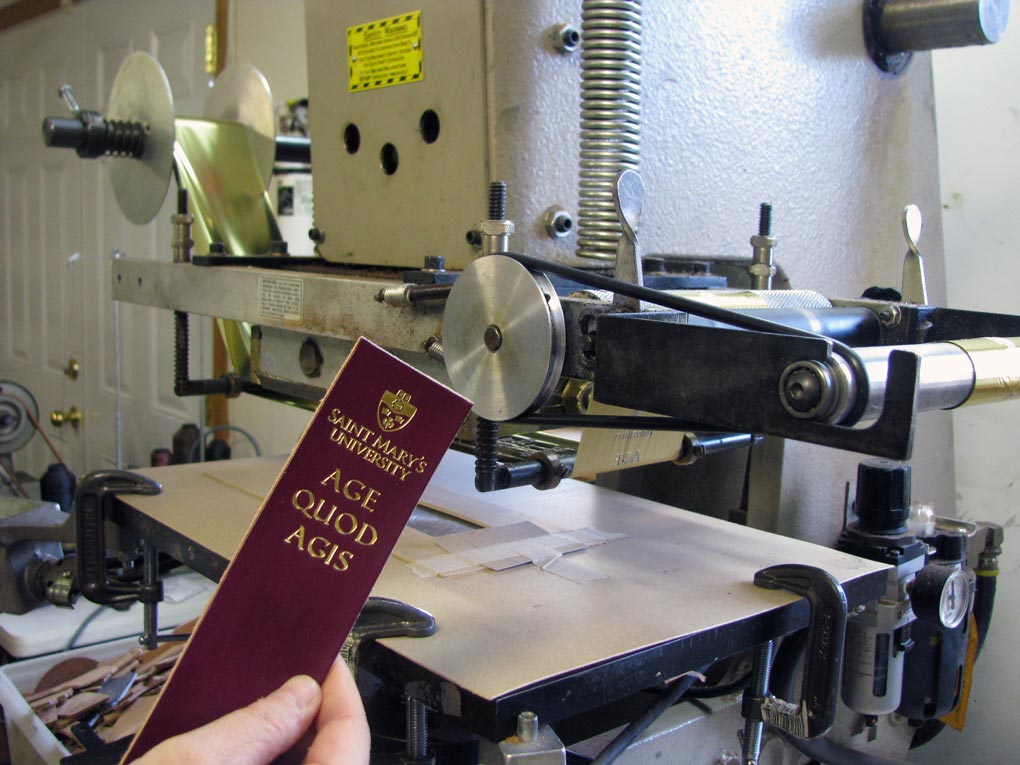 Gold foil imprinting the customer's logo into the leather custom bookmarks with a pneumatic hot press.
Before our leather custom bookmarks are shipped, they are checked for quality. Imprint quality and dye evenness are checked. Leather quality is also checked to avoid cuts or marks. Any bookmarks that don't meet the high standard required are rejected and new bookmarks are made to replace them.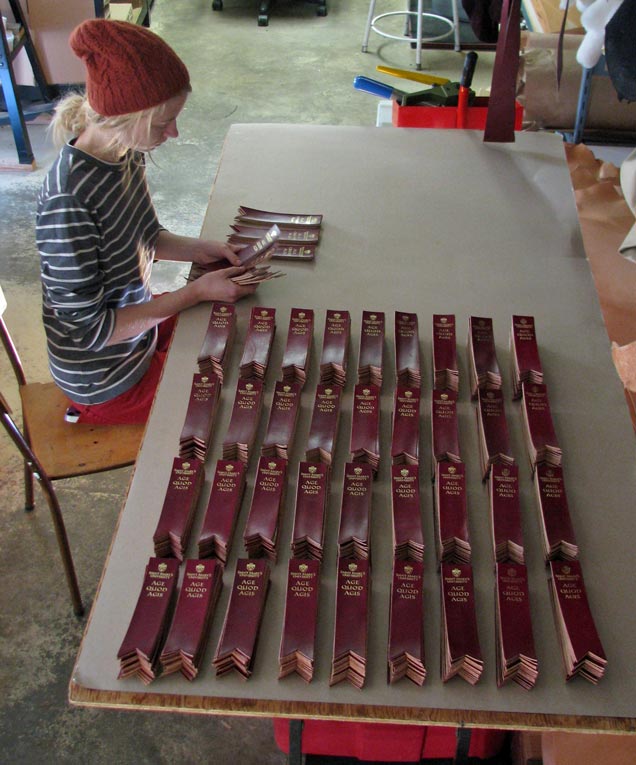 Tamsin checks the custom leather bookmarks for consistency in quality before being shipped.
Normally we make our imprinted leather bookmarks with a rounded top and fringes on the bottom. We find gold and silver imprints show the best and look the richest on black, brown or burgundy leather although we imprint with other colors as well.