This article is an overview of everything to do with our leather guitar straps, which are handcrafted by the artisans at Leathersmith Designs. It will show you what goes into designing one of our custom guitar straps, and it will compare different techniques we use for different styles of straps. Read on if you're curious about how our handmade guitar straps are created, or for guidance on which style of strap would be ideal for your needs.
Watch artisans handcraft different styles of leather guitar straps.
1: Real Leather Guitar Straps
Every guitar strap starts life as a high quality piece of 5-6 oz vegetable tanned leather. The "5-6 oz" measurement refers to the thickness of our full grain leather; these hides are about 3/32 inches thick. "Vegetable tanned" describes the tanning process, which uses tree bark. This process creates leather that can be stamped and molded when wet.
We often incorporate other leathers in the strap, such as chrome tanned garment leather. We use this soft leather as a lining or inlay option.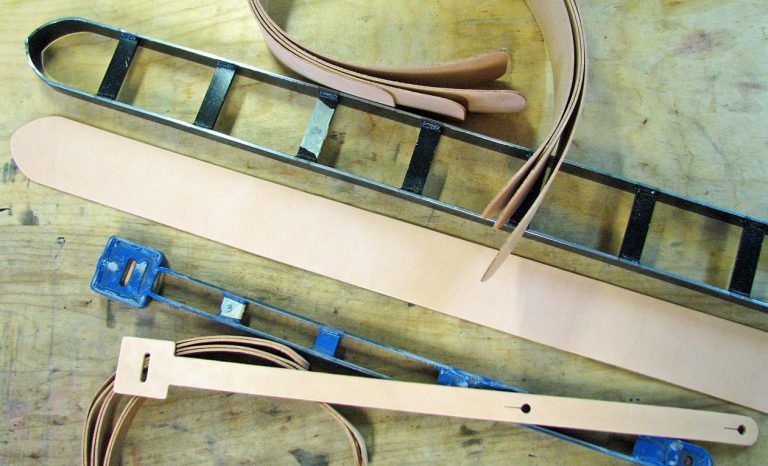 Standard size undyed full grain leather guitar strap pieces and cutters.
We cut our standard size guitar strap pieces using cutters on a hydraulic press. You can see our hydraulic press in action in the video below. Extra long straps and wide bass straps are cut out by hand, using a strap cutter handtool and a sharp utility knife.
We hand cut custom leather guitar straps longer and wider to customer specifications.
2: Design Elements Of Leather Guitar Straps
Once our pieces have been cut they are ready to be hand tooled. This section will cover some different techniques we use to personalize and embellish our straps.
"Classic" Stamped Straps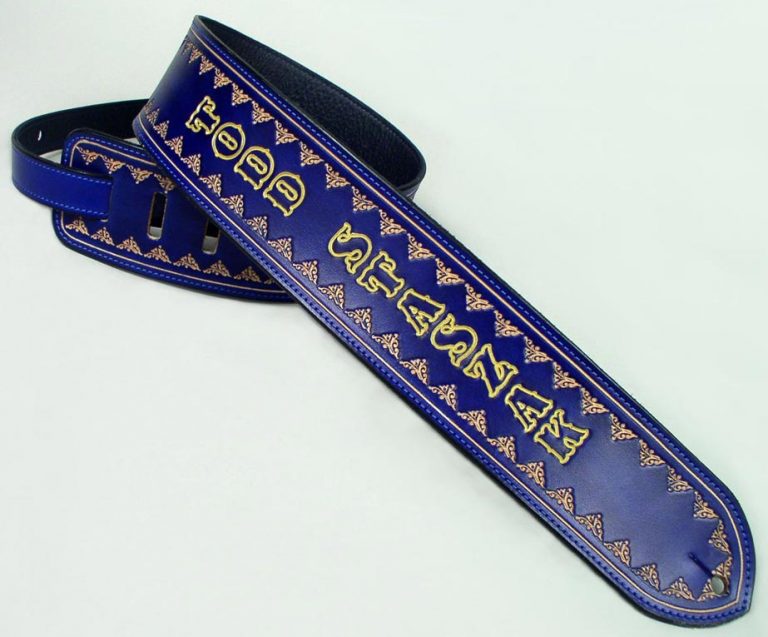 The embossed classic series are our most popular guitar straps. To create this look the strap needs to be wet, which allows the stamping tool to mold the leather as it's hammered down.
The key to this technique is precision. We line up the stamping tool exactly in place, and bring the hammer straight downwards to create an even impression. Then we line up the tool again, and repeat a few hundred times to create a beautiful border design around the strap.
After stamping the border designs, we lay out the text. On most of our guitar straps we use one style of lettering: the classic, western-inspired font you can see in the picture above. We also have an old english font set, which is unique but not as easy to read as the classic style.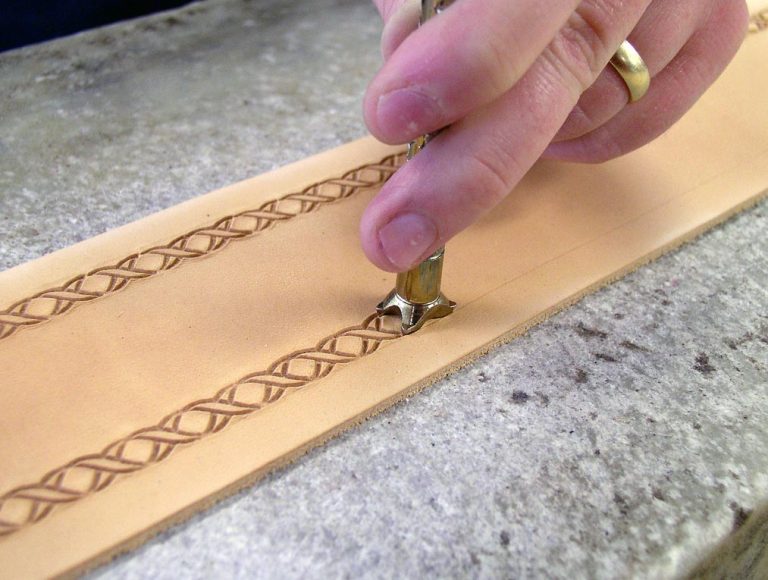 Hand stamping an "x" pattern onto a leather guitar strap.
Etched Leather Guitar Straps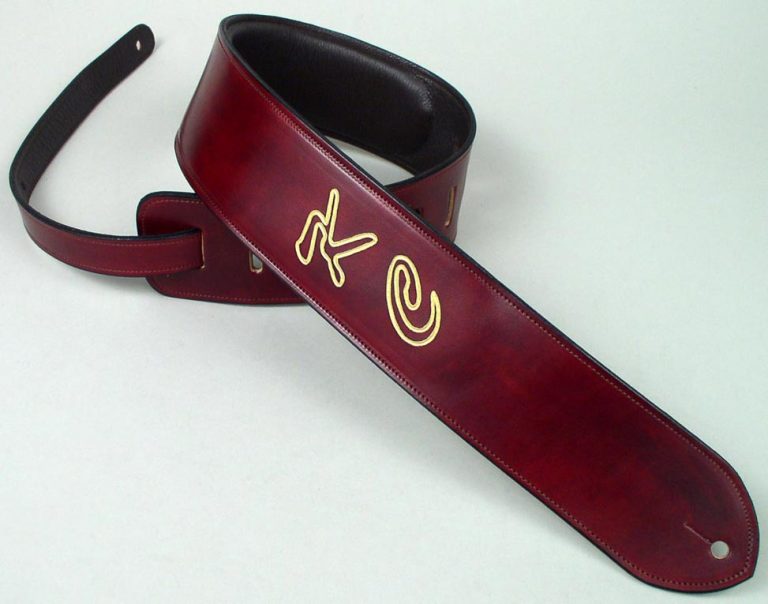 A personalized etched series custom guitar strap.
Etched designs have a hand-drawn artistic look, as opposed to the uniformity and crisp corners of the stamped designs. To create these we trace an image onto the guitar strap in pencil, wet the leather, and press down the lines of the design with an etching hand tool. The key to etching is to keep a steady hand and apply even pressure. This blog post on making custom candle holders includes a tutorial for etching, if you want to learn more.
We hand paint the etched lettering or layout with an acrylic leather paint. We have several font options for this lettering style.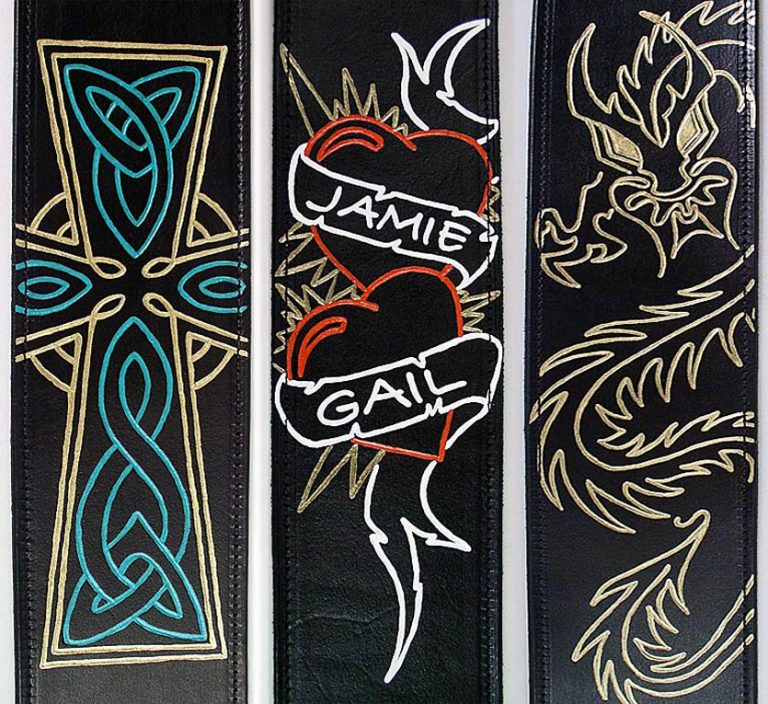 Etched and painted designs on three unique leather guitar straps.
"Script" Straps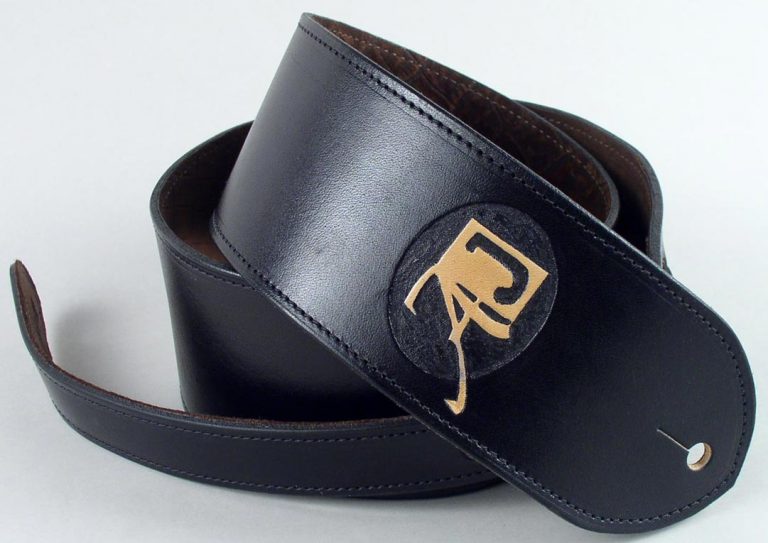 A script series monogrammed guitar strap with textured embossing surrounding initials.
This is a different type of stamped strap. We trace on a design, as with the etched straps, and then we use small, textured stamping tools to tamp down the area around the design. It takes hundreds of hits to emboss the background using this method, which is very time consuming. This technique makes the lettering or image appear raised.
For a subtle look, we will dye the whole design one color. For more contrast, we can leave the lettering undyed. We do this by painting on the dye with a fine artist brush around the exterior of the raised image.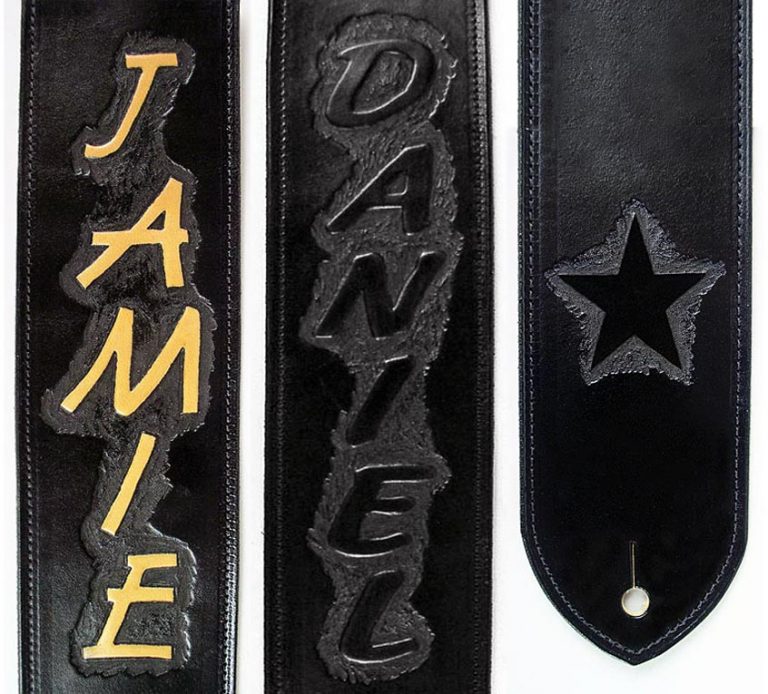 Our script style designs on our tooled leather guitar straps have a chiseled look.
Inlay and Overlay Straps
Inlayed straps have pieces of the main body of the guitar strap cut out, revealing a different leather underneath. We might use a textured leather for these inlays, such as ostrich imprint or stingray, or a soft garment leather, or leather with a metallic finish.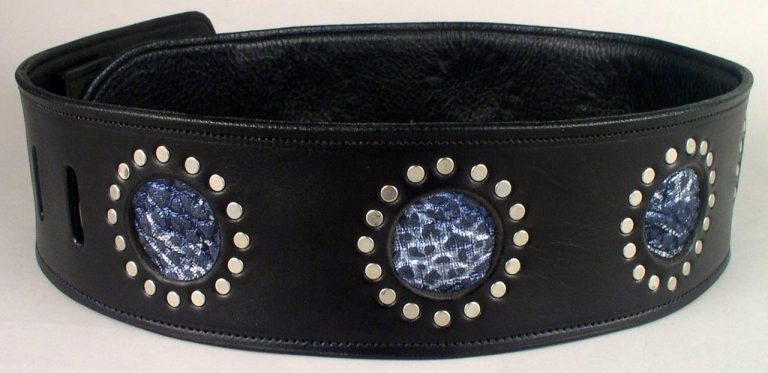 A setting suns handmade guitar strap with textured leather inlay.
Overlay straps have extra pieces sewn on top, creating a 3D effect.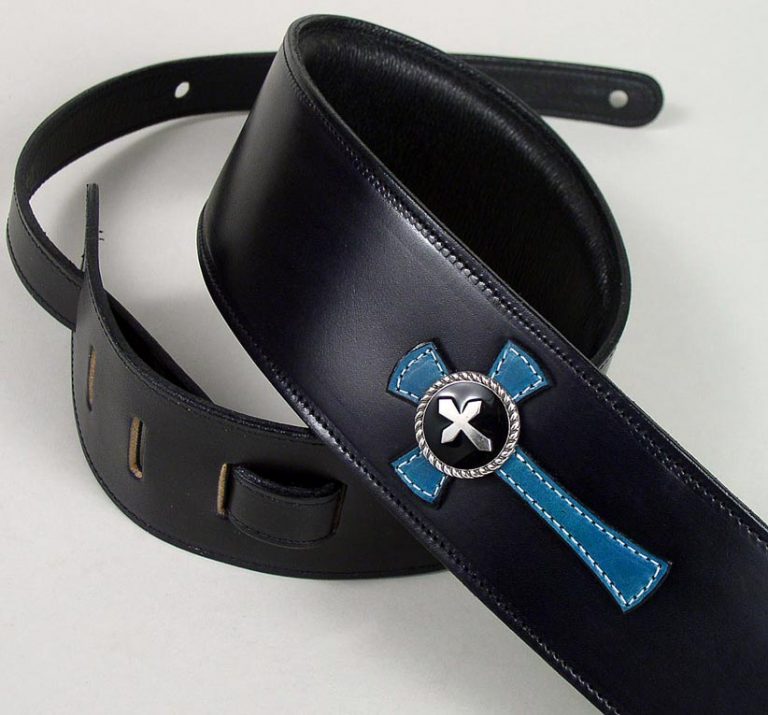 A Christian guitar strap with a blue leather cross overlay piece and decorative metal concho.
For both the inlay and overlay styles, the first step involves tracing a pattern onto the leather and then cutting out the necessary pieces with a sharp utility knife. The cut edges are sanded and adjusted until the cut-out is completely smooth.
3: Dyeing, Oiling, Polishing
Once a strap has been tooled it is ready to be dyed. For some straps, we use wooden blocks lined with sheepskin to apply the dye. This method floods any stamped or etched impressions, making the whole strap a uniform color.
For straps where the stamped impressions are to remain undyed for a natural contrasting color, we apply the dye with a cotton cloth and use q-tips to fill in the edges.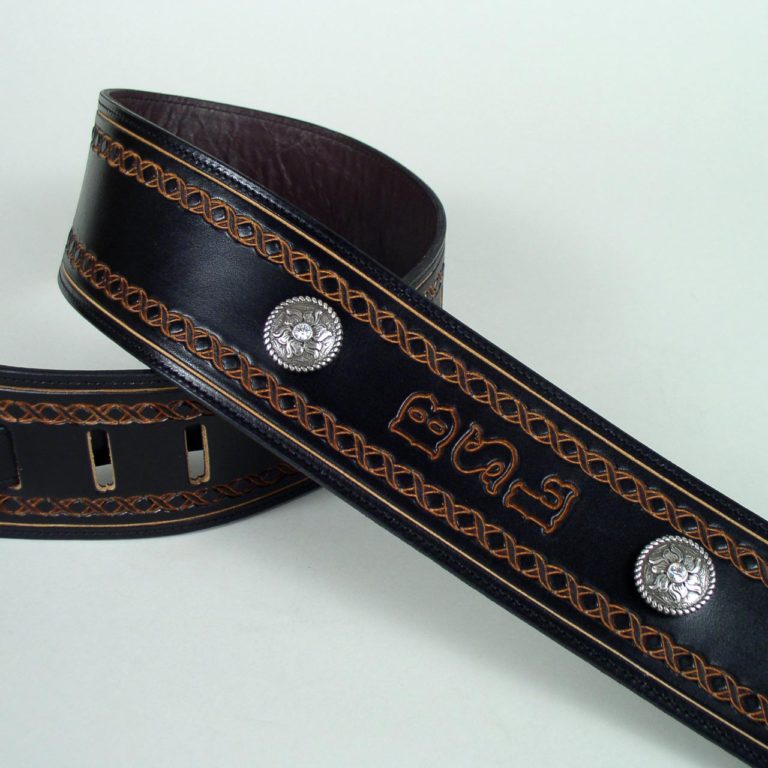 Dye is applied carefully, so as not to flood the undyed stamped design in the guitar strap.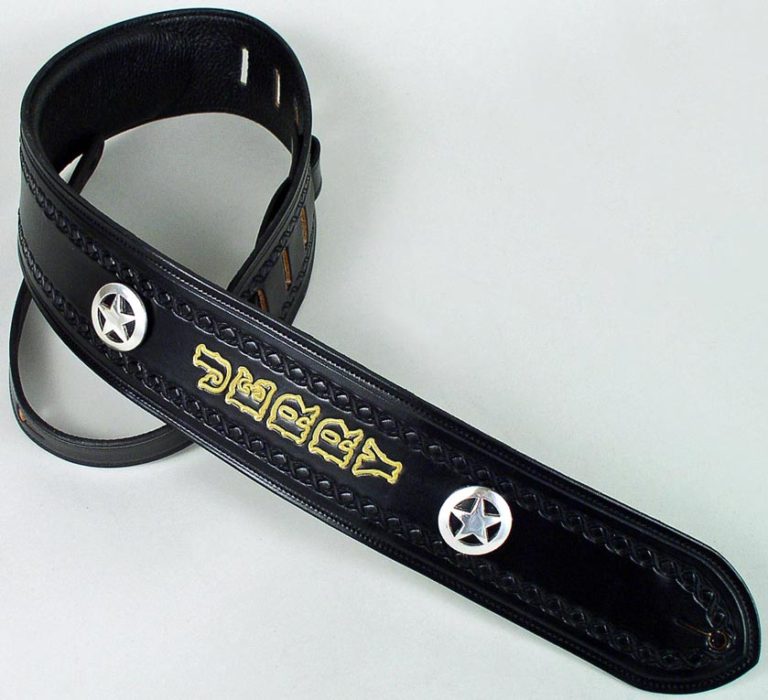 On vogue style hand tooled leather guitar straps, the design is dyed in using sheepskin.
After the leather strap is dyed, it will be coated with a leather conditioner – usually neatsfoot oil. Then we hang it up and leave it to dry overnight. The next day we may need to even out the color with more leather dye or conditioner. Once the color is uniform, we polish the guitar strap with acrylic resolene. The edges are rounded with a beveler leathercraft tool and dyed with edge-kote.
4: Finishing Touches
Many of our stamped and etched designs have an option for the lettering to be hand painted. We apply several coats of acrylic leather paint using a ball point stylus tool. The first coat establishes an even line width, and subsequent coats build up the color until it is completely opaque.
After painting, decorative conchos are fitted with leather washers and attached to the strap.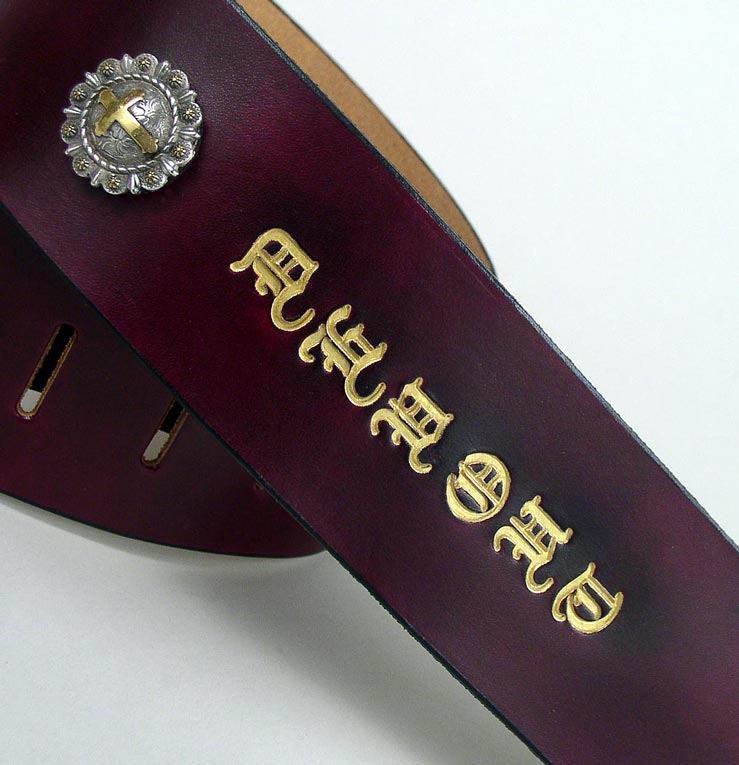 Gold painted lettering and decorative concho on an old english series personalized guitar strap.
Inlay pieces for inlay guitar straps have their edges thinned, so there won't be a bump under the strap lining later. Then we glue and sew them in place.

A dancing flame guitar strap with a metallic leather inlay. The inlay pieces require very careful sewing.
5: Padding and Lining Leather Guitar Straps
We have a few different lining options, each with a different look and feel. Inlay guitar straps need to have a full garment leather lining, to cover the back of the inlay. Otherwise, lining choice is up to preference. In all cases we adhere the lining with contact cement and then sew it to the strap.
Foam Padding and Garment Leather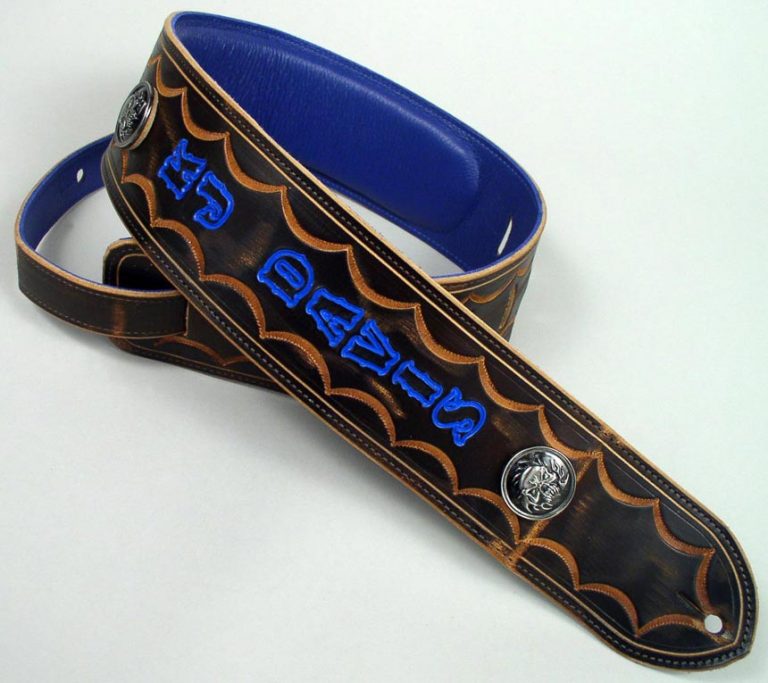 A vintage guitar strap padded with foam and lined with soft blue garment leather.
Our foam padded straps are the best option for anyone who will be playing onstage for long periods of time with a heavy electric guitar. These straps are sturdy and substantial. The foam is light and doesn't add much extra weight, but it can withstand a lot. When Jamie designed these padded guitar straps, he tested different foam types by flattening them in a press overnight. Once removed from the press the next day, the foam padding we now use sprang back to its original thickness perfectly, while other types of poorer quality foam remained flattened.
You can watch a video below showing how we add foam padding and garment leather lining to our guitar straps.
This video shows Jamie making foam padded guitar straps.
Garment Leather Lining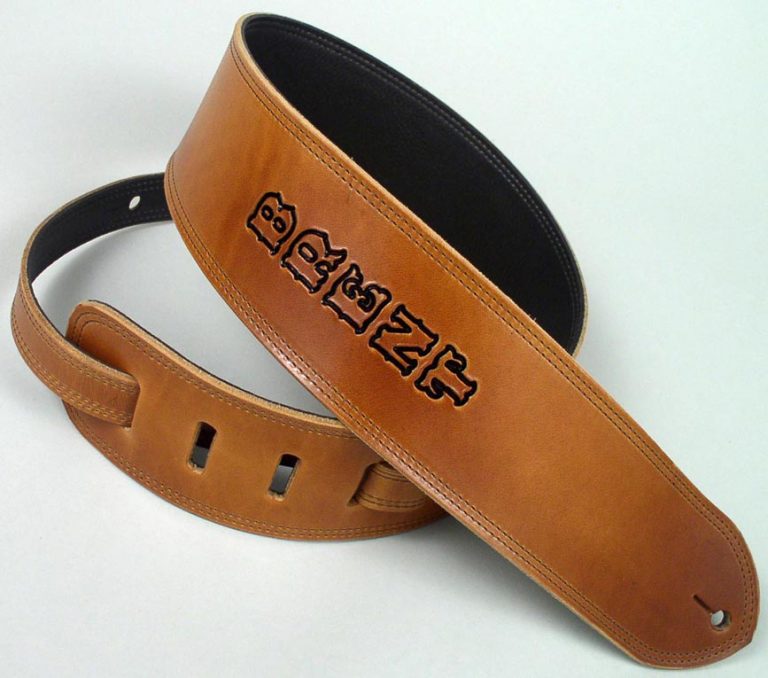 A wide bass guitar strap double stitched with a soft garment leather lining.
If you want a strap with a more finished, polished look, but don't want the added bulk of foam padding, then this is a good lining option. The garment leather is soft, smooth, and pliant. It adds some extra thickness, creating a slightly firmer strap, but the strap will still be very flexible.
Sheepskin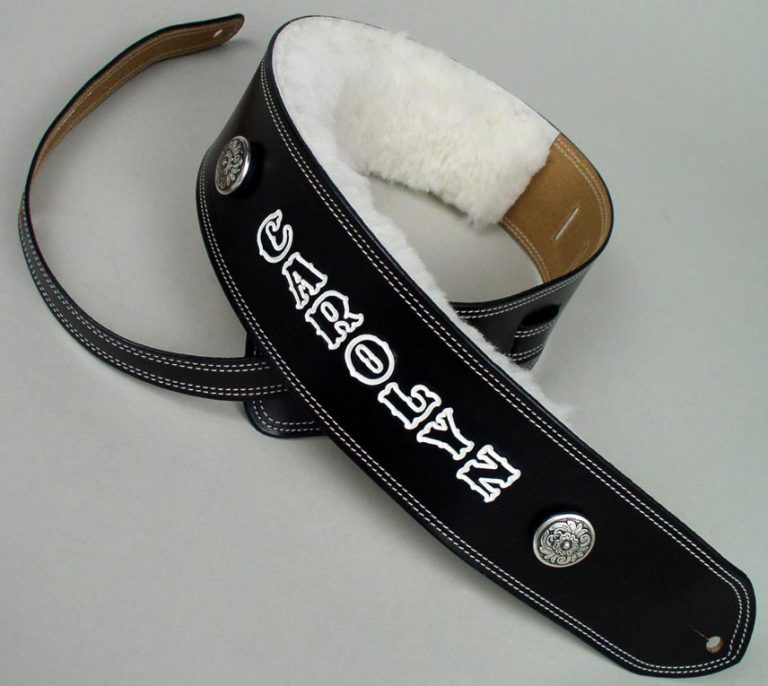 A sheepskin padded guitar strap for soft shoulder comfort with a double stitched border.
This lining option gives a nice soft cushion for your shoulder, as well as being a major, visible design element. The same strap with or without this type of shoulder pad will look very different! In the video below you can watch how we attach sheepskin padding to our straps.
This video shows Quentin adding soft sheepskin padding to leather guitar straps.
Unlined Natural Leather
Leaving your strap unlined is a good option for straps with a classic rustic look. The underside of our vegetable tanned leather is treated with a clear leather finish, giving it a smooth surface. The underside will be a natural, undyed leather color.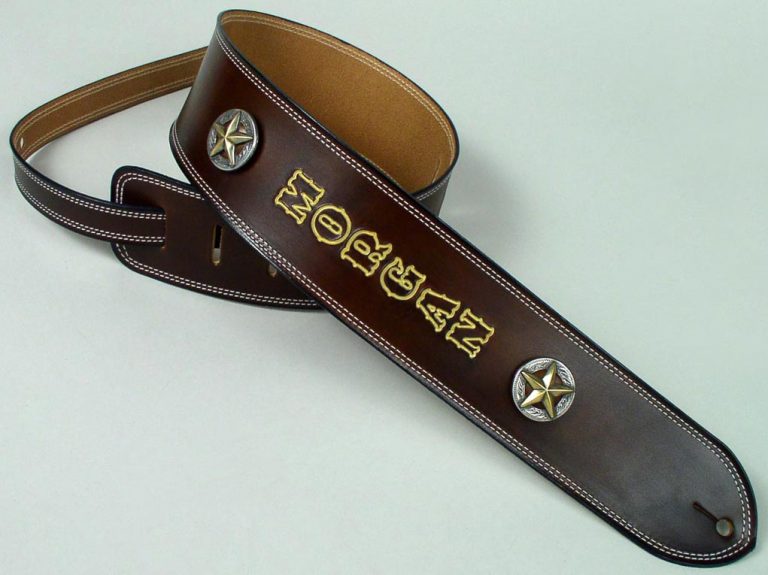 An unlined, sewn double border personalized guitar strap. The stitching is for design effect only on this unlined strap. The underside of the unlined leather is a natural color.
6: Our Guitar Straps Around the World
We love when customers send in photos of our guitar straps in action. Here are a few of my favorites: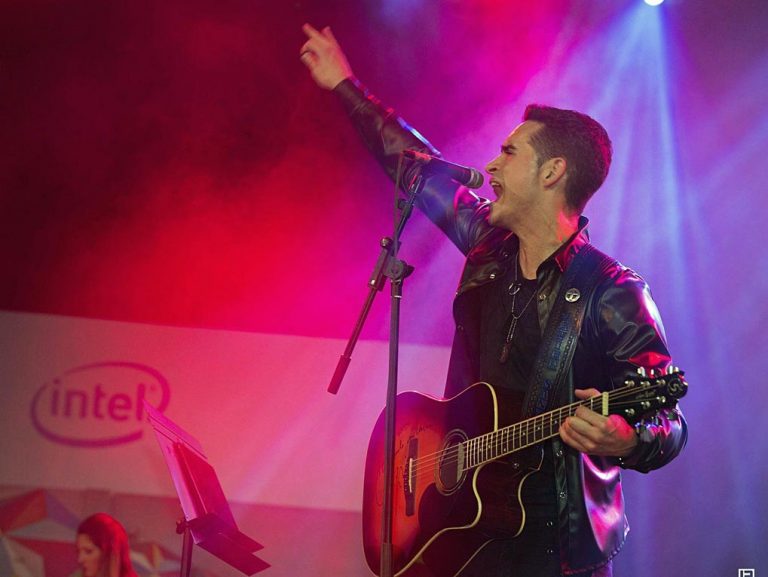 Javier Sans performs in Spain with a vogue custom guitar strap.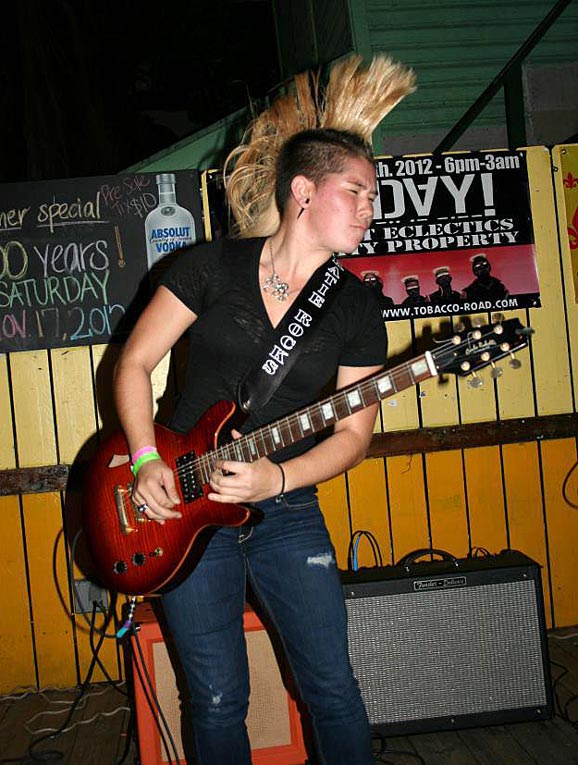 Katie Rocks performs with an etched guitar strap.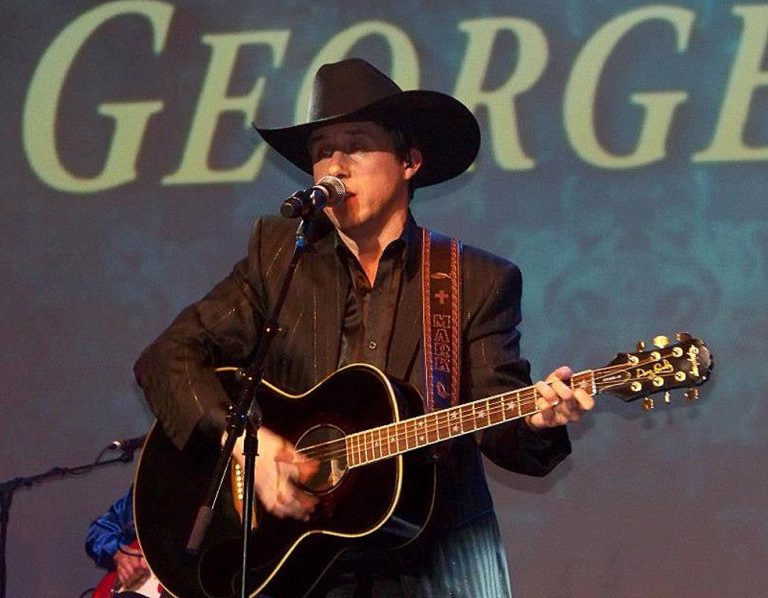 Mark Rankin performs wearing a hand tooled guitar strap.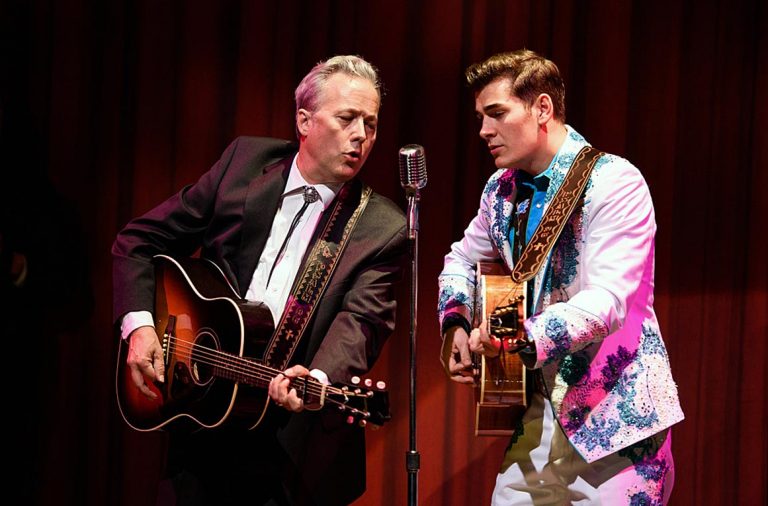 Troubadour performed wearing a pair of Christian guitar straps. Photograph by Greg Mooney.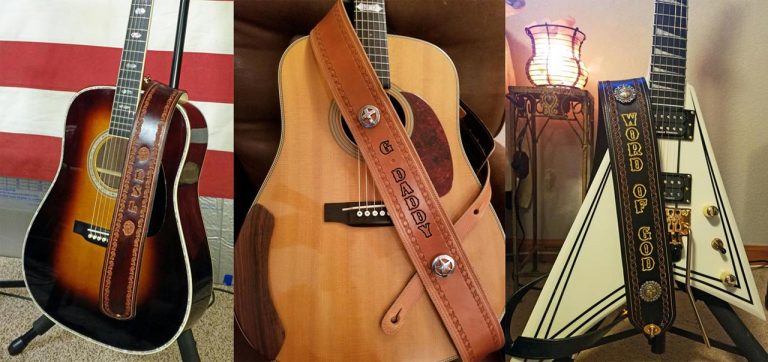 A few guitar straps with their guitars.
Check out our many styles of electric guitar straps and acoustic guitar straps. If you've ordered one of our guitar straps, we'd love to have a photo to share on social media!