Basement Leather Workshop
At age 12, my first leather workbench was a cement block sitting on the floor of my parent's basement in Dartmouth, Nova Scotia, Canada. In 1975, my father helped me build a number of proper heavy duty wooden workbenches and shelving units so I could start my first leather workshop. My Dad and Mom (Gerald & Verna Hartling) were very supportive in allowing me lots of space in the basement of their home to grow my leather business.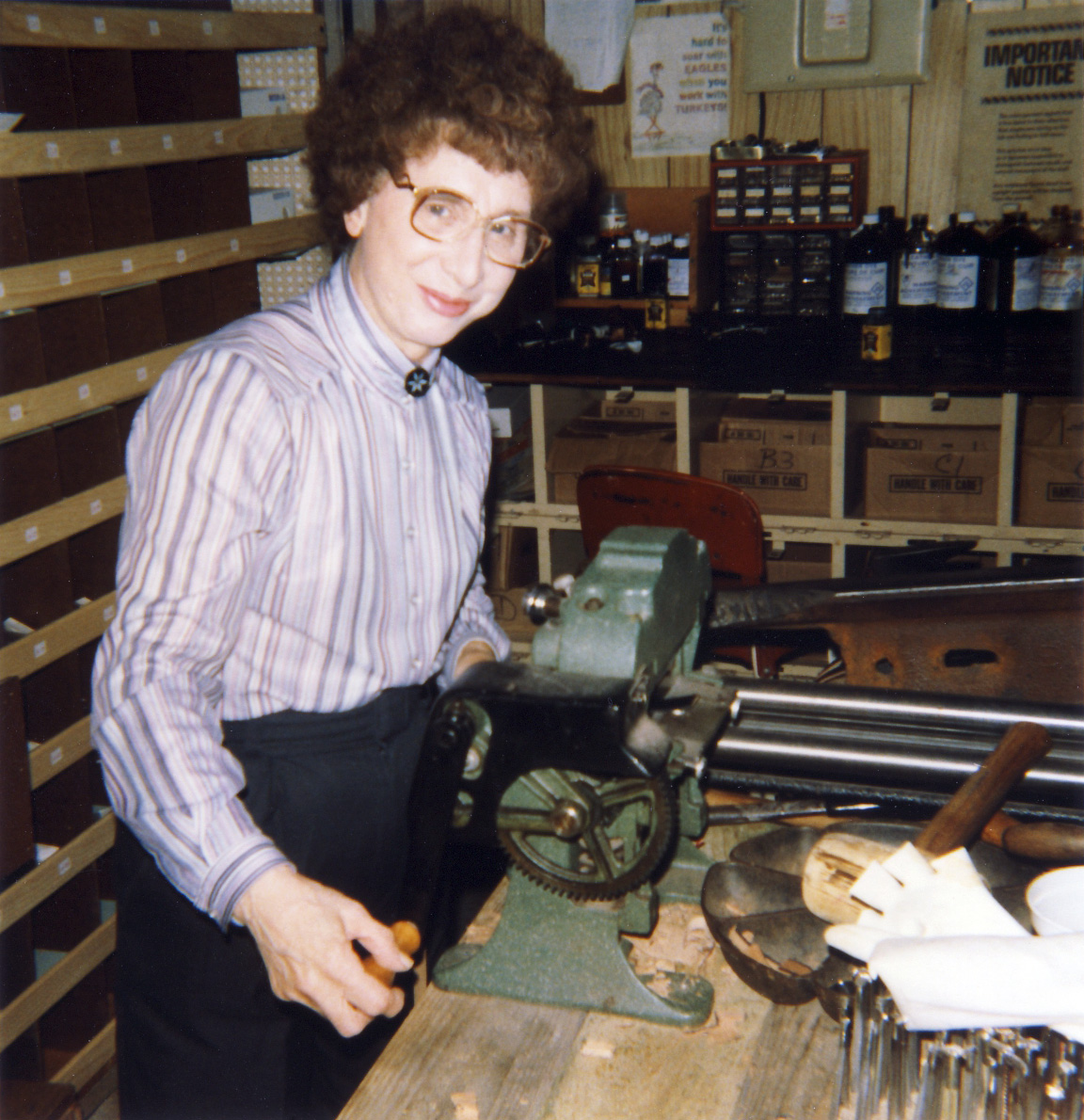 My mother, Verna Hartling by leather splitter in basement leather workshop.
Mr. Mumford, a neighbour across the street even came over one afternoon with his chainsaw and made a solid level workbench out of a very large tree stump. The tree stump is still being used every day for a sturdy work surface for punching holes in leather. On top of the tree stump I bolted an anvil that a friend Russell Lockhart help me make. I even made a dye bench/storage unit from lockers I salvaged from Prince Andrew High School that were being replaced.
Building New Leather Shop
By 1990, I had fully occupied the whole basement of my parents home as a leather craft work area with stock, sturdy wooden work benches, tools and leather bench equipment. To grow my business, I needed more space for more equipment. My parents generously allowed me space on their property to construct a building for a leather workshop in addition to continued use of their basement for stock. However, purchasing more equipment and a building required more money than I could afford.
One day when walking through my neighbourhood I stopped to talk to a hard working man originally from Turkey who owned his own upholstery business. I explained I wanted a building for my leather work but it was too expensive. He said "Since you are young and healthy, you can build it yourself to make it affordable." His encouragement was nice but I knew nothing about construction.
Mr. Laybolt, a neighbour up the street suggested his son David who was skilled and knowledgeable at construction could possibly work with me building the shop. His son agreed and worked a good part of the summer on his days off and evenings and left at the end of the day with detailed instructions regarding what I had to complete before he came back the next time. My father helped me with the construction as well. Another neighbour across the street, Mr. Piercey, helped me lay the top flooring. Our minister, Rev. Snow even dropped by one afternoon to help secure some windows.
The excavation for this building was done by hand by myself with a shovel which took many evenings over a number of weeks. My brother Philip helped me remove a tree stump when he saw how frustrated I became with the difficulty of the digging and how long it was taking me. Our part of Nova Scotia has a lot of very large rocks under the ground.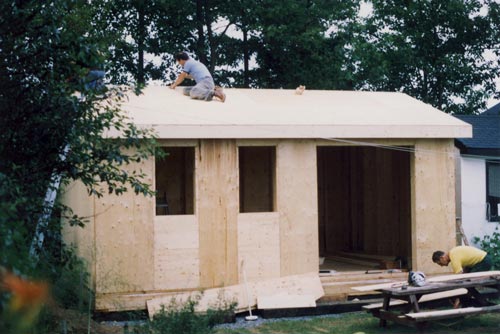 In the summer of 1990, I am building the roof and my father is working down below on my first leather workshop building.
Moving Leather Shop Building
In the summer of 1999, we had outgrown our old leather shop and needed a larger workshop. My wife Gail and I considered building a larger building on another site but it was very expensive to rebuild as well as the high cost of having the heavy leather equipment moved. My brother Lester suggested I look into moving the whole building which I already owned. To my surprise, it wasn't that much more expensive to move the whole building with the equipment in it as opposed to only having the equipment moved to a new location.
We had it moved to our new location next to our larger shop which was just renovated for us by Forrest Brothers Construction. They did a wonderful job adding new windows, doors, walls, insulation, gyp rock and siding. Wiring in the building was done by O'Malley Electric to accommodate leather machinery with large motors. No way was I going to excavate this site by hand with a shovel after my experience of doing it with the first building. I contracted a company to excavate the ground for the placement of the old leather craft shop building but I can't remember their name. After they finished, my friend Mike Haikings came over with his survey equipment and we accurately levelled the gravel area.
It was quite the move involving approval from the telephone company, cable company & electric company. Routes had to be checked, wire heights for all the utility companies had to be measured. Some overhead wires had to be raised, permits had to be arranged and scheduled moving time with the Halifax Regional Municipality had to be approved.
Before the move, electrical wires and telephone wires had to be disconnected from the leather craft shop. Machinery had to be securely bolted to the floor. Boards had to be nailed to the outside of the building to protect the exterior from the strain and pressure of the cables.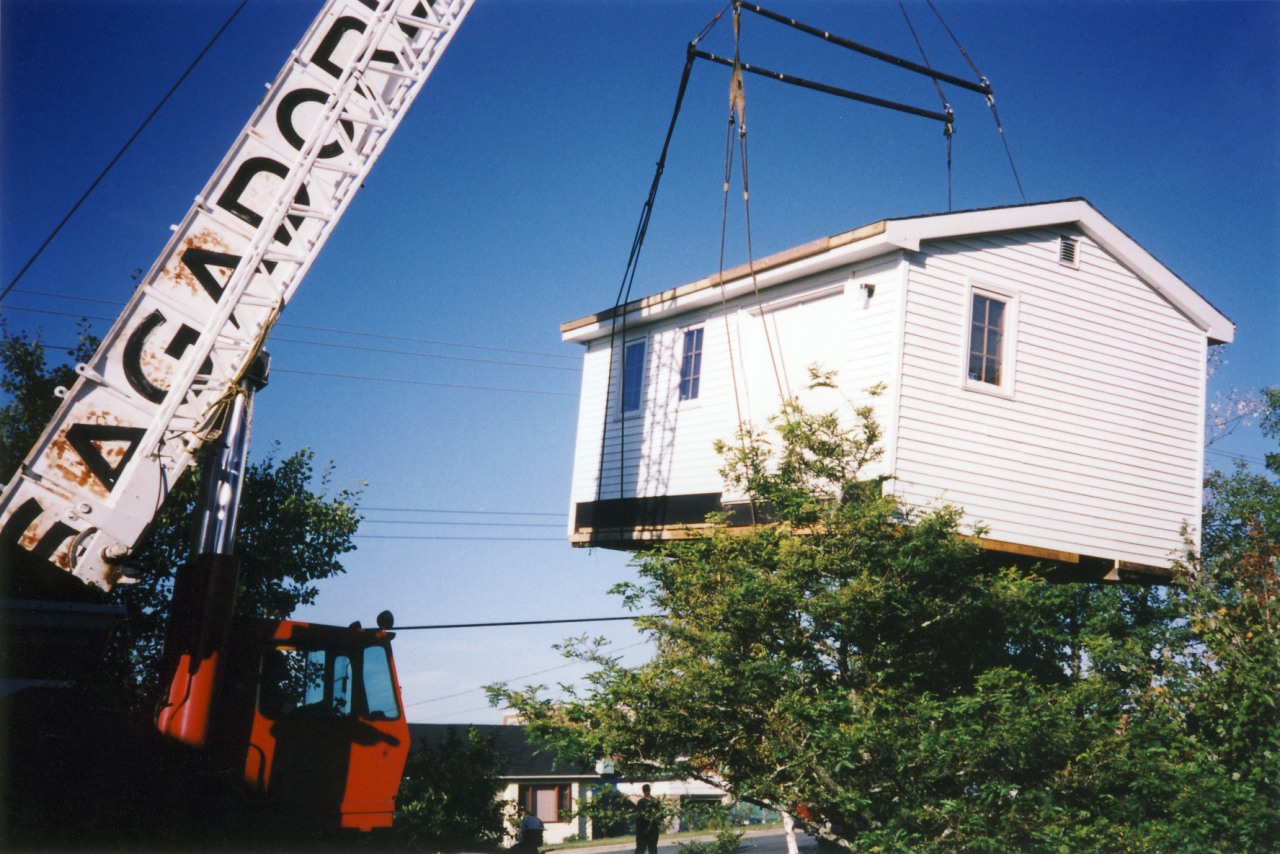 Moving original leather shop building to new location in 1999.
All our leather equipment was inside the building that was suspended by the crane. My livelihood was virtually suspended by the crane cable so we were very relieved when the crane finally successfully lowered it at the new location in another part of Dartmouth. Some of the leather equipment such as our leather clicker weighed a couple thousand pounds and other pieces close to 1000 pounds each. The crane operator was surprised that such a large crane was booked for our building. However, when he started to lift it and the crane registered how much it weighed with all the leather equipment inside, he understood why. He had to stop and reposition the crane to deal with the heavy weight load.
Sagadore Cranes did an excellent job of moving the building. The city of Dartmouth was cooperative with the scheduling times as we needed daylight to see since the building had to be lifted over trees and over the roof of another building but couldn't be moved during busy traffic. There was manoeuvring in quite tight spots. The crane operator and crew were very skilled.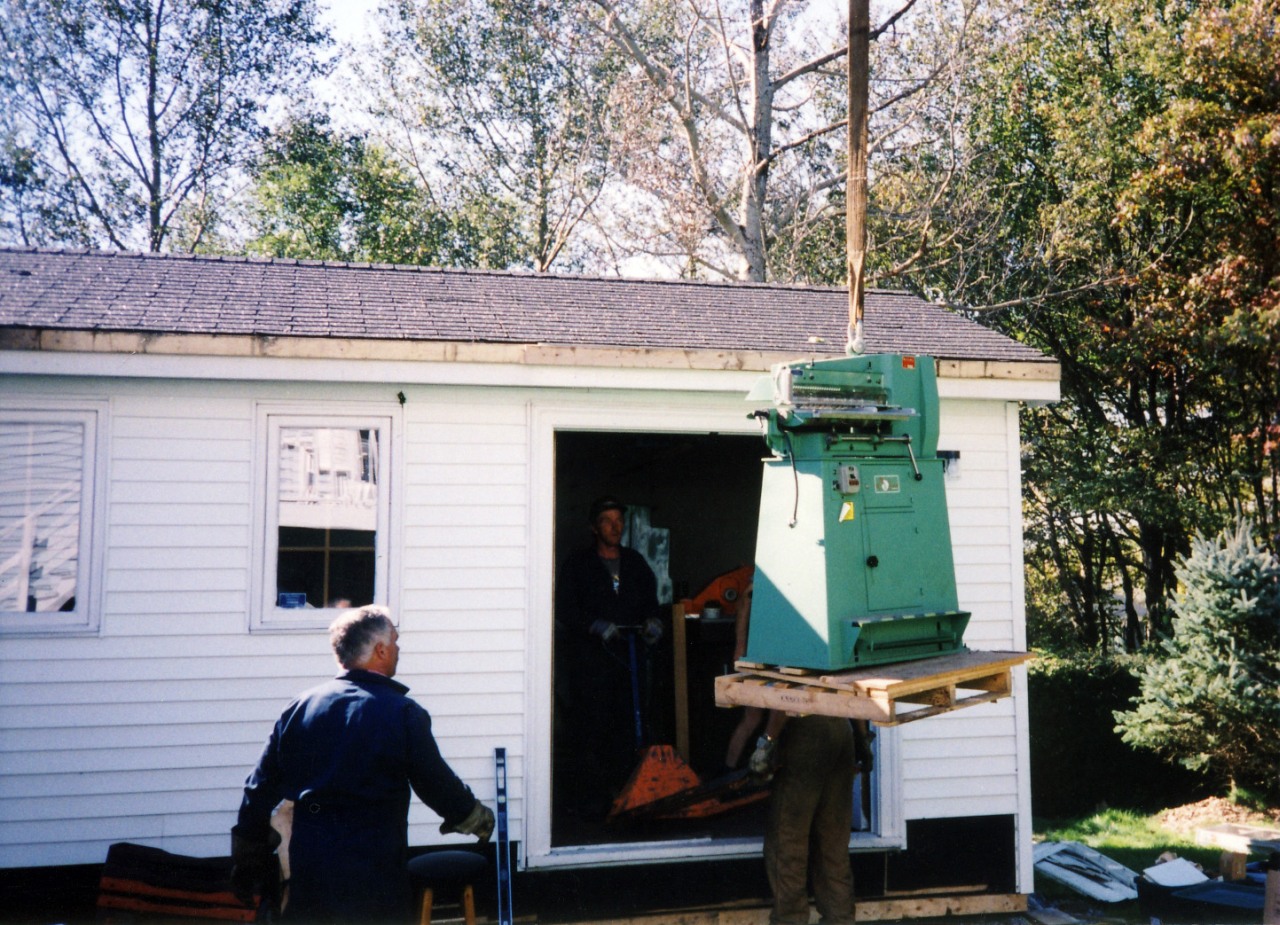 Relocating heavy leather equipment within the larger leather shop.
The metamorphosis from a tiny concrete block workbench on a basement floor to a large professional leather shop took many years. Most of our business is on the web selling our custom leather products such as guitar straps, dog collars, money belts and leather craft supplies. However we love it when customers and tourists visit our leather craft shop.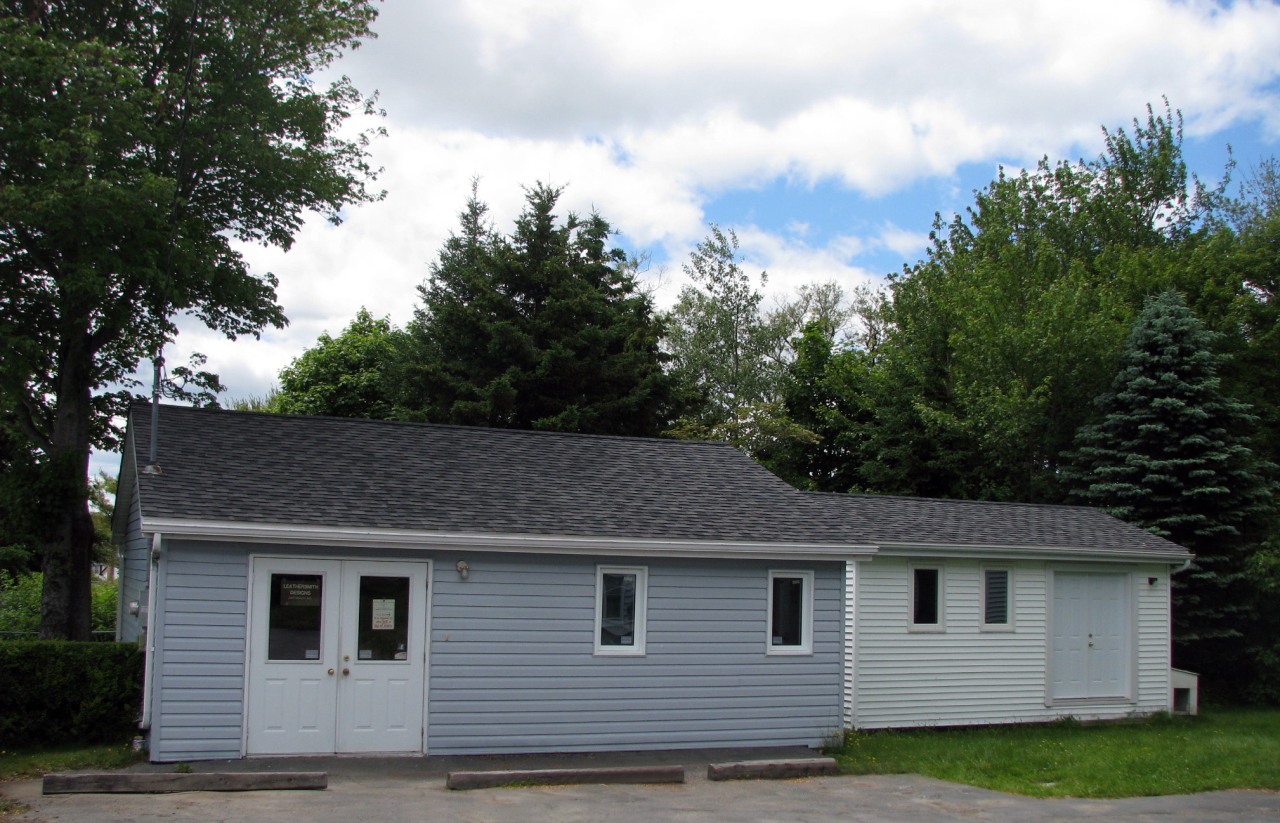 Combined leather shop. Older shop next to larger renovated shop.
You can watch the following video of the "Big Shop Move", which shows how our leather shop was lifted by the large crane and moved through the streets of Dartmouth (Halifax Regional Municipality). In the video, excavation was first done at the new location for the old workshop. After the building move, leather machinery was transferred between leather shops by the crane.
Video showing The Big Shop Move