Founder of the Leathercraft Store
Leathersmith Designs is a leathercraft store that started from humble beginnings and was able to grow and become successful through a supportive family. My wife Gail Hartling and myself, Jamie Hartling, are co-owners of this custom leather shop and leathercraft supply business.
For many years, I enjoyed going to various crafts while in elementary school. I wanted to sell my creations at craft shows but was told by my parents (Gerald and Verna Hartling) that I was too young for such a venture.
My parents enjoyed visiting artist and craft studios as well as craft shows while vacationing, which developed my appreciation for handmade products. One exciting place I remember visiting quite a number of times was the Opus Craft Village in Mactaquac, New Brunswick, where I enjoyed watching and talking to the artisans. The village had a retail craft store out front, but you could also stroll in back to various studios. I visited a candle maker, potter, glass blower and, you guessed it, a leatherworker. While in elementary school, I also fondly remember my brother Lester taking me one time to a craft show called the Festival Of The Arts in Halifax, Nova Scotia, and pointing out the uniqueness of the designs in the handmade belts, and the superior belt quality that these leather workers were selling.
Jamie Hartling, founder of Leathersmith Designs
Learning Leather Craft
In 1974, I received a leathercraft kit from my parents and took to it like crazy. I made my first leather projects while sitting on a cement floor in a basement, with a single cement block as a workbench. My brother Lester showed some interest in doing leather work with me but ended up only wanting to make items for himself, while I wanted to sell what I made. Lester thought we needed more tools, so he spent a small amount of money on a few basic leathercraft supplies. Our father thought he was crazy to spend such an amount of money. Lester jokes that he still owns part of the business since he helped get it started. In reality, over the next few months, once he had made all he wanted for himself, his interest in continuing leather craft ceased.
To advance my leather craft skills, I read lots of books and talked to anyone I could who knew anything about leather work. My father Gerald, in later years, warned my wife-to-be that every vacation would be a leather vacation. In other words, I would find something related to leather work in every trip, to glean knowledge from someone. It could be visiting tanneies, shoe manufacturing plants, other leather workers, harness shops, leather dye and polish manufacturers, etc.
An exciting excursion on our family summer vacation when I was a young teenager was an annual visit to Village Pottery in New London, Prince Edward Island. This craft shop had a leather shop upstairs run by Ian Scott and a pottery studio downstairs. Ian also taught a leather program at Holland College. When I first met Ian, he agreed to meet us at the college and give us a private tour of the facility since the program was closed for the summer.
In my early teens, I refined my skills when I was given special permission to take an evening leather working course with adults through Dartmouth Continuing Education. While in high school I struck up a friendship with the owners of George's Shoe repair shop, who allowed me to come after school to talk shop and observe leather working and repairs. A lot of valuable skills were learned from these visits. Global News did a segment on them when the Rapanakis couple retired from their shoe repair business in 2004.
Marketing The Handmade Leather Products
Throughout 1975, dad helped me make some workbenches for my leather working shop. By that summer I was ready to attempt my first craft show, which was the Festival of the Arts, and I now had my parents' support. This craft show was exciting as it combined bands playing with artists and craftspeople selling their creations. Dad loaned me approximately $100 to buy some supplies to make leather goods to sell throughout the weekend. My heart sank when we saw full time leather craftsmen bringing in wooden barrels full of leather products. However, with only a handful of belts and some key tags, I had a successful weekend. That first craft show was the starting point for many that followed over the next 30 years, as Leathersmith Designs sold our leathercraft at shows throughout Nova Scotia, New Brunswick, and Prince Edward Island.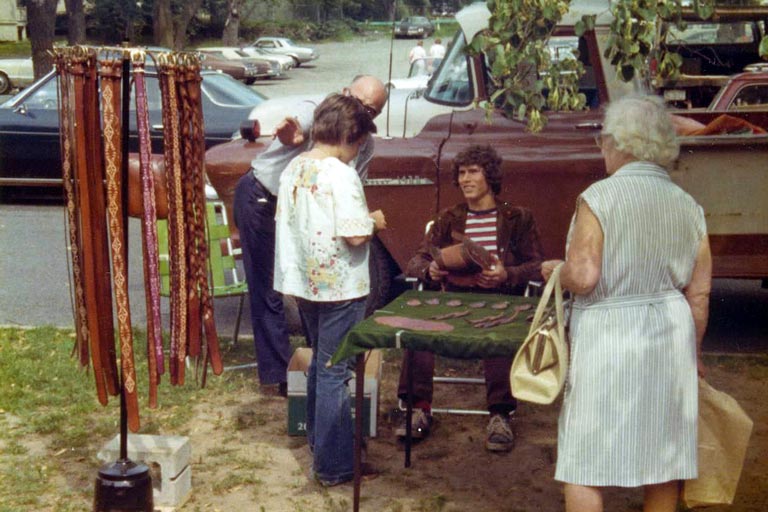 Jamie's first craft show at age 13 at the Festival Of The Arts, Halifax in 1975
Family Support at Craft Show
Over the many years of Gail and I doing the craft shows, we had tremendous family support. For thirty years, my brother Philip would faithfully help set up and dismantle the displays before and after shows, and our parents would help sell at the craft shows. My other brother Lester and his wife Eva helped us when we attended the Mactaquac Craft Festival in New Brunswick. One time, Lester and my parents went on a harrowing trip by ferry in a storm to a show in Prince Edward Island, which you can hear about in the video further down in this blog.
To take advantage of the best shows, which often happened on the same weekend, some family members would sell in one province and others in another province. My father-in-law Brian Oxner would travel to Moncton to sell at the Leathersmith Designs booth, and my mother-in-law Eileen Oxner would often drop into local markets to give family members a break at the long shows. Leathersmith Designs would not have been able to succeed without all the family support given over the many years.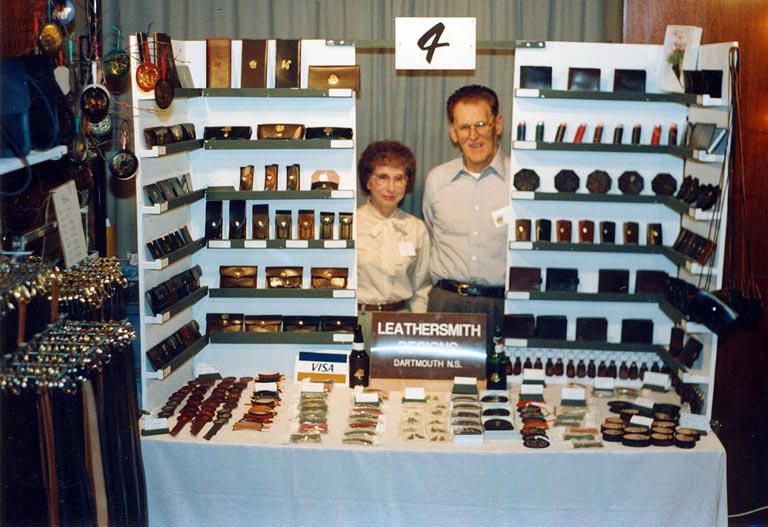 Gerald & Verna helped sell at numerous craft shows throughout the Maritimes
The First Leather Workshop
My parents were very supportive allowing me to use the basement of their home for a leather working shop. Starting a business was difficult because of so many things that had to be purchased when I was in Junior High School.
I scrounged whatever I could to get started. In the photo below where my mother is standing by a leather splitting machine, you can see items gathered for the basement leather shop. In the background you can see old school lockers that were being discarded from Prince Andrew High School. I had the doors removed and put on the side for storage and attached a plywood top to make a dye bench. On the left, a letter sorting cabinet discarded by an old post office made an excellent storage area for organizing buckles. On the right is an old railway track that a friend and I made into an anvil in Junior High School. While taking industrial arts in Junior High, my shop teachers allowed me to use the metal shop equipment to make leather tools during lunch hour.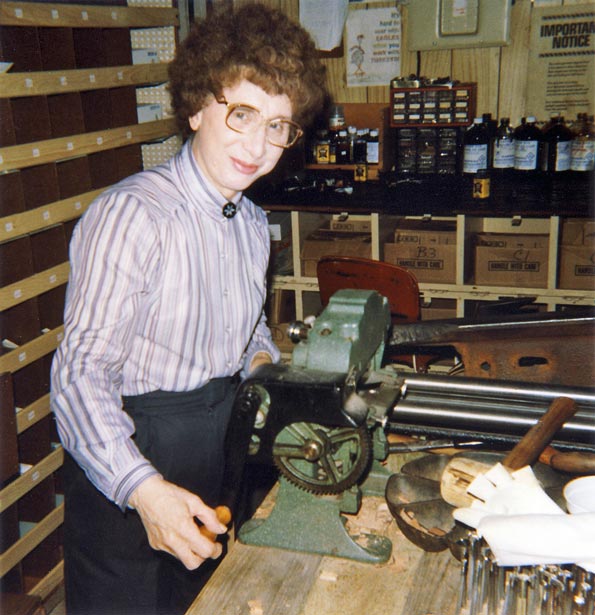 Verna standing by a leather splitting machine in the basement leather shop.
Leather Craft Supplies
In the late 1970s, Leathersmith Designs started to branch into selling leather craft supplies and shoe repair supplies. Every week we made deliveries to shoe stores, leather goods stores, and shoe repair shops. Leathersmith Designs' own shoe care brand was created, with display stands going into retail stores displaying their leather care products. Leather care products were bought in 20-liter barrels and poured into privately labeled, consumer size bottles.
Our emphasis was selling to privately owned retail leather stores, shoe stores and shoe repair shops. However, over the years, the number of shoe repair shops declined throughout the Maritimes, and the number of privately owned retail leather stores and shoe stores declined as corporate chains took over the retail sector. With the corporate chain headquarters being located outside the Maritimes, it was hard to make any headway with them. By the start of the millennium, Leathersmith Designs decided to drop the shoe repair line and their private labeled leather care line. We continued to expand our line of leather products made, and our line of leather craft supplies.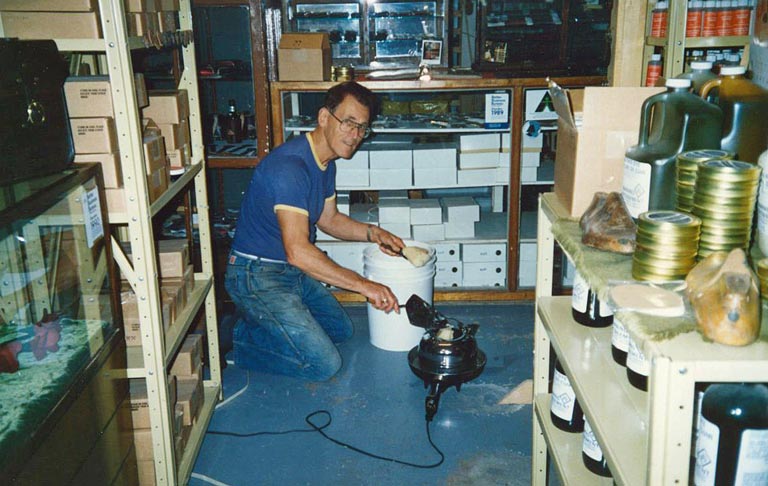 Gerald warming dubbin to be canned in Leathersmith Designs privately branded leather care line.
The Decision to Go Full-time Leather Artisan
Up until this point, Leathersmith Designs was operated as a part time business while I was attending school and university. The year following university, I kept the business going part time while also employed at various term jobs such as organizing craft shows for the Nova Scotia Designer Crafts Council, selling shoes, and marketing credit cards.
My minister asked what I wanted to work at if I could do anything I wanted. I said I would love to make Leathersmith Designs a full time job. After thinking about the conversation, I made the decision and took the jump from part time business to full time employment in 1986. The first four years were extremely tough, as it was hard to earn a living when every leather product was hand sewn and hand cut. It was extremely labour intensive.
Second Additional Leather Workshop
By 1990 I decided that in order to make Leathersmith Designs successful in the long run, it needed equipment for production orders. Leathersmith Designs had also outgrown the basement leather shop. An additional building was built on my parents' property for holding leather machinery. During that year and following years, I travelled to Montreal and New York to buy and learn how to use leather machinery for larger production leather orders.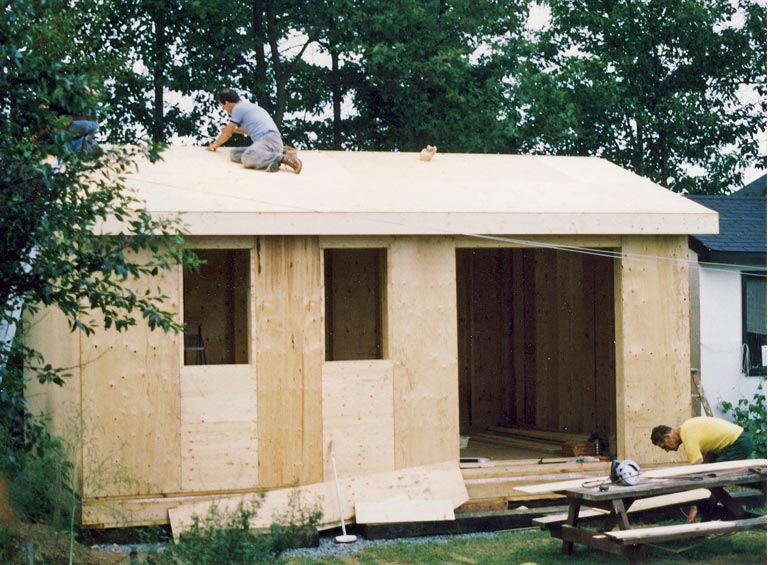 Jamie & Gerald constructing an additional workshop building for leather machinery.
During 1990, Gerald retired from his long teaching career and looked forward to helping me in the new leather shop. When I was a very young child, an extremely tiny apple tree stood at this location and dad promised I could build a tree playhouse when it grew big enough. The apple tree never grew any apples nor grew big enough to support a tree playhouse. My brother Philip and I finally with lots of difficulty removed that stubborn tree stump. Ironically, I did get to build my building at the exact location of where the apple tree once stood. I finally got that playhouse after all, for "When you love your job.... can you really call it work?"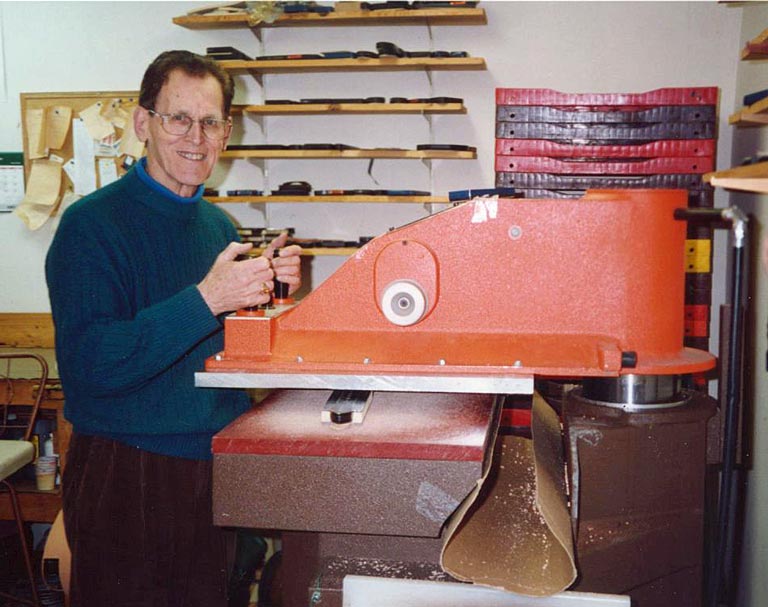 Gerald cutting leather shapes with the clicker press in the new leather shop.
Gail, Partner of Leathersmith Designs
I met the love of my life, Gail in the late 1980's and we married a few years later. Gail learned how to use some of the leather equipment to work on production orders for corporate customers. Together, we sold our handmade leather goods at many craft shows throughout the Maritime provinces.

Gail, always the technical savvy person in the marriage, took it upon herself to expand the business with the implementation of what a computer could do. In the early 1990's, having a computer in a small business was not the norm.
She moved Leathersmith Designs from manual bookwork to accounting by computer. At that time, these new computer accounting programs were all DOS-based and not windows-based. She took a couple graphic computer courses so the business could create our own graphics by computer, as opposed to using the manual drafting table.
The biggest advancement was the start of Leathersmith Designs moving online. At that time, it was a novel idea for small businesses to a have website. Leathersmith Designs was fortunate to have Russell Grosse from First Rate Graphics teach Gail how to set up and run a Microsoft Front Page Website as well as more advanced graphics training and instruction in later years on how to use video software to make leather videos. With both Gail's and Russell's help, over time I was able to master a lot of these computer skills. Over the years the website has changed in many forms and has greatly opened the market outside the Maritime provinces to customers in the United States, across Canada, and even overseas.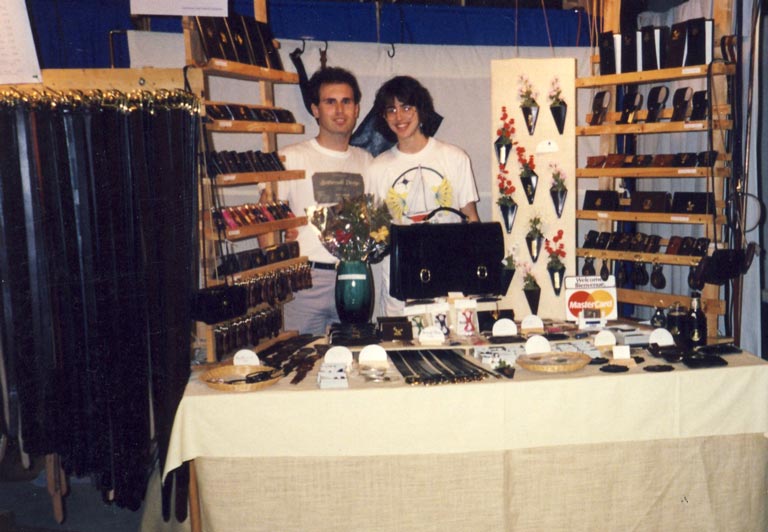 Gail and Jamie at their Leathersmith Designs booth at one of many craft shows.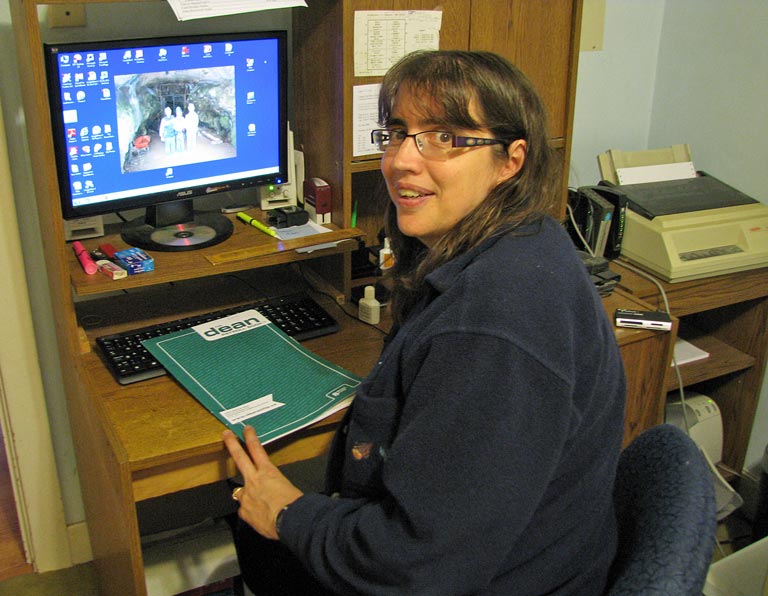 Gail doing bookwork and payroll.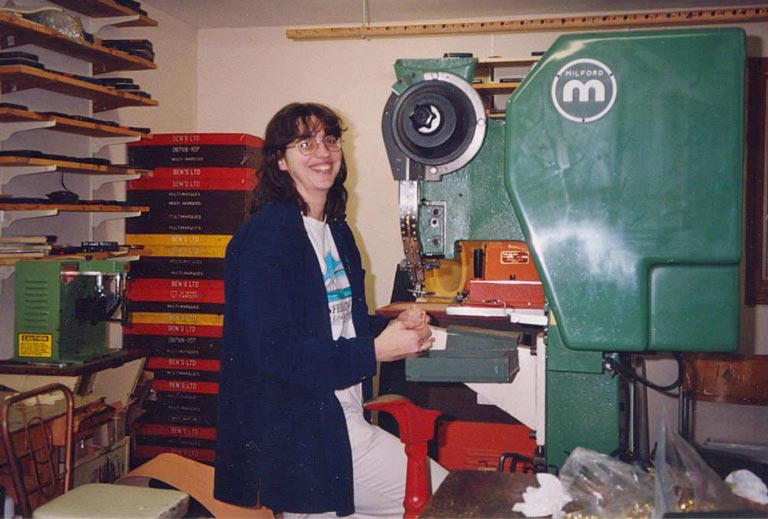 Rivets being set in leather products with the automatic feed riveter being operated by Gail.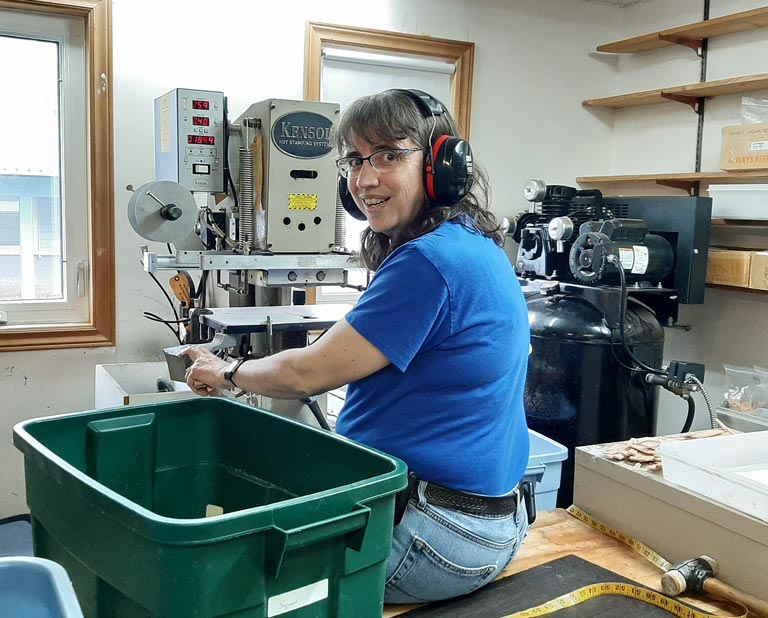 Production run of leather products being imprinted by Gail on the pneumatic hot press.
The Big Move
Over the years Leathersmith Designs expanded with more tools, equipment, and leathercraft supplies, causing it to outgrow its facility. In 1999, new property and buildings were bought, and the old shop building was moved to its current location. A crane lifted the building with all the equipment still bolted to the floor, moved it over trees, and put it on a lowbed trailer. At the new location it had to be lifted over a larger building, where they would be connected to form a larger leathercraft shop. You can read and watch a video about the big move at "Leather Shop Metamorphosis".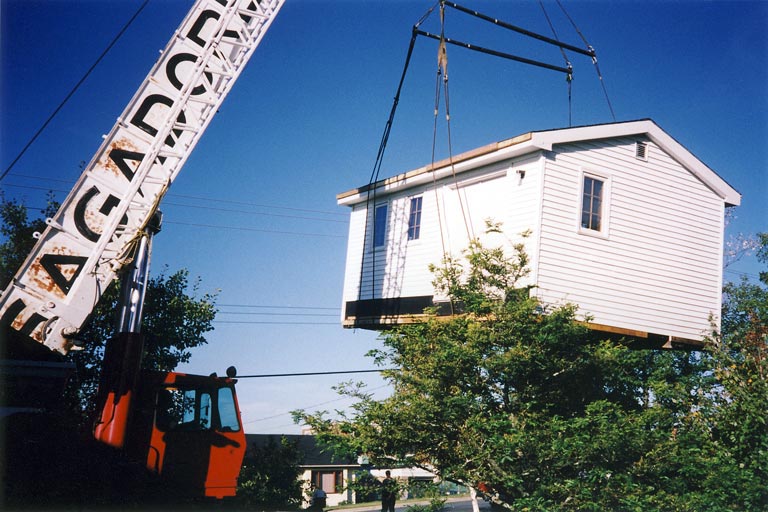 Leather shop building with leather equipment being moved to new location.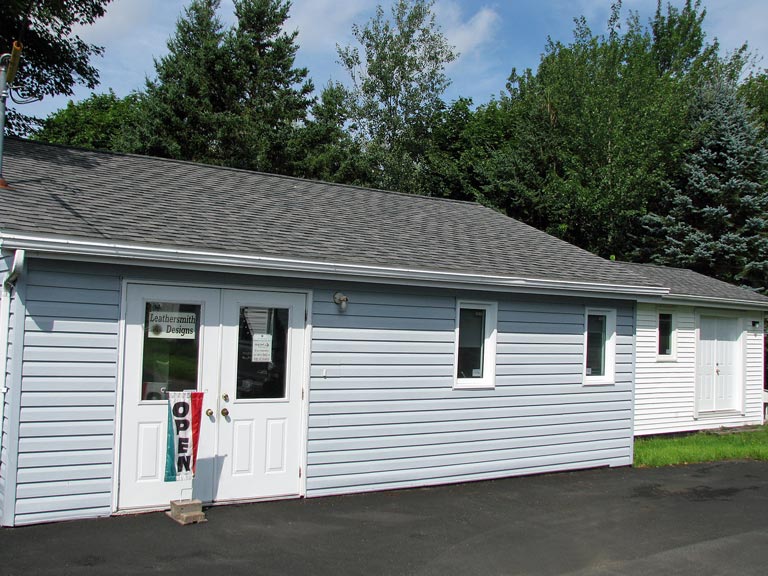 New expanded leather working shop with both buildings attached.
Hand Work and Production Work
Although leather equipment is used for large leather product orders, our leather artisans mostly use hand tools. Equipment takes too long to set up for the many one-of-a-kind and personalized leather goods that are made at our custom leather shop. A large variety of leathercraft tools are used to do many more jobs than their equipment can do.
Leather belt straps being cut at Leathersmith Designs for a production order.
Decorative design being hand tooled into a custom leather guitar strap.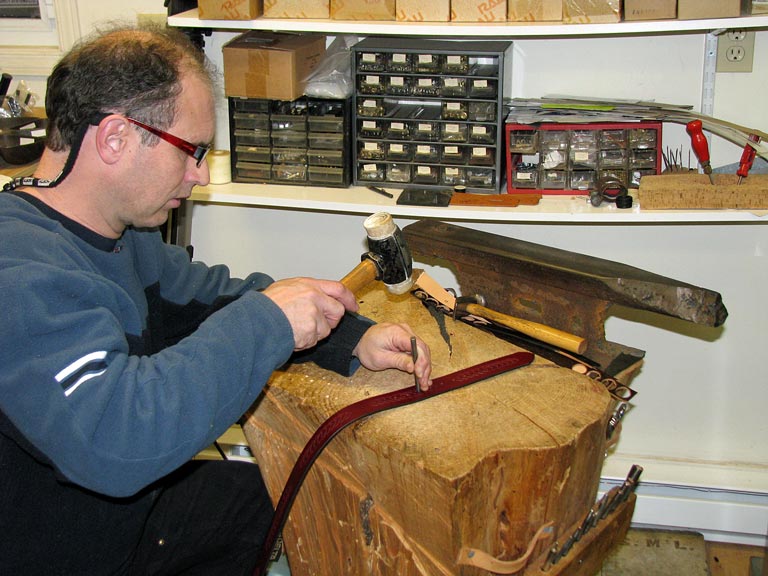 Leather handtools used to punch holes in a belt.
More Help as Business Expands
Over the years many students have worked part time in our leather goods store, including Jamie and Gail's children Matthew and Sarah. For them it was their first job held, and they learned how to process orders and use some of the leather working equipment. Eventually they moved on to other job interests. During the beginning of the Covid -19 crisis in 2020, when businesses were being closed by Covid government restrictions, Leathermith Designs like so many businesses was operating with a skeleton crew. Sarah and Matthew came back on weekends, evenings, and other time off to help keep the orders and production going. Within a few months Leathersmith Designs was able to return to normal staffing levels.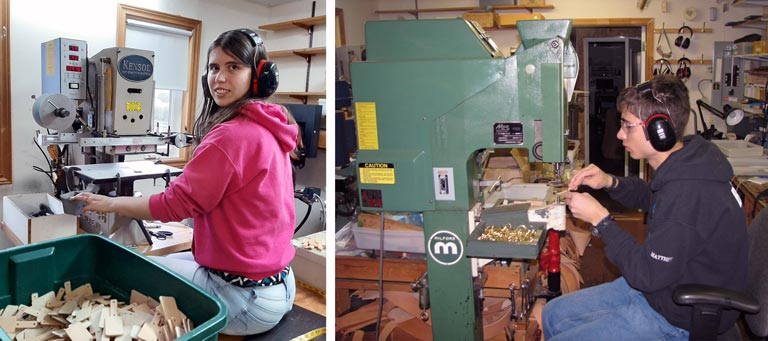 Sarah & Matthew working on promotional leather products.
Blogs and Videos and Other Leather Artisans
Over the years many leather artisans have worked at Leathersmith Designs and shared their skills and talents. Besides Jamie Hartling, these other leather artisans have contributed to designing products, writing blogs and making leathercraft videos. We wish to thank these previous employees for their contributions. When you see their names associated with our blogs or mentioned in our videos you can get a glimpse into the artisans that were part of these creations.
Alana Leblanc joined us in 2004 after graduating with a Bachelor of Fine Arts degree from Nova Scotia College Of Art & Design and continued working with us until 2018. Alana's artistic skills, creative ideas and eye for design resulted in many more product lines being added to Leathersmith Designs. Over the many years, Alana was essential in expanding our website and initiating Leathersmith Designs into the social media world. With her eye for detail and colour, customers were assured to be completely satisfied with the new leather products that were created.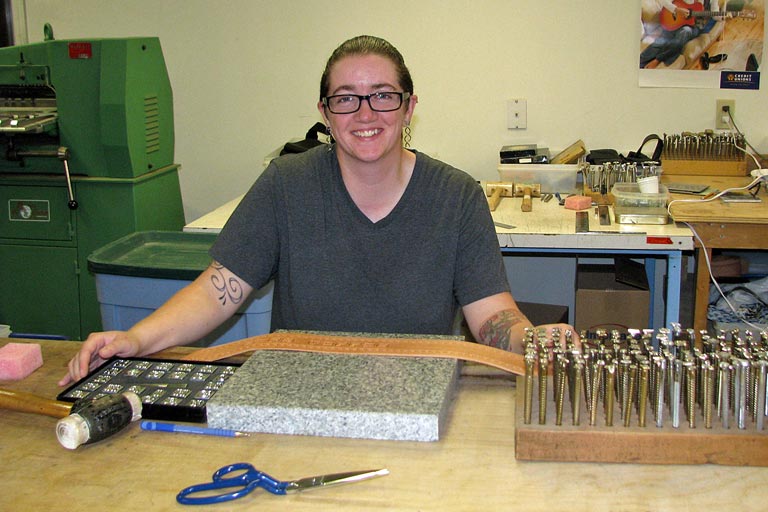 Alana designing a custom guitar strap with hand tools.
Quentin Burns joined Leathersmith Designs in 2017 and continued working with us until the end of 2020. Originally from California, Quentin moved to Nova Scotia in 2015 to pursue her art and writing. As she had been sewing from a young age, her interest in handcrafts started early and her skills and excitement easily transferred to custom leather work. Quentin's precision and artistry in leather was enhanced from many years experience working as an illustrator and designer as well as years studying traditional art and life drawing. Quentin's vision and skill resulted in more unique leather products being developed for Leathersmith Designs. Her wonderful writing skills resulted in very informative articles on "The Leather Artisan Blog" of the company website.
Diagrams and patterns being hand sketched by Quentin.
Emily Doucette joined the Leathersmith Designs team in January 2021 and worked with us until the fall of 2022. Emily completed her Bachelor of Fine Arts and Minor in Art History in 2019 at NSCAD University. Her areas of interest throughout her studies were heavily focused in printmaking and fine arts book binding, and she has continued to practice these crafts away from the academic setting. These artistic pursuits have granted her the opportunity to; show work in various exhibitions internationally, participate at the Southern Graphics Conference and have work archived at a variety of art related institutions. Emily was able to take her passion for these detail-oriented disciplines and transfer her skills and creativity into creating unique, high quality custom leather products. Emily also moved us into the new TikTok social media platform.
Emily hand painting embossed lettering on a leather guitar strap.
Remembering Family
With sadness, my mother Verna passed away in 2014, and my father Gerald and father-in-law Brian passed away in 2020. Our family very much misses them, and deeply appreciated their support and encouragement through our lives. Gerald really enjoyed his conversations with corporate customers, who he made a point to contact on a regular basis into his nineties.
Gerald contacting corporate customers for production orders.
In the following video, Gerald and I enjoy chatting and reminiscing about the many events that happened over the years at Leathersmith Designs. You can hear about the harrowing voyage to a craft show by Gerald, Verna, and Lester (at 4:40 minutes into the video), or how my second belt ever made was rejected by my dad (at 1:00 minute). I also tell the story of how I had to meet up with a stranger at a large airport outside Canada, without a cellphone or any pictures of what each other looked like (at 6:46 minutes), and I talk with Gail about the difficulties of expanding the business (at 7:57 minutes).
Jamie & Gerald reminiscing about the changes and development of Leathersmith Designs in this video.
Custom Leather Goods & Leather Craft Supplies
Over the years, Leathersmith Designs has greatly expanded both the variety of personalized leather products made at their facility as well as the variety of leather tools, buckles, hardware and leather craft supplies distributed to other leather workers.
Hides being checked for proper thickness.
Some of the vast selection of tools and leather craft supplies distributed by Leathersmith Designs
A soft garment leather lining being sewn on this personalized guitar strap.
All our hand-crafted leather products are made totally by leather artisans at the Leathersmith Designs leathercraft store. The personalized imprinted leather goods such as custom guitar straps, dog collars, casual belts, money belts, key tags, wallets, and belt pouches all start from undyed, full grain leather hides. Leather processes involve cutting the hides into the leather product shapes, hand stamping names and patterns and hand dyeing the leather. Other leather working steps done by hand involve applying conditioners, polishing, bevelling, burnishing, and attaching hardware.
Leathersmith Designs creates personalized custom leather products such as belts, guitar straps and dog collars.
Although most of the customers for Leathersmith Designs are located throughout the United States, Canada and some overseas, when in the area customers can drop into our leathercraft store in Dartmouth, Nova Scotia, Canada. Quality and service are always upmost in our minds as we strive to give our best.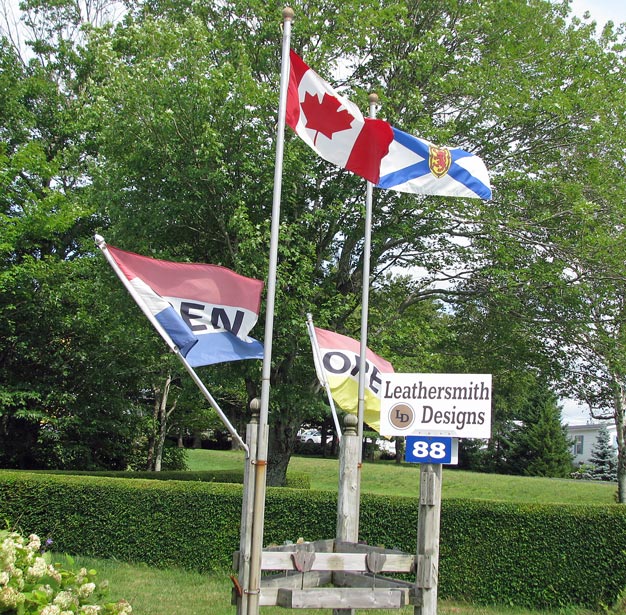 Drop by our walk-in leathercraft store when in Dartmouth.