Nostalgic Ox Bell Straps
Earlier this year, I (Jamie Hartling) had the enjoyment of doing some custom leather work for Mr. Lenethen's daughter. It consisted of making a couple ox bell straps to display some of his metal work owned by his daughter, Valerie. These stainless steel ornaments are quite a keep sake.
She told me some interesting stories about her Dad . In Mr. Lenethen's youth, teenagers had a lot more responsibilities than today. What chore could you give a 16 year child that would be dramatically more time consuming than emptying the dish washer or vacuuming a room? Imagine today if you had to ask your 16 year old son or daughter to take the responsibility to get a couple oxen ready for a trip. The task will involve delivering grain to a mill since it was ready to be made into flour. It will take two days to get there because of the distance and condition of the old dirt roads so you must be prepared to sleep on the wagon for the night. That's exactly the task that P.O. Lenethen had to do years ago at age 16 when requested by the farmer he was working for at the time. The trip involved taking the two oxen and wagon from the Mill Village, Nova Scotia area to the mill in the Camperdown, NS area.
Mr. Lenethen grew up in East Port Medway, Queens County, Nova Scotia, Canada as a youngster. Although as an adult, he worked at totally different employment than on a farm, he always had an interest in oxen. He would have seen lots of oxen in his day on the South Shore. Because of his love for oxen, he enjoyed making ox bells and decorations from stainless steel in his spare time for souvenirs. He proudly made quite a number of ox bells in the 1980's. At the age of 94, in 2012, Mr. Lenethen passed away.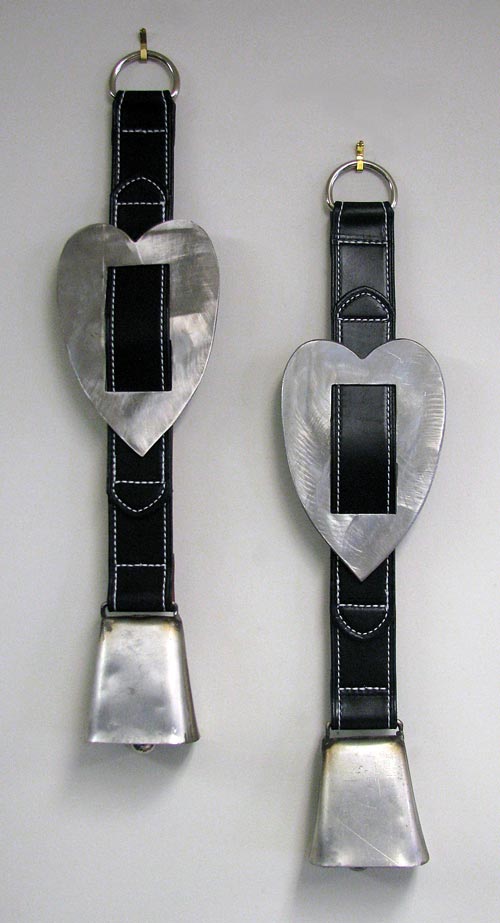 Custom leather ox bell straps crafted by Leathersmith Designs for nostalgic ox bells and hearts made by P.O. Lenethen.
Oxen Transport Goods From Ross Farm to Chester Basin
In 2010 for the 250th anniversary of Chester Basin, I enjoyed viewing a re-enactment of oxen transporting goods from New Ross, NS to Chester Basin on the South Shore of Nova Scotia. This event was organized by Ross Farm Museum and the Chester Basin 250th Anniversary Society. It involved eight teams of oxen.
New Ross and Chester Basin have been interdependent communities for hundreds of years. The farms of New Ross produced items such as food, lumber and wool-crafted products for local use and export to coastal communities. Imported goods required, such as stoves, books and farming tools, arrived at Chester Basin by sea. The transportation of the goods between the coastal communities and inland communities in old days was done by ox and wagon. For the re-enactment, one of the wagons was unloaded onto the Tancook Whaler, which is part of the historic vessel collection of the Fisheries Museum of the Atlantic in Lunenburg, NS.
This historic transportation re-enactment journey with the oxen also took them two days to reach Chester Basin. I watched the oxen come down the road with their custom leather head pieces beautifully decorated in metal ornaments. Among the hoofs clip clopping, I heard the oxen bells making their unique clanging sound hanging from the ox bell straps as Mr. Lenethen would have enjoyed years ago.
There were a lot of responsibilities, chores and daily work for youth and adults from times gone by. What kind of chores or responsibilities did you, your parents or grandparents have growing up that are different from today? Are the responsibilities and chores of today's youth less, more or just different than the youth of the past? What's your opinion?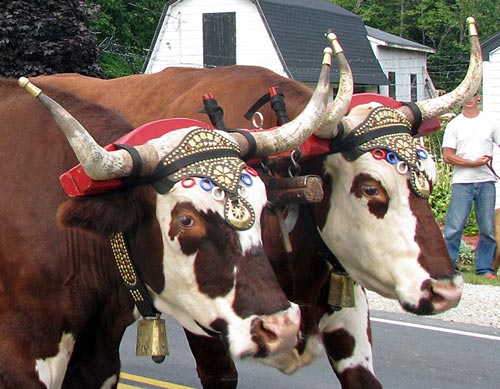 Brass ox bell hang from the beautifully decorated studded custom leather work on this oxen team.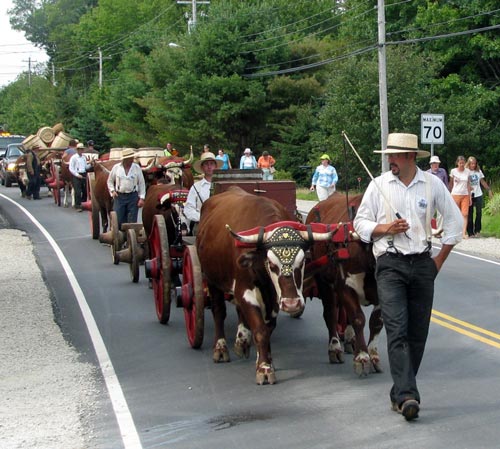 Goods being transported by oxen teams from New Ross to Chester Basin for the 250th Anniversary of Chester Basin.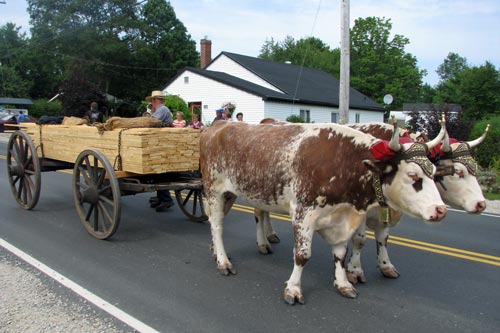 Goods arrive in Chester Basin, NS from New Ross, Nova Scotia by ox and wagon.