How and When To Use Money Belts
You can find many types of concealed money pouches. I'll be talking in this post specifically about a true money belt – a regular belt with a concealed pocket on the inside, used to hide money while traveling. First I'll cover the advantages of these types of travel money belts, and then I'll go over the recommended uses for them plus some issues you might run into.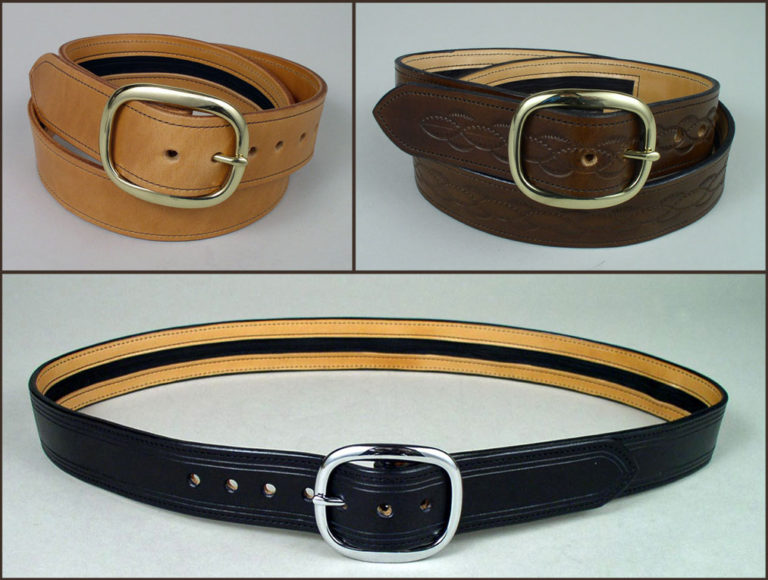 Three of our long-zippered travel money belts made of quality full grain cowhide.
Advantages Of Travel Money Belts
My case for the traditional money belt, over other types: it's a belt. Other concealed pouches and attaching type money belts will affect the silhouette of your clothing. If your shirt is thin or you're carrying a lot in the pouch, it may even be visible through your clothing. Wearing a pouch next to your skin for a long time can become sweaty and uncomfortable, as well.
With the traditional belt style there's no need to worry about concealing the belt itself. It's as easy to wear as a regular belt, making it the most comfortable money belt option. This means you will feel more natural when walking around in it. You won't be holding yourself strangely or trying to sneakily adjust a hidden pouch, which could make you conspicuous.
The disadvantage of the traditional money belt is less vertical space. On our money belts the concealed pocket runs the entire length of the belt, so they have more horizontal space available than other types. The 1 ¾" wide money belts are roomy enough to conceal a small thumb drive. Nonetheless, you cannot keep everything in them. I discuss in the next section why money belts are best used in an emergency backup and not as a a daily wallet.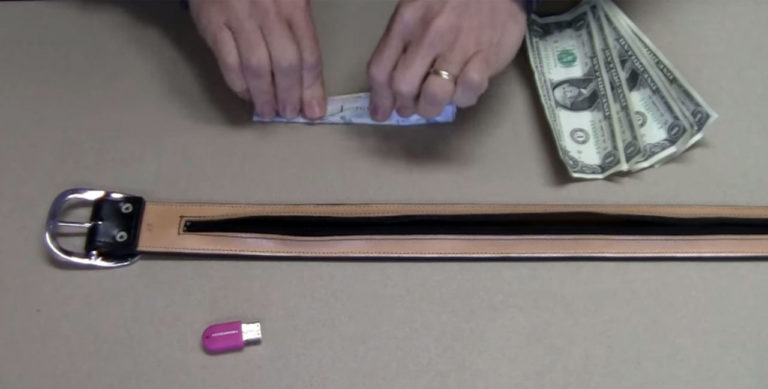 A travel money belt with a small thumb drive and folded money.
How To Use A Money Belt
The main purpose of a money belt is to prevent pickpocketing and grab-and-run thefts. Money belts and other types of concealed pouches are unlikely to foil a serious mugging attempt, and of course the belt can still be stolen when it's off your body, if it's been left behind in an unsecure room. Therefore, you should plan when to wear your money belt and what to store in it in order to maximize your security.
It's recommended not to use or remove a money belt in front of others. If no one realizes you're wearing one, they can't make plans to rob it later. Keep cash for the day on hand elsewhere. Use the money belt to secure emergency funds and folded photocopies of your passport and important documents. If a pickpocket targets you, you should have what you need in your money belt to get out of a bind.
This function is especially important and useful when you're moving between two stops. Once you've reached your destination, you can leave your bags in your room and your valuables in the hotel safe. But when you're en route not only do you have all your things and travel documents with you, you are probably accessing it all frequently. That makes everything more vulnerable to loss or theft. In this situation it's an especially good idea to have a copy of your passport secured somewhere on your person. Losing a passport in transit can become a nightmare scenario for travelers.
When you've reached your destination, if you find there isn't a safe available you may wish to keep using the money belt this way. If you're confident your location is secure, you might choose to downsize what you keep in it. However, either way you should keep wearing the money belt as your regular travel belt. That way no one will realize you have a money belt, or chance on an oppourtunity to steal it.
How To Recognize Quality Money Belts
When looking for a travel money belt that will last, you'll want to consider the quality of the materials, the sturdiness of the construction, and the design of the money pocket.
If you're buying a leather money belt, don't take labels like "genuine leather" for granted. That only means the belt contains some small piece of leather. "Genuine bonded leather" is especially suspect, as this describes the leather version of particle board. To make bonded leather, they mix ground-up scraps of leather together in a glue solution to make a sheet of manmade material. It rips easily. Instead look for "full grain leather," and make sure it is the only material used. The best part of the hide is the bend, which is where we cut our money belts from.
For more information on recognizing different grades of leather, see Jamie's detailed rundown on types of leather belts.
For the buckle, look for something solid. Our gold buckles are all solid brass, and our silver buckles are chrome / nickel plated solid brass. Solid brass belt buckles won't rust or snap like the white metal buckles often used in mass produced belts. The non-plated solid brass buckles are safe for people with nickel allergies. (However, people with nickel allergies who want to order one of our belts should still let us know. We will use solid brass rivets to secure the buckle, rather than plated steel rivets.)
Make sure your belt is designed to maximize usable space. On our belts the zippered section runs the full length of the belt between the buckle and holes. Some belt maufacturers only add a short 10-12 inch zippered section in the center of the belt.
The pocket should be easy to access and easy to get things in and out. When we make our money belts, our last step is stretching the zippered section with a bone folder to make the leather more malleable.
Where To Buy A Money Belt?
You can find different styles of men's and women's leather money belts on our website, all of which are custom made by Leathersmith Designs artisans. You can opt to have personalized designs imprinted in your belt, or choose a plain style for a more inconspicuous look. For color we offer standard black, brown, and natural oil options; or you can choose a vibrant blue, green, purple, burgundy, or red for traveling in fashion.
The money belts we make here are from strong, high quality full grain cowhide and can endure long, difficult travel. Likely, if you are embarking on long and difficult travel, you will want a daily belt. A quality money belt is a good travel belt option and a good concealment option in one!
Watch our process for handmaking our leather money belts in this video.