Plain...simple...personal. This Personalized Leather Dog Collar is simple in design and embossed with your dog's name. Available in a variety of colors. Check out other personalized dog collars and leashes in our video.
When you choose the option of undyed letters on your imprinted dog collar, the natural undyed imprinted lettering has a nice visible contrast for easy reading with the different colored leather. However if you choose the leather color to be natural oil, the undyed lettering will only be subtle since the color of the leather and the imprint are very close.
Since all our dog collars are custom made to your specifications, it is important that you provide us with proper sizing measurements so your new personalized leather dog collar will fit properly. Please take the time to measure your dog's neck size as shown in the diagrams below using your old leather dog collar or old nylon dog collar. We will make the middle hole on your new leather dog collar to this neck size measurement. Our handmade dog collars have seven adjustment holes.
Material:

Durable solid cowhide leather 1/8 inch thick

Buckle & D Ring:

Solid Brass or Stainless Steel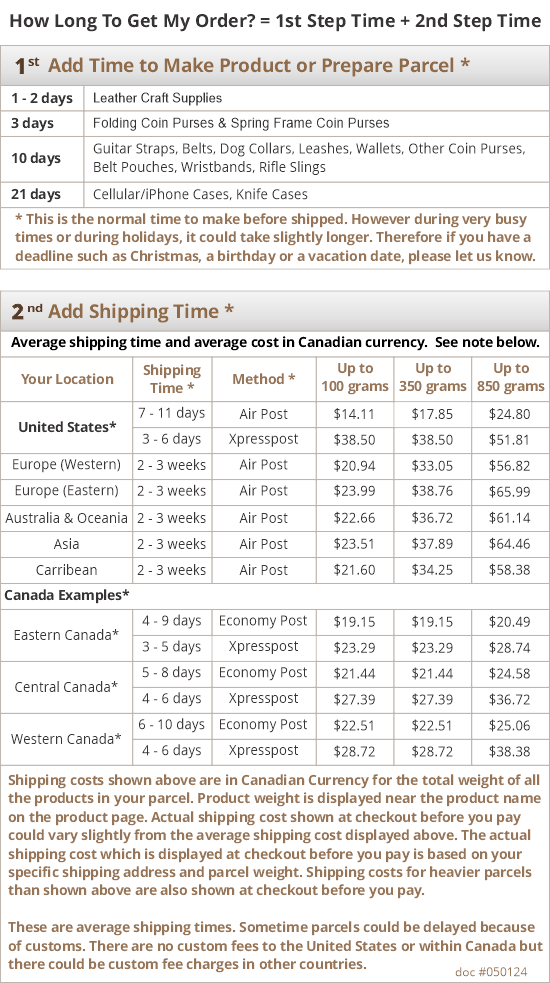 3 Reviews
Two 3/4" imprinted leather dog collars.

I have 2 large German Shepherds and have not been able to find them new leather collars in about 2 years. Shepherds do not not need fancy, frilly collars because they were originally work dogs. My dogs are my babies and do not want anything that itches them on their body (I have tried to dress them up for holidays.). The collars I received are very classic and worthy of the German Shepherd breed. I am extremely happy with these collars. When my new 5 month old puppy stops growing, I will be ordering one for her and I will continue to order my collars from this company.

Great quality & awesome service!

I always loved real leather dog collars for my dogs. Seems these days the stores mostly only stock cheap synthetics. Certainly, I could never easily find a quality personalised collar in my area. The quality leather, workmanship and engraved name on this collar is beautiful. Fast shipping and unparalleled customer service make dealing with leathersmith designs a real pleasure. I am very happy with this purchase. Thank you.

exactly what I was looking for!

I was looking for a sturdy leather collar for my boxer mix and I got exactly what I wanted! I chose purple leather to go with my girl's red coat and gold lettering. Not only does she love it but it looks gorgeous on her. I am very pleased and would definitely recommend this company to others.