The Leather Rifle Sling is made from thick tooling leather, strong, yet soft with the sueded leather shoulder padding for walking long distances. For you or the hunter in your life. Metal swivel clips not included.
For your imprinted rifle sling, choose either your first name or last name to be embossed but not both. Choosing both first and last name is too jammed to fit well on the rifle sling and often there is not enough space for both. You could also choose to just have your initials imprinted or leave the leather rifle sling plain.
When you choose the option of undyed letters for your personalized rifle sling, the natural undyed imprinted lettering has a nice visible contrast for easy reading with the different colored leather. However, if you choose the leather color to be natural oil, the undyed lettering will only be subtle since the color of the leather and the imprint are very close. As well with the dyed in letters, they will be more subtle since the imprinted letter color and the color of the rifle sling will be very similar.
Please note that we do not sell rifles or guns.
Material:

thick 1/8 inch cowhide tooling leather, firm cowhide bag leather. Metal clips not included.

size:

1 7/8 inches wide tapering down to 1 inch wide, adjusts from 31 inches to 40 inches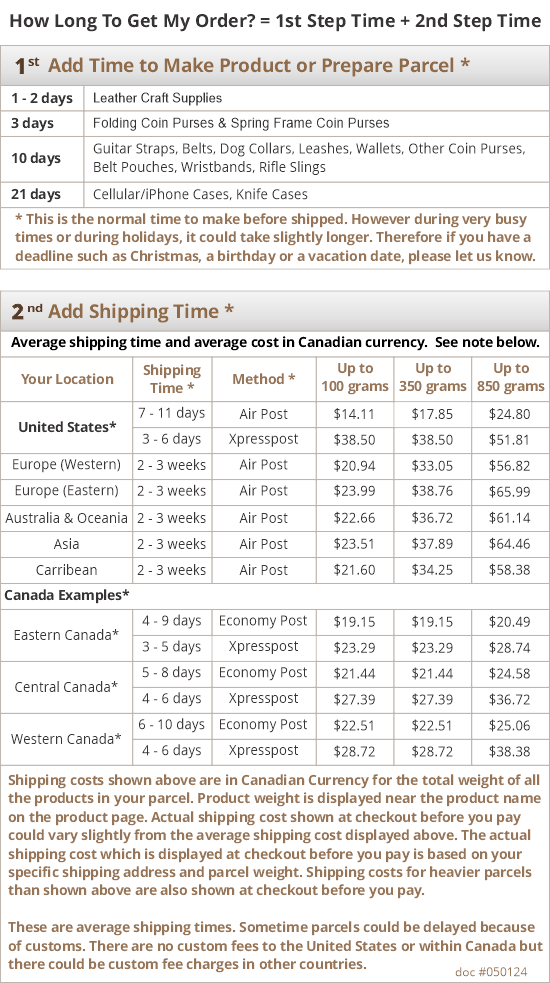 8 Reviews
This is the 2nd rifle sling I've ordered from Leathersmith Designs, both of which I've added to my best hunting rifles. I looked for almost a year for perfect slings until I came across Leathersmith. Best ones I found and they complete the custom look on the rifles.

The rifle sling I recently purchased is beautiful! The quality of the leather looks very durable, the design and color compliment each other very well. Thank you

My dad loves the gun sling!

Thank you

Absolutely perfect...... better than expected quality, craftsmanship and finishing.

Hi Jamie,
I received the rifle sling yesterday. Once again, you have exceeded my expectations. The quality is evident and it will go well with my stainless steel Lever action rifle.

Thanks again!
Take care and have a Merry Christmas and Happy New Year!!

I ordered the sling for my husband as a birthday gift after asking Leathersmith Designs a bunch of questions. They were very helpful. The sling was so nice and looks to be very durable. I couldn't wait to give it to him. My husband really liked the fact that it screwed on & wasn't a button like a lot are. I'm very happy with it and so is he. They packaged it really well too. Will definitely order from them again.

Good quality product

This rifle sling was exactly what we hoped for! The company took our comments into consideration and in doing so, we got the best product for us! The quality of the leather, design and overall product was excellent. We had a very happy father this Christmas!