Discover Galleries & Studios of Local Artisans in Nova Scotia
Nova Scotia has a rich arts and crafts tradition. The beautiful natural scenery and the community-focused spirit have combined to make a place where local art is thriving and celebrated. Many artisans in Nova Scotia live solely on their craft, while others do it on a part-time professional basis. Whether you're visiting for the first time or whether you've lived here for years, these resources will help you find new places and events to explore.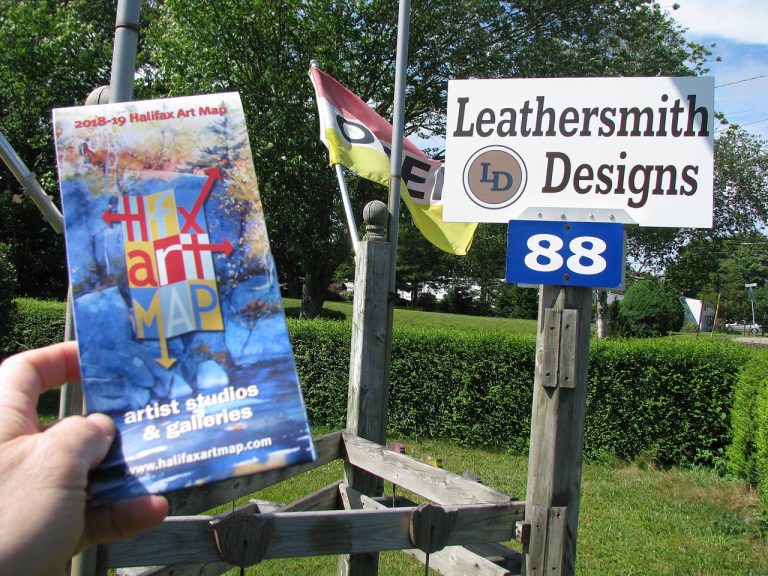 Halifax Art Map used to discover artisan studios in Halifax / Dartmouth and beyond.
Halifax Art Map
Leathersmith Designs is proud to be a featured location on the 2018-19 Halifax Art Map. The guide has been running since 2002. Leathersmith Designs has been appearing in it since 2016, alongside dozens of other amazing artists and craftspeople from the Halifax Regional Municipality (HRM).
I called Keith McPhail, the advertising and business coordinator of the Halifax Art Map, to ask about how the guide started and where it is headed. I thought I had only a few simple questions which would take him a few minutes to answer. At the end of our hour-long phone conversation, I realized how much I hadn't known about the Halifax art community. Much of my own city and industry are still mysterious to me.
That's the mission statement of Art Maps: to de-mystify the mystery. Their goal is to make people aware of what's out there, to get people through the doors of small workshops and studios. Above all, they ultimately want to guide consumers towards finding a piece of art they can fall in love with.
How Halifax Art Maps Started
In 2002, Keith was working for the city in the Tourism and Culture department. "Culture" was a new addition at the time. They didn't have much funding or much of a concrete game-plan. They were approached by a group of artists who wanted to highlight local art, to combat a perceived lack of knowledge by the public. Thus the Art Map was born.
In its first year the map covered only Downtown Halifax and Dartmouth, and was focused on the tourism market. There was no money available from the city that year, so the project was funded solely by ads. The response exceeded expectations. They learned there was a lot of local interest and local discovery happening as a result of the map. Therefore, they decided to expand the goals of the project.
In the second year they received matching grants (one each from the province and municipality) for three years to develop the project (print layout, website, distribution). Later they added an annual exhibition. In the last six years they added social media, and the Art Map solidified into its modern form. Nowadays, the market for the map is half tourists and half residents of Nova Scotia.
How do they find Artists?
The Halifax Art Map relies strongly on word of mouth from participants. Artists recommend the map to other artists, and recommend new artists to the map.
Artists can apply to be featured at the Halifax Art Map website. The Halifax Art Map doesn't have any restrictions on what type of artists can apply, but they do vet their artists for professionalism. They want to feature people who are serious about doing art professionally. The goal of the project, according to Keith, is "helping local artists and craftspeople make a sustainable living".
Where to find Halifax Art Maps
You can find Halifax Art Maps at every featured artist location, at Visitor Information Centres in the HRM, and at some larger Visitor Information Centres across Nova Scotia. They are in Halifax and Dartmouth hotels, at the Halifax cruise ship pavilion, and at and the Halifax and Dartmouth ferry terminals. They are also distributed at conferences, to reach visiting professionals from all over the world. If you're planning a vacation, Halifax Art Maps has an online artisan directory where you can search for artists by area or category.
Keith told me hotel concierges proved to be unexpected gold as a resource. They get to know the map, and remark on the changes and updates to it year after year. Even more, they are great at getting maps into the hands of serious art and craft lovers ... AND they talk up the local scene.
The library and their branches were also a surprise as they help distribute maps to all their 17 branches. They help get it into the hands of locals as part of their mandate and service as information providers.
If you're in the Dartmouth area, stop by Leathersmith Designs to pick up a free copy of the map. Jamie Hartling, our master leatherworker, has been a dedicated member of the Nova Scotia crafting community since 1975. He can give you a tour of the leathercraft shop and tell you all about the local leatherworking scene.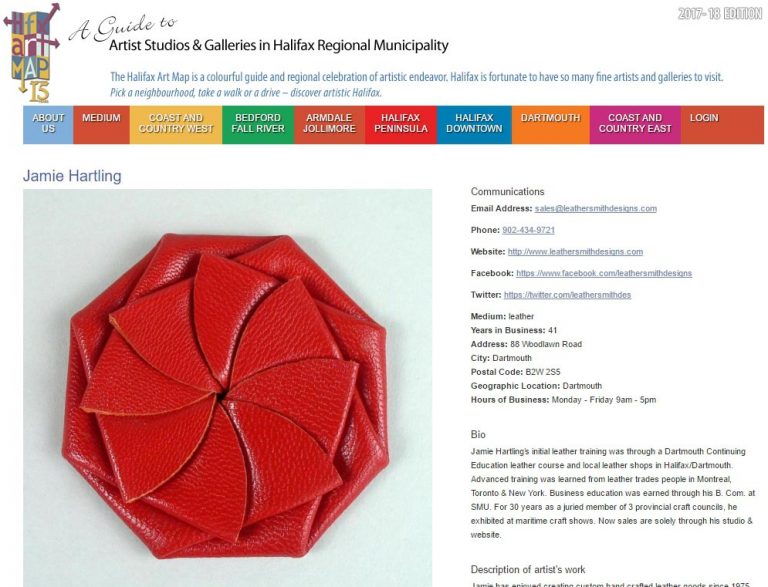 The Halifax Art Map in both print form and on the web displays the creations of the artisan as well as useful and interesting info on the crafter / artist.
Who is the Halifax Art Map Team?
For Keith, Art Maps a labor of love. Its creators have all worked in the arts themselves and are passionate about supporting the Nova Scotian crafting community. Keith (second from right) and Kathryn Fraser (third from right) are the core team. Together they do add sales, coordinate exhibits, and organize artist talks. As of this writing, there is a Halifax Art Map event coming up at the Halifax Public Library on how to buy art. To keep up with current craft and artisan events, you can follow the Halifax Art Map Facebook page.
Jane Lombard (far right) is their graphic designer and works on the Halifax Art Map part-time for about three months each year. Peter Eastwood is the webmaster for the Halifax Art Map website, and puts in about one month full time.
Then, of course, there are the featured artists and craftspeople. Every year, Kathryn stops by to talk with Jamie Hartling about the state of Art Maps. Art Maps began as a scheme by a group of Halifax artisans, and aims to stay true to its roots as a "community collaboration".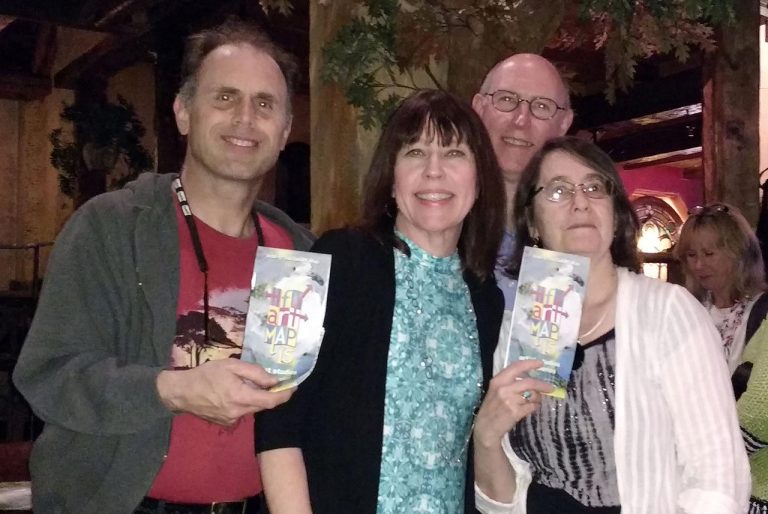 Jamie Hartling (leather artisan on left) attending a Halifax Art Map release in 2016 with some of the key Halifax Art Map organizers.
New Directions for Halifax Art Map
Every year the Art Maps team makes decisions on how best to keep supporting artists in their community. Every year they decide to keep the map in printed form. It is now one of few surviving publications in Nova Scotia. Although paper costs continue to go up and the format of the map is expensive, Keith says it's important for the map to look good, to represent the quality of the art inside it. It's also important that it remain a tactile piece, because the core buyers of art are familiar with a tactile world. However, the demographic is slowly changing, so the decision must be made anew every year.
This year, they are also considering a new service. They are looking into options for how Art Maps might help facilitate marketing plans for individual artists and small galleries. When Keith spoke to me he was getting ready to attend a seminar on the subject. He told me the next step is to go out and talk to members of the community about what they would want from such a program.
Nova Scotia Doers and Dreamers Travel Guide features Artisans in Nova Scotia
The Province of Nova Scotia Tourism publishes a comprehensive travel guide called "The Doers and Dreamers Travel Guide". You can request to have it mailed to you anywhere around the world. You can also pick up the guide at any of the Nova Scotia provincial tourist bureaus. On the Nova Scotia Tourism website under the "See and Do" heading ,you can find a section on "Galleries, Shops, and Artisans". As of 2018 there are 170 listed. While the Halifax Art Map focuses on artists in the Halifax area, this guide is province-wide. It features many small studios and creative artisans off the beaten path.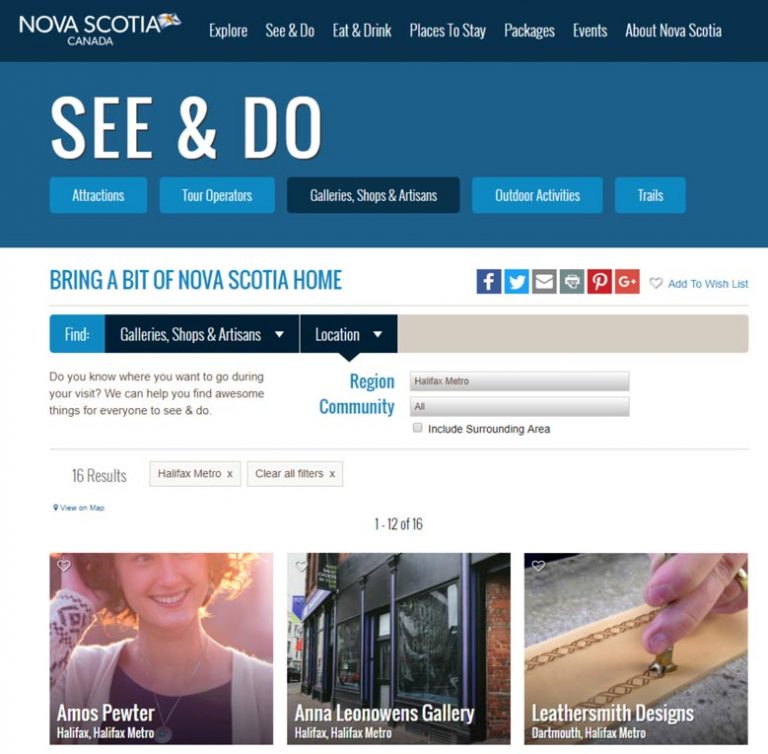 Viewing galleries, shops and artisans in Nova Scotia, Canada on the provincial tourism website.
Citizens of Craft
Citizens of Craft is a good resource for finding craftspeople and artisans in Nova Scotia, as well as across Canada. You can search by location, type of establishment (museums, studios, galleries, etc.), and craft type. There is a diverse array on offer. You can find sculptors, leather workers, fibre artists, glass blowers, furniture makers, metal workers, potters, jewelers, and more. Artisans featured on Citizens of Craft are all registered members of their provincial craft councils, which promote quality in craft.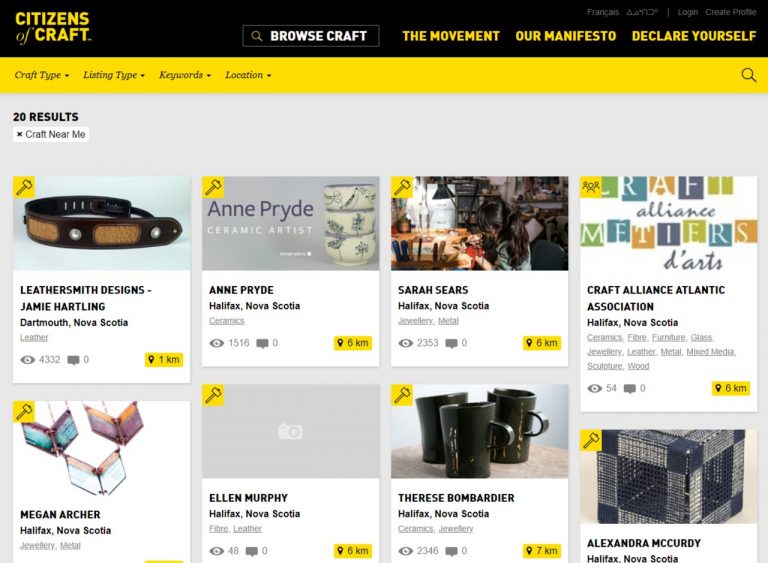 Citizens of Craft is an online directory of artisans from across Canada.
More Sources for Finding Artisans in Nova Scotia
Provincial craft organizations such as Craft Nova Scotia, Arts Nova Scotia, Visual Arts Nova Scotia and Centre for Craft Nova Scotia can put you in touch with the craft community and artisans in Nova Scotia. Even more, there are many regional and local organizations such as the Cape Breton Centre for Craft and Design, Halifax Crafters Society, Dartmouth Handcrafters Guild, and Maritime Makers. Various craft shows throughout the year also provide a great opportunity to meet artisans coming to your area.
Discover the uniqueness and quality of individually handmade crafts. Besides that, nothing is more memorable when visiting an area than purchasing a one of a kind piece by a local artisan, or watching a handcrafted item being created before you in their studio.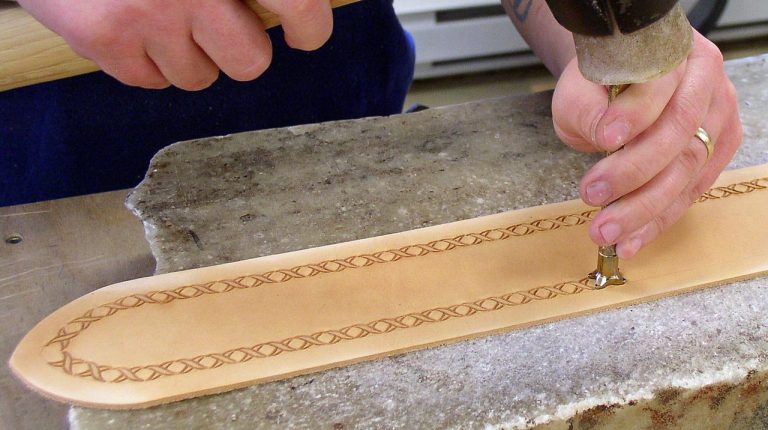 Artisan at leather craft studio in Dartmouth, NS shown hand tooling design on leather guitar strap.