Uses For Leather Bag Punches
Sometimes referred to as slot hole punches, or bag punches, leather oblong hole punches are one of many helpful tools in leatherwork for beginner hobbyists and professional leathercraft artisans alike. Oblong leather punches have many different applications and are commonly used for creating buckle slots for belts or dog collars, as well as, creating slots used to feed straps through the main part of your leathercraft project, i.e., guitar straps, briefcases, purses, or messenger bags.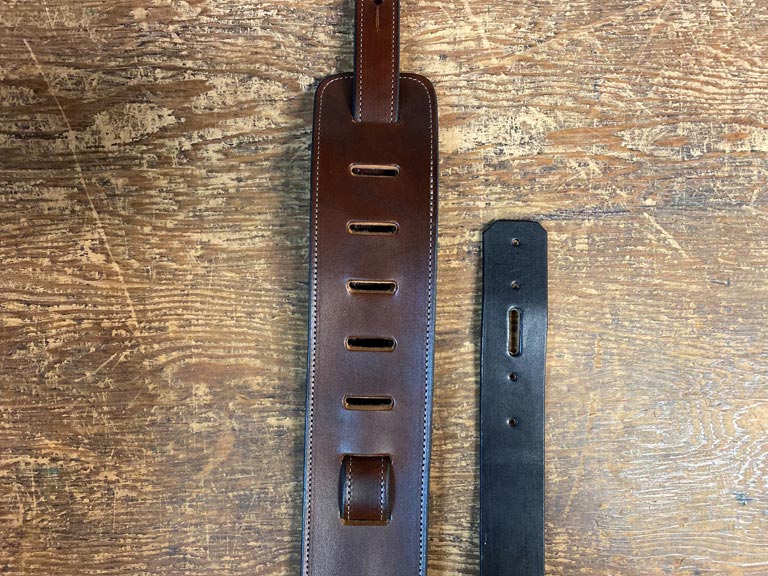 Brown leather guitar strap and black leather belt with oblong slot holes punched
Varieties of Leather Oblong Punches
At Leathersmith Designs we carry 3 different varieties of oblong punches allowing accessibility for any budget or skill level. We carry economy oblong punches, professional Ivan oblong punches and C.S. Osborne oblong punches. Each type is available in an array of sizes.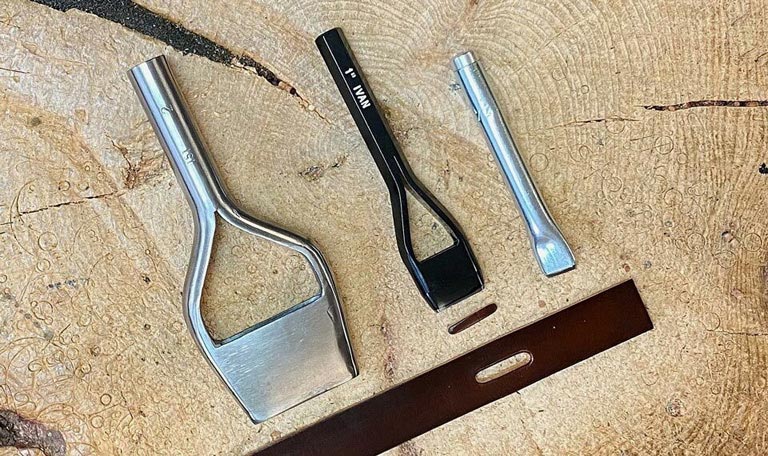 C.S. Osborne 2 inch oblong leather punch, Ivan 1 inch slot hole punch and 1/2 inch economy bag punch
Economy slot punches are a great and affordable option for hobbyists or those who are just beginning to dabble in leatherwork. These slot punch tools come with a removable back so you can empty the leather wads out of the tube.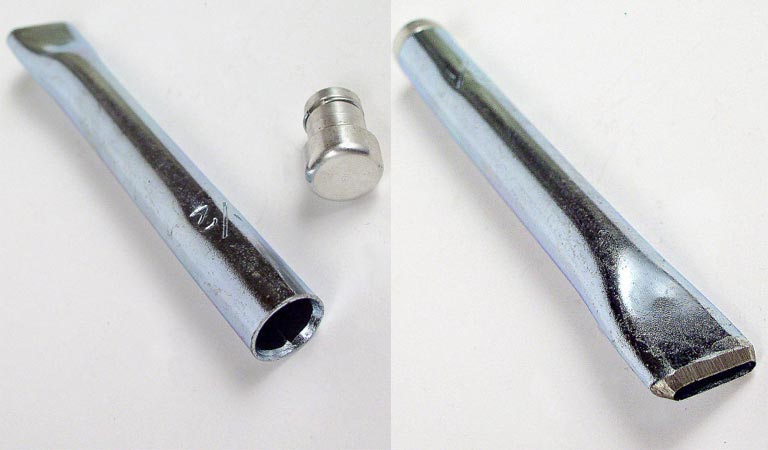 Economy oblong hole punch
Our Ivan leather oblong hole punches are heavy duty and are an excellent medium price point option. They are made with hand forged Swedish steel and are loved by professional leathercraft artisans. They have an open side which allows the leather wads to fall out automatically and saves you the hassle of having to remove them.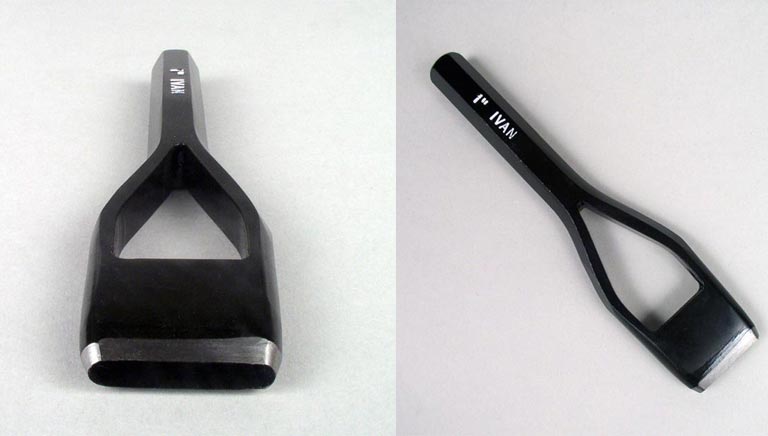 Ivan 1 inch oblong hole punch
C.S. Osborne oblong hole punches are offered in a wide range of different sizes and are a great investment for full time leather shops or leather workers doing leatherwork on the daily. C.S. Osborne makes all their high-quality leather tools in the USA and has been doing so since 1826 for saddlers, harness makers, shoemakers, and leather product manufacturers. These also have an open side, allowing the leather wads to fall out as you work.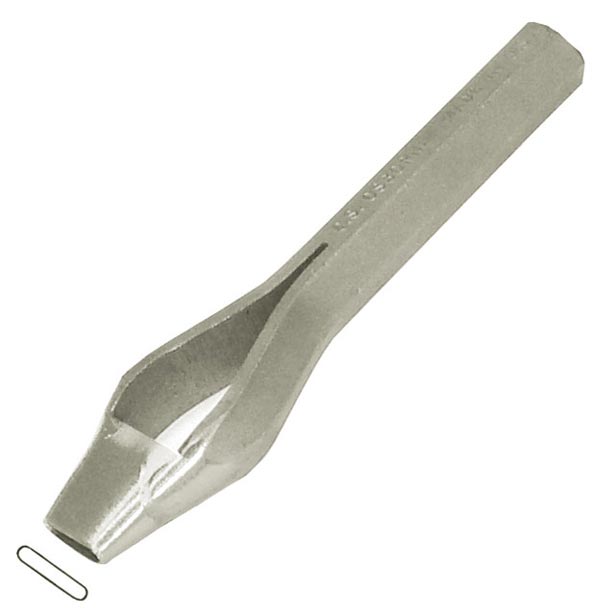 C.S. Osborne oblong hole punch
Sturdy Work Surface for Slot Punch
When using an oblong leather punch, or any hole punch, it is important to have a sturdy work surface, such as a solid table, work bench or even a tree stump so that you do not have any bounce. It is also good practice to have a poly cutting board or a piece of scrap leather underneath your project when punching your hole to protect your tool's sharp edge.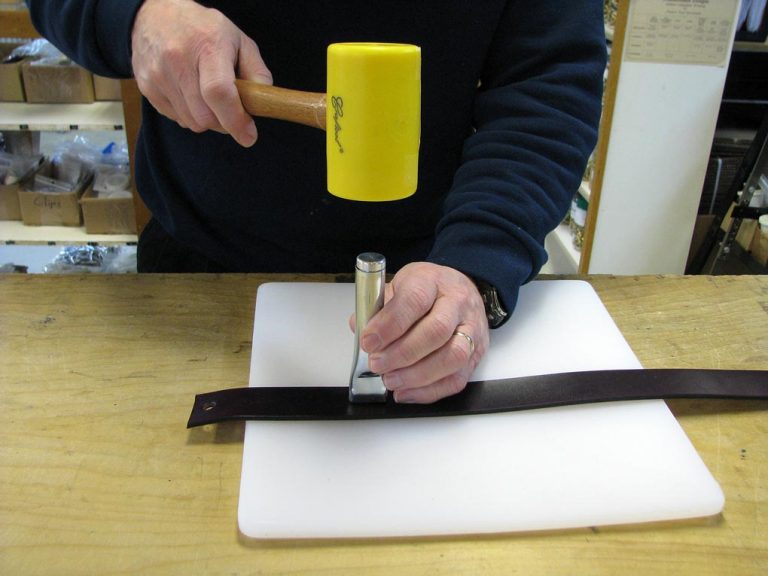 Punching oblong slot with poly head mallet and poly cutting board
Proper Leather Tool to Strike Oblong Hole Leather Punch
When striking your oblong punch, we recommend using a heavy mallet, hammer or maul that is either rawhide, wooden or a poly head to protect the end of your metal bag punch. We do not endorse using a metal hammer on your metal slot punch. Overtime using metal on metal will cause the end of your leather tool to start mushrooming.
Other Ways to Make Oblong Holes
If you are too tight on finances to buy this hole punch but need to make a buckle slot, there are ways to do so. If you have a round hole punch, simply punch two holes and then make two parallel cuts with a utility knife to join the two round holes. This will result in an oblong shaped hole. You could also use a wood chisel to make the two straight line cuts between the two round holes.
Maybe you have an oblong hole punch, but it is not long enough. If you do not want to buy a larger size slot punch, you could punch one hole in your leather project with your tool and then slightly overlap the end of the hole with your tool and punch a second time to make a longer oblong hole.
Leathercraft Tutorial Video Overview on Slot Punch Tools
Feel free to watch our following leathercraft video on leather oblong punches to see these tools in action! This leather craft tutorial video gives a great overview about these essential leather working tools.