Professional Organ Repair & Piano Repair
Dwight Mallory makes a living by doing professional organ repair, piano repair and piano tuning throughout Nova Scotia, Canada. Dwight is a customer of mine from Cole Harbour, NS that has dropped into my leather shop over many years.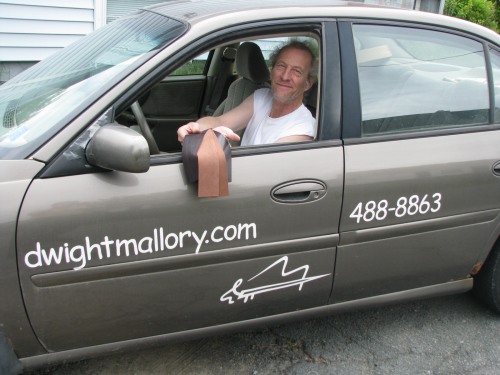 Dwight Mallory picking up leather strips for valve covers on bellows from Leathersmith Designs to use in an organ repair.
Leather Used In Organ Repair On Bellows
Selling leather craft supplies is interesting when customers show you the unique projects they create. Dwight sometimes requires leather pieces to be used in some of his piano / organ repairs and refinishing. On pianos, the leather is sometimes used as an insert in the music rack. In the organ, the leather is a key part in the operation of the organ bellow. Leather is also sometimes used on pallets which act like an air valves.
Video showing Recovering Organ Bellows With Leather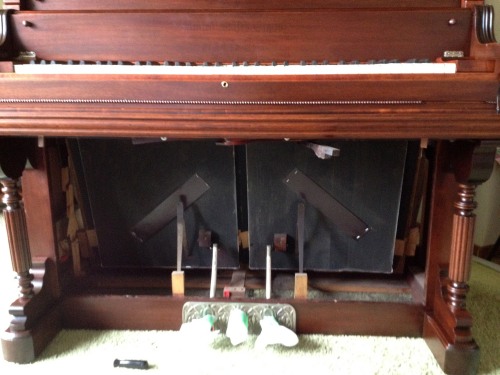 Organ repair to bellows with new leather valve covers in place near bottom of organ.
Organ Refinishing & Piano Refinishing
I knew about Dwight's piano tuning expertise as he has tuned pianos for my family members over many years. He has also tuned pianos for famous music artists such as the Rankins, Roger Whittaker and Rita MacNeil. His customers include large music chains, school boards and the Halifax Conservatory of Music.
However I did not know about the intricate finishing and organ repair work he did. I discovered it when I started quizzing him in detail during his last visit to our leather shop. I was wondering how he used the leather supplies he purchased from us in his work. I was amazed at the detail and degree of organ repair and piano repair work he did. He explained it to me and shared some videos shown below. He must be knowledgeable when working with such high string tension pressures. A medium sized piano contains 230 strings. Each string has about 165 pound of pressure for a combined pull of about 18 – 19 tons. The working part of the piano called the action has about 7500 parts. He can take the piano or organ totally apart and reassemble them. He can do everything from restringing pianos to refinishing the woodwork.
Video showing Refinishing piano style reed organ that is over 100 years old.
It is interesting to watch the transformation in the musical instrument. A worn out of tune instrument becomes a beautiful finished and wonderful sounding organ or piano. In the following video, Dwight Mallory starts his repair with an organ that is so worn and neglected that it even has a mouse nest. The organ repairs involves first disassembling the organ so wooden parts can be stripped and scraped of old finishes. The wood is sanded before applying numerous coats of stains and finishes. Old yellowing keys are cleaned and made bright white. Worn metal metal pedals are chromed. Brass pieces are polished. Other worn buttons and parts are replaced. The last part of the organ repair is to reassemble all the pieces which looks like a gigantic puzzle. What a beautiful finished product. The piano style organ looks brand new after numerous hours of skilled hand repair work by Dwight Mallory Piano Service.