This Imprinted Tough Dog Collar is designed for strength. Two pieces of thick leather sewn together with harness thread makes the dog collar an excellent choice for large dog breeds such as Rottweilers, Dobermans, Mastiffs and German Shepherds. The combined leather thickness is approximately 1/4 inch. Personalize your dog collar by imprinting your dog's name in a variety of letter color choices. The imprinted name is stamped deep to last in your tough leather dog collar.
When you choose the option of undyed letters on your personalized tough leather dog collar, the natural undyed imprinted lettering has a nice visible contrast for easy reading with the different colored leather. However if you choose the leather color to be natural oil, the undyed lettering will only be subtle since the color of the leather and the imprint are very close.
Since all our dog collars are custom made to your specifications, it is important that you provide us with proper sizing measurements so your new imprinted tough dog collar will fit properly. Please take the time to measure your dog's neck size as shown in the diagrams below using your old leather dog collar or old nylon dog collar. We will make the middle hole on your new leather dog collar to this neck size measurement. Our handmade dog collars have seven adjustment holes.
Material:

Two durable solid pieces of cowhide leather combined thickness 1/4 inch

Buckle & D Ring:

Solid Brass or Stainless Steel

Thread:

Durable Thick Nylon Harness Thread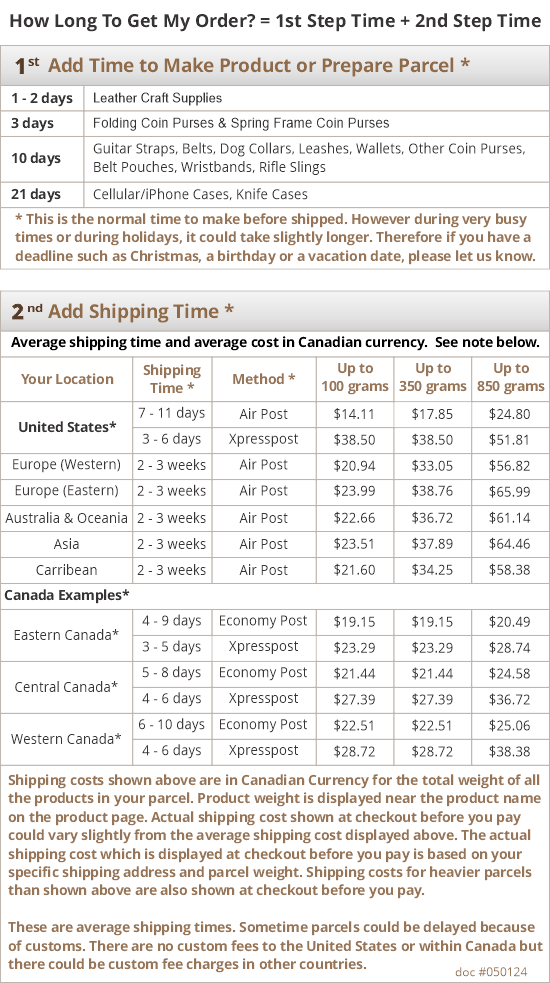 9 Reviews
This was the third collar purchased for my kids dogs. Exceptional quality from all of them.

Extremely pleased! Top notch work!

I was very pleased with the quality of the work done. It looks great and is durable. Custom made, high quality items shipped quickly... I couldn't be happier than I am with the results.

This collar is extremely well made and heavy duty. It looked great on my Doberman, Shelby, she received a lot of compliments. Might get a green one for St. Patrick's Day.

second collar for the same dog, repeat customer

The last one I bought is still in perfect shape it's just worn down since my dog is such a nut. Anyways, great craftsmanship, Canadian made, thick durable quality leather with personalized touches, what more could you want. I had a Louis Vuitton collar for my German shepherd, Missy, before I found out about these guys and a $400 Louis Vuitton collar isn't even half as well made as the $100 one I just custom made from Leathersmith designs. I'm a customer for life and get more complements on the Leathersmith collar than any Louis Vuitton or Harley Davidson collars I've had before. 5 stars for quality and 5 stars for customer service. Thanks guys!

Great product. Looks even better than in pictures. Very high quality leather and hardware.

Tough and Durable. Better than I was picturing.

I came across this website when my rottweiler Vinny was just a few weeks old and was just waiting for the day he was big enough to rock a big badass collar like this. He recently started breaking free from his Petco buckle on his collar so we decided it was time. This came in real fast (Canada to NH, USA) and is as described. Tough and yet still comfortable. He adjusted to his new collar real well, and bonus he looks awesome in it. Thank You Leathersmith Designs.

I have 3 fur babies and they all get a leather collar when they turn 1. They will have it for the rest of their days! This collar was everything it was described as, size was accurate and colors were beautiful! This is my first collar purchase through Leathersmith Designs and the quality of this collar by far surpasses ones bought from other places. Thank you again for a beautiful product and making my boy look even more handsome!

This collar is definitely quality made and looks amazing! Very glad I ordered this for my Labrador!

Great craftsmanship. Got 2 made up. One with painted lettering and was very impressed. Letters were very cleanly painted. Very happy with final product and satisfied with the time frame from order date to received date. A++++