Need to hide your cash on vacation? Then, the Design Only Money Belt is right for you. Money, a small jumpdrive or even copies of your passport can be stored safely in this travel security belt and...out of sight. Check out our video below for more info on our long zipper money belts. Lots of storage for bills since the long zipper runs as long as possible between the buckle and holes.
For quality, to make the best money belts for travel, we use all full grain cowhide. We have the traditional colors of leather on our money belts for men. As well, other vibrant colors are also appealing for women's money belts.
Do not submit your pant size for your belt order as the belt waist size must be bigger because it takes more space going over your clothing. If you measure your old belt to the hole you are using as described below, that will be the waist size measurement we use for the center hole of your new leather belt. We will then punch enough holes so you can have a couple inches to go tighter and a couple inches to go bigger from the waist size you provide.
Learn about the features of our full grain leather money belts and watch our handmade money belts being crafted in the following video.
Learn about our full grain leather belts vs other belts and other leather terminology in the following informational belt video:
material:

Combined Belt Thickness of Genuine Cowhide Tooling Leather is 1/8 Inch, Regular Buckle - Solid Brass Or Chrome Plated Solid Brass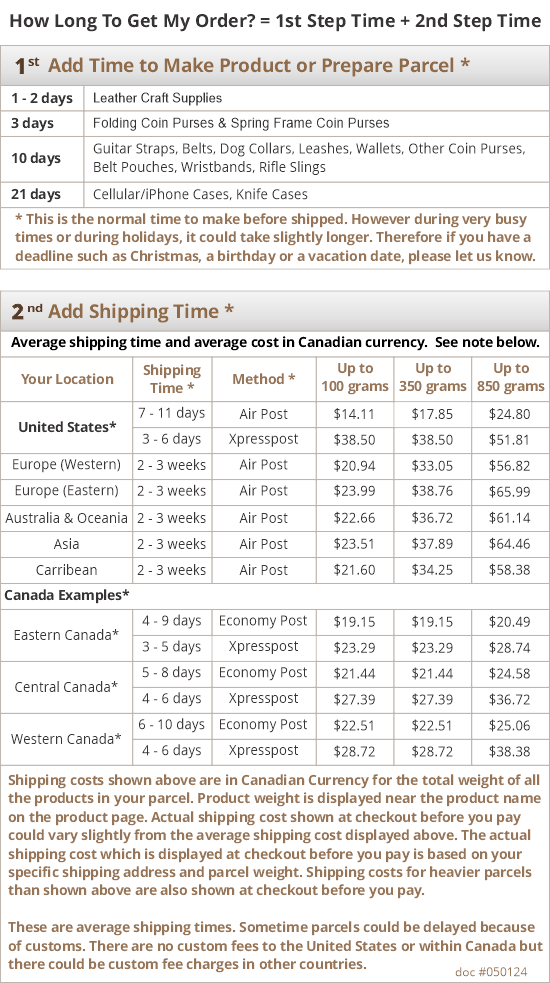 6 Reviews
I needed a gift for a friend's extended trip overseas. He was leaving in less than 3 weeks and Leathersmith Designs was able to produce the belt and get it shipped out to BC in record time. Many thanks for a job well done!

My belt from Leathersmith is exactly what I envisioned if I had to computer generate and make it myself. The craftsmanship is absolutely superb and it rivals old world European leather trades. I am an editorial sessions hairdresser travelling between continents and it's incredible the amount you can stuff in the compartment without losing its composure with an extremely durable zipper. Having done so much research on other brands, I highly recommend it to all travellers and there is no substitute. I am planning on ordering another belt with a bit of customization as a backup. Thank you Leathersmith for your logic and commitment to excellence!!! T.Robin Wagner

This is a very nice belt. I ordered the 1 3/4 " wide, which fits in my jeans loops perfectly. The size is as I specified and the zipper runs pretty much from the belt buckle to almost the first hole. The quality of the leather is really good and the craftsmanship as well. The only thing I did not like was the shiny chrome plated belt buckle. But a little bit of sanding with 400 grit sandpaper fixed that. It would be nice if the company offered more buckle choices. Besides that, A+.
Thank you.

The very best money belt that I could find

I ordered this belt on a short time frame hoping to get it before a trip to Europe. I was notified that they could make it as a priority, but I would have to upgrade the shipping to priority to receive it on time. I did upgrade the shipping and received the belt on time for my trip. The belt is very well made and I especially love the long zipper which allows one to maximize the number of bills or documents you can carry. I was very pleased with the personal communications from the vendor with regard to my being able to receive the belt on time. I do not think that you can find a better money belt anywhere!

The service and craftsmanship is very professional. Wonderful belt which can be worn with jeans or a suit. Thank you for a job well done.

A real belt with a zippered pocket.

Large enough pocket to hold plenty of spare cash, copies of passports. A real leather belt not a cheap zippered belt like I had before, that held little, looked like a cheap belt and held up poorly. Looks great, it is actually the normal belt I wear now. But I feel better in Europe if I have back up cash in case I get pick pocketed.