This vogue style leather bass guitar strap has a very long taper on the end that attaches near the bass neck. The lettering can be dyed in the same color as the leather to look like the design in the above bass strap product photos or the lettering can be hand painted a contrasting color. Since this personalized bass guitar strap is 3 1/2 inches wide compared to our standard guitar straps which are 2 3/4 inches wide, the weight from your heavy bass will be distributed more on your shoulder for comfort.

The maximum number of imprint letters should be 9 or less if you also want metal conchos or imprint images on your guitar strap. If you don't want decorative conchos or imprint images, the maximum number of personalized lettering should be no more than 12. Keep in mind if your imprint has two words, the space between the two words would mean you have to reduce the maximum number of letters by one.
The price shown on this page will adjust instantly depending on which features you want such as no lining and no padding verses a soft garment leather lining with padding for more comfort. This is due to certain features requiring more materials or being more labour intensive.
In the following video, watch many styles of our custom guitar strap being crafted in our leather shop.
Most of out handmade guitar straps have the option to be lined with a soft leather and foam padded. See some of our foam padded guitar straps being made in the following video.
Another type of padding option offered on most of our leather guitar straps is a sheepskin padding. Watch our sheepskin padded guitar straps being made in the following video.
Material:

Durable Solid 3/32 Inch Cowhide Tooling Leather. Optional Sheep Wool Or Garment Lining. Optional Foam Padding

Size:

3 1/2 Inches Wide, Adjustment Choices - 37 To 52 Inches, 47 To 62 Inches, 51 To 66 Inches, 55 To 70 Inches.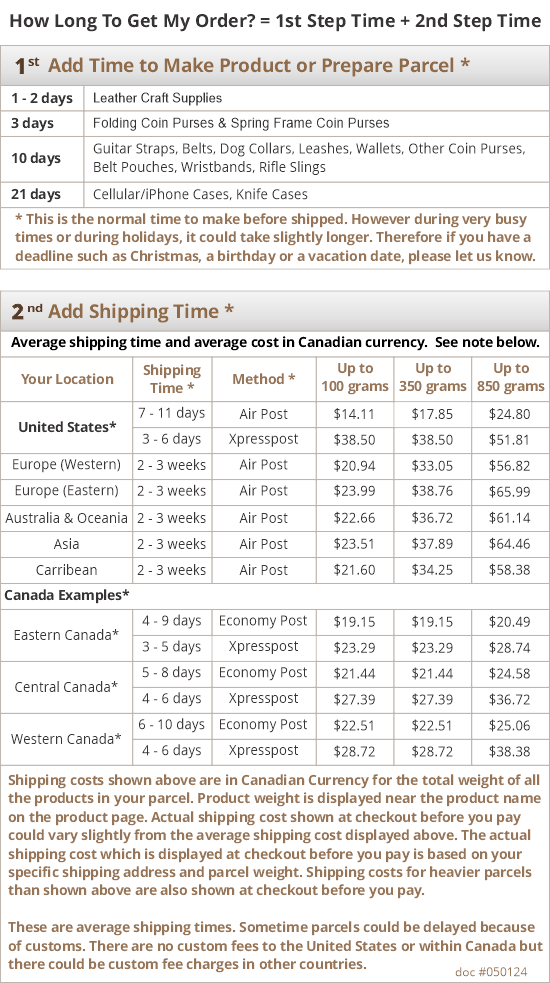 2 Reviews
Beautiful workmanship exceeded expectations.

I don't think the website does a very good job showing how absolutely beautiful the guitar and bass straps are. I just received a custom bass strap I purchased as a gift. It is extraordinary.

Top Quality and Craftsmenship!!!

I ordered the actual brown strap you see in the picture off the website for my best man in my wedding who is a bass player. All I can say is WOW! This thing is GORGEOUS!!! Top Quality (and I mean TOP quality) material all around, stitching and tooling is flawless and it's truly crafted to last a lifetime. This is one of the best purchases I've ever made! As a working musician for the past 40 years (I'm also a bass player) I've purchased many different straps for the almost 60 different basses I've owned. This by far SMOKES them all! It's super comfortable at 3 1/2" wide. Craftsmanship like this is a lost art....This thing is outstanding!