Simple, strong, subtle and personal best describes the Vogue Custom Leather Guitar Strap Classic Series. With many colors and designs to choose from add your personal touch to great craftsmanship. For more custom guitar straps please check out our video below.
When you choose the option of undyed letters, the natural undyed imprinted lettering has a nice visible contrast for easy reading with the different leather colors. However if you choose the leather color to be natural oil, the undyed lettering will be subtle since the color of the leather and the color of the imprint are very similar.
For your imprinted name, there should be 9 or less letters if you also want metal conchos or imprint images on your leather guitar strap. If you don't want decorative metal conchos or imprinted images, the maximum number of personalization should not exceed 12 letters. Keep in mind if your imprint has two words, the space between the two words would mean you have to reduce the maximum number of letters by one.
The above price for your personalized guitar strap will adjust instantly for options chosen that are costlier due to being more labor intensive or using more materials such as being lined and padded.
In the following video, watch many styles of our custom guitar strap being crafted in our leather shop.
Most of out handmade guitar straps have the option to be lined with a soft leather and foam padded. See some of our foam padded guitar straps being made in the following video.
Another type of padding option offered on most of our leather guitar straps is a sheepskin padding. Watch our sheepskin padded guitar straps being made in the following video.
material:

Durable Solid 3/32 Inch Cowhide Tooling Leather. Optional Sheep Wool Or Garment Lining. Optional Foam Padding

size:

2 3/4 inches wide, adjustment choices - 37 to 52 inches, 47 to 62 inches, 51 to 66 inches, 55 to 70 inches.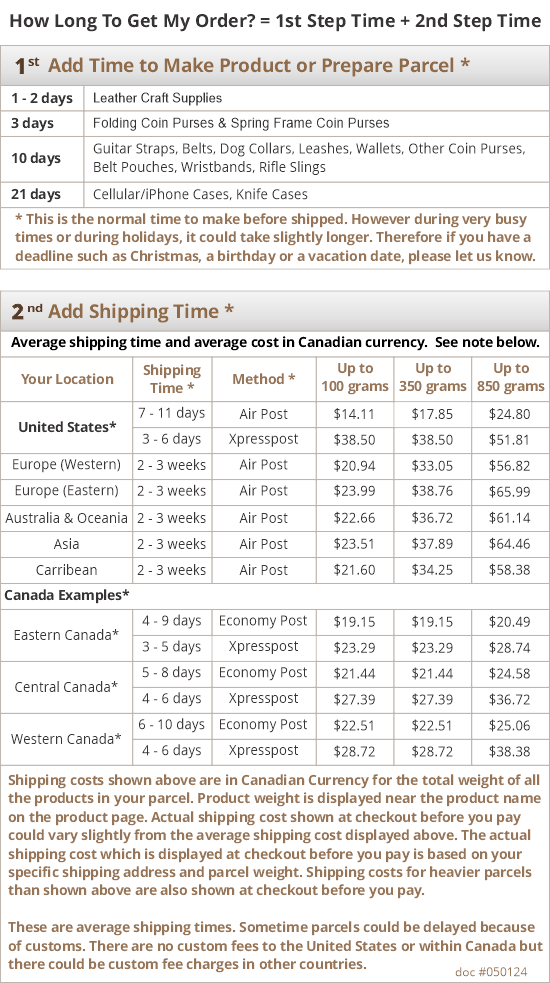 8 Reviews
Couldn't be happier with the strap. Didn't have to wait long, and the quality is unmatched by any other strap I've purchased.
I was already given a phone call before the design was done to double check some things and offer suggestions, which is also hugely appreciated. Couldn't recommend more, I'll definitely be coming back for another!

I take part of the responsibility for what happened but I just didn't get what I was expecting. First, the way the product looks on pics is totally different than from what I got. Second, some of the steps you have to go through in order to custom the product are obvious, but others have technical lenguage, specially the lined padded options, which I just can't figure out without a pic to look at. I wrote an email asking about this, and still waiting for the answer. Since time was passing by and the person,s birthday I wanted to give this to, was really close... I took the risk
The print letters look nothing like what's in the pic, etc...

Again I took a risk and I have to value the fact that things were customized and shipped in a decent amount of time. But this product is not worth what it costs

Great craftsmanship and super fast production

Although this was a custom made guitar strap, I received an email within a few days of ordering that notified me it had been shipped.

High quality - fantastic work

Thank you guys for making my husband's dream come true. Here in Spain no one has such a fantastic personalized guitar strap but him.

Guitar strap was beautiful! Customer Service was amazing! I was hoping this would make a great xmas gift for my Stepfather and it was exactly that. Very impressed with the quality of work.

Can't say enough about my new strap. Amazing quality and very very comfortable to wear.

This Strap is Sturdy, Comfortable and looks Killer!
100% Leather, 100% Custom. I was able to create the strap I wanted.
Great Value because I don't need to look any further.
Super Fast Shipping! I received my order in under 2 weeks.
I am very happy with my purchase.
Thanks for your Awesome Craftsmanship!


Perfect, comfortable personalized guitar strap

I ordered a leather guitar strap for my grandson. It came 2 weeks before promised! (It had been on the backlog list for Christmas delivery)
I even received a personal phone call about the delivery.
The strap is so good looking and my grandson says it is very comfortable. I had my choice of leather color, tooling design and color, conchos, and, of course, the personalization. This was an awesome gift for my grandson and very easy to order. Hard part is making the choices in the design and colors.