Simple, strong and personal best describes the Custom Leather Guitar Strap Classic Series. With many colors and designs to choose from add your personal touch to great craftsmanship. For more custom guitar straps please check out our video below.
When you choose the option of undyed letters, the natural undyed imprinted lettering has a nice visible contrast for easy reading with the different colored leather. However if you choose the leather color to be natural oil, the undyed lettering will only be subtle since the color of the leather and the imprint are very close.
The maximum number of imprint letters should be 9 or less if you also want metal conchos or imprint images on your guitar strap. If you don't want decorative conchos or imprint images, the maximum number of personalized lettering should be no more than 12. Keep in mind if your imprint has two words, the space between the two words would mean you have to reduce the maximum number of letters by one.
The above price for your personalized guitar strap will adjust instantly for options chosen that are costlier due to being more labor intensive or using more materials such as X-long lengths.
In the following video, watch many styles of our custom guitar strap being crafted in our leather shop.
Most of out handmade guitar straps have the option to be lined with a soft leather and foam padded. See some of our foam padded guitar straps being made in the following video.
Another type of padding option offered on most of our leather guitar straps is a sheepskin padding. Watch our sheepskin padded guitar straps being made in the following video.
Material:

durable solid 3/32 inch cowhide tooling leather. Optional sheep wool or garment lining. Optional foam padding

Size:

2 3/4 inches wide, adjustment choices - 37 to 52 inches, 47 to 62 inches, 51 to 66 inches, 55 to 70 inches.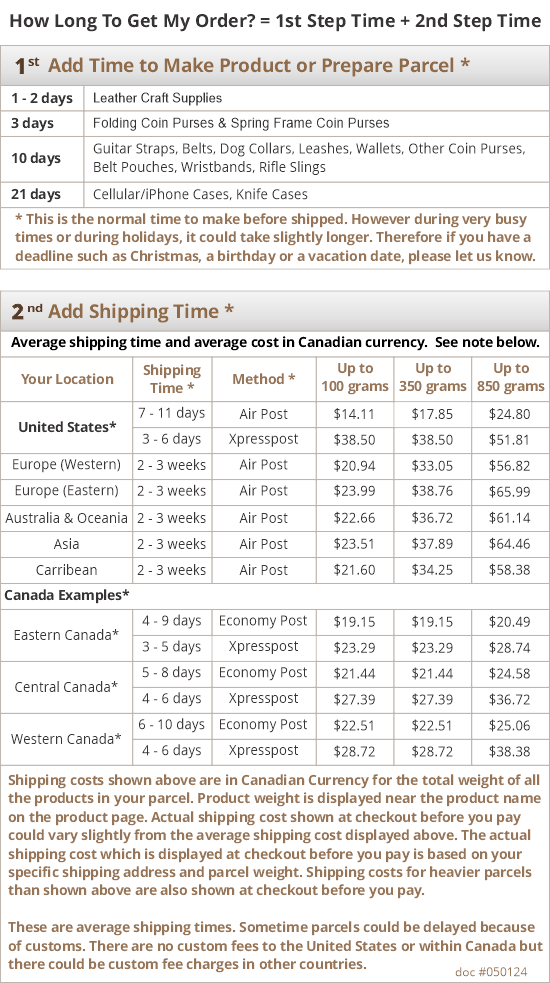 22 Reviews
I ordered a custom guitar strap for a Christmas gift and through some amazing customer service managed to get it just in time for the holidays. The strap itself is beautiful with very intricate detailing and a great sheep wool pad. Amazing gift for any guitar player.

super happy with the product

Was looking for a cool guitar strap for my dad for Christmas and wasn't sure where to get one and randomly found this website. I only waited a week or two and was nervous how it would look and it completely exceeded my expectations. Super high quality and just looked badass.

Very attrictive and high quality. It also looks great.

great product absolutely love it

I ordered a guitar strap classic series. When it arrived it was better than I imagined. I would definitely recommend Leathersmith Designs to anyone who wants a great quality custom leather product

This business is a class act.

The guitar strap is just as I ordered and looks to be of very high quality. They were very accommodating when I requested a change and also very prompt in answering any questions I had.

The product itself was made in a matter of days so the turn around time was very fast.

The guitar strap is a present and I have a feeling my husband is going to love it. It's something he'll hopefully use for life.

So Pleased With Entire Experience

I wasn't certain on which size to order as a surprise gift, so I e-mailed, and the staff got back with me within 24 hours. I ended up ordering a style I saw on their Facebook page and liked, with rush shipping. It came so quickly, and I was blown away by the craftsmanship and the beauty. I would highly recommend.

Amazing work! I couldn't have asked for something more perfect. Very much worth the wait.

Classic Series Custom Guitar Strap

Gave this custom strap as a gift to my boyfriend who plays country music. We both loved it! Beautiful work, wonderful quality, and the customer service is fabulous! I was worried about whether or not it would reach me before Christmas, but everyone was so efficient, I had it with plenty of time to spare. The strap was exactly what I was hoping it would be and more. Perfect!!!

Christmas gift for my husband

My husband just bought himself a new Gibson guitar and I ordered this leather guitar strap with his band's name engraved on it. I think it's beautiful and I hope he likes it as much!