Simple, strong and personal best describes the Custom Leather Guitar Strap Classic Series. With many colors and designs to choose from add your personal touch to great craftsmanship. For more custom guitar straps please check out our video below.
When you choose the option of undyed letters, the natural undyed imprinted lettering has a nice visible contrast for easy reading with the different colored leather. However if you choose the leather color to be natural oil, the undyed lettering will only be subtle since the color of the leather and the imprint are very close.
The maximum number of imprint letters should be 9 or less if you also want metal conchos or imprint images on your guitar strap. If you don't want decorative conchos or imprint images, the maximum number of personalized lettering should be no more than 12. Keep in mind if your imprint has two words, the space between the two words would mean you have to reduce the maximum number of letters by one.
The above price for your personalized guitar strap will adjust instantly for options chosen that are costlier due to being more labor intensive or using more materials such as X-long lengths.
In the following video, watch many styles of our custom guitar strap being crafted in our leather shop.
Most of out handmade guitar straps have the option to be lined with a soft leather and foam padded. See some of our foam padded guitar straps being made in the following video.
Another type of padding option offered on most of our leather guitar straps is a sheepskin padding. Watch our sheepskin padded guitar straps being made in the following video.
Material:

durable solid 3/32 inch cowhide tooling leather. Optional sheep wool or garment lining. Optional foam padding

Size:

2 3/4 inches wide, adjustment choices - 37 to 52 inches, 47 to 62 inches, 51 to 66 inches, 55 to 70 inches.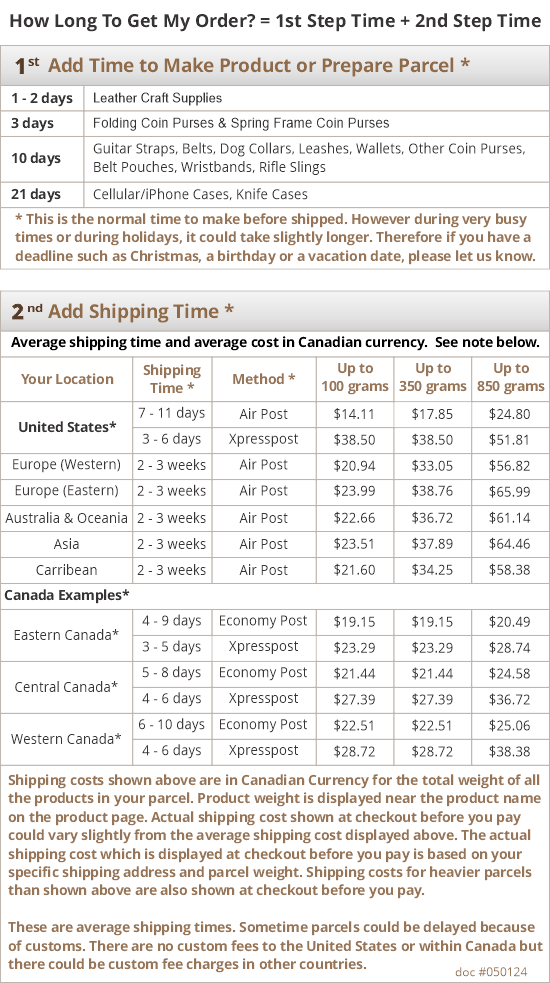 22 Reviews
Beautiful workmanship ship. I am very pleased with my guitar strap.

Absolutely fantastic quality, bought one for an anniversary present and wish I got myself one too. For the price you would be incredibly hard pressed to find a better quality strap. Thank you!

Very high quality work and I appreciated how they reached out to me quickly with some concerns about my design proposal. I would definitely order more products should the need arise.

I bought this as a gift. When it arrived, I was excited to see how beautiful it was. You can definitely see that a lot of care goes into creating the product. I loved being able to fully customize it as well. All the options available made me decide to use this company versus others that I found online. I am very pleased with my purchase!

Absolutely beautiful high quality so excited as a Christmas gift hoping my husband will love it as much as I do!

Ordered a guitar strap as a gift for my husband.
Well made, prompt postage - couldn't ask for a better product or service.

A nice gift for my father! Some custom modifications to the letter layout were accommodated. Padded back was a nice upgrade. Black Garment Leather used is very soft. Easily upgraded to expedited shipping for Christmas via paypal, and arrived in CT before the holidays. Thanks!

I bought this guitar strap as a Christmas present for my husband, the man who has everything. It's beautifully made with such high quality craftsmanship. The guitar strap exceeded my expectations, and needless to say I couldn't wait until Christmas to give it to him. He loved it and the way it was personalized just for him. His quote, "The best present he's ever received." I would recommend Leathersmith Design to anyone who is looking for high quality craftsmanship leather products. You will not be disappointed and I look forward to shopping with them again.

Ordered this for my grandson. It's absolutely beautiful. The craftsmanship is exquisite. Thank you so much. I would highly recommend Leathersmith Designs to anyone wanting high quality, deliciously worked leather. Its a piece of art! Will be a family keepsake for years to come. Sincerely, Kathleen Leggio