Distressed leather is used to portray the old used vintage style guitar strap look. We purposely scuff and crease the leather on this guitar strap to give it a used worn look. In some spots we even sand off the top dye to expose the undyed leather underneath. For more custom guitar straps please check out our video below.
When you choose the option of undyed letters, the natural undyed imprinted lettering has a nice visible contrast for easy reading with the different colored leather.
The maximum number of imprint letters should be 9 or less if you also want metal conchos or imprint images on your guitar strap. If you don't want decorative conchos or imprint images, the maximum number of personalized lettering should be no more than 12. Keep in mind if your imprint has two words, the space between the two words would mean you have to reduce the maximum number of letters by one.
The above price for your personalized guitar strap will adjust instantly for options chosen that are costlier due to being more labor intensive or using more materials such as X-long lengths.
In the following video, watch many styles of our custom guitar strap being crafted in our leather shop.
Most of out handmade guitar straps have the option to be lined with a soft leather and foam padded. See some of our foam padded guitar straps being made in the following video.
Another type of padding option offered on most of our leather guitar straps is a sheepskin padding. Watch our sheepskin padded guitar straps being made in the following video.
Material:

Durable Solid 3/32 Inch Cowhide Tooling Leather. Optional Sheep Wool Or Garment Lining. Optional Foam Padding

Size:

2 3/4 Inches Wide, Adjustment Choices - 37 To 52 Inches, 47 To 62 Inches, 51 To 66 Inches, 55 To 70 Inches.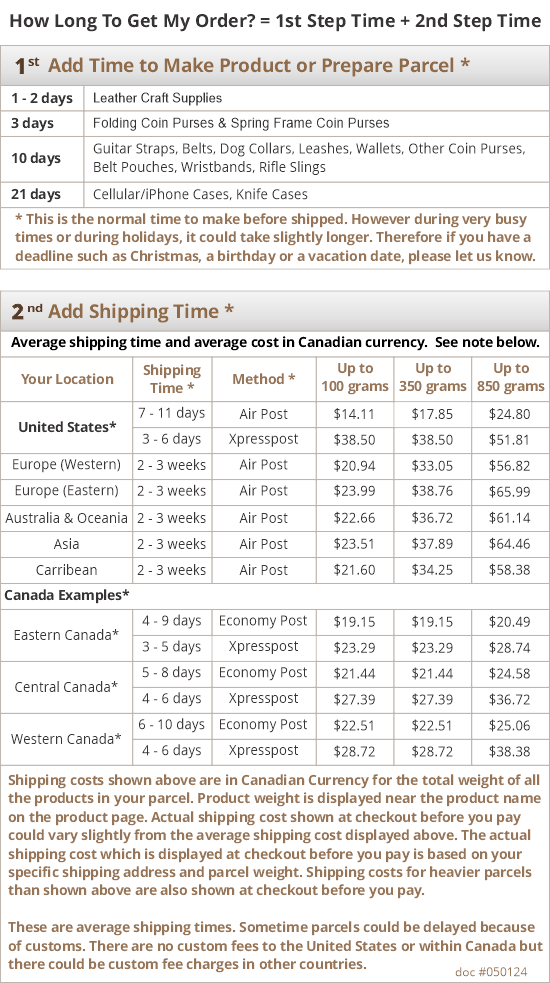 11 Reviews
Best looking strap I have ever worn. I have played out five times and already it feels broken in just like an old, dependable friend!

Great product with great customer service

The personalized guitar strap arrived faster than I expected and is beautiful. I called before the shop on 2 separate occasions and the customer service was outstanding. Will keep my business with them for any future leather goods.

Not just the beauty of the item; the craftsmanship is apparent. The attention to detail and the use of the best material make this a must for any guitarist looking to treat themselves. After almost 60 years of playing I figured I deserved it and so do you. Do not wait as long as me.

This thing is sweet!!!! Beautiful craftsmanship. I love it!

Gift for my Father and he absolutely LOVED it! Great craftsmanship and quality. The ease of creating the strap on-line was fun and simple. I would recommend this product to any leather enthusiast. Thank you!

Great people to work with

These guys were amazing to work with. I needed a guitar strap made for my Dad's 70th. Their site was easy to use, but I needed to make a couple of custom changes. Quentin responded quickly and was able to make it exactly as I wanted. She even sent me a completed picture before it got shipped directly to my Dad in the UK. The strap was a huge hit. I can't recommend these guys enough. Stop looking at Pinterest - you've found what you are looking for here!

Great product, Greater service

I purchased 3 custom guitar straps here as groomsmen gifts for my wedding. Theycame and looked great right out of the gate. As I was opening each one to figure out which was which, I somehow convinced myself that they had sent me two of the same name. Don't ask me how I managed that buffoonery, I couldn't tell you. I called the shop and even though they had closed up a few minutes before, they were ready to clear their morning schedule to rush a new one to me at no charge. I finally figured out it was my stupid mistake when I was about to take a picture of all three together as requested by the shop. When I replied with the admission, they were even courteous enough to not point out how dumb I am. Love the work, love the shop.

Now that I've had this strap and played for several weeks, I have to say this is the most comfortable strap I've ever used. Craftsmanship is first rate; the finishing is superb. I won't be using any other strap.

This is the most comfortable strap I've ever had. Hours of practice don't cause discomfort. The workmanship is top quality. I can't say enough . Just wow!